BOOK FORMAT
Cloth, 11 x 11 in. / 80 pgs / illustrated throughout.
PUBLISHING STATUS
Pub Date 5/1/2010
Active
DISTRIBUTION
D.A.P. Exclusive
Catalog: Publisher Backlist
PRODUCT DETAILS
ISBN 9781905711574 TRADE
List Price: $45.00 CDN $58.50
AVAILABILITY
Out of stock
TERRITORY
NA ONLY
THE FALL 2023 ARTBOOK | D.A.P. CATALOG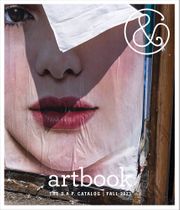 Preview our Fall 2023 catalog, featuring more than 500 new books on art, photography, design, architecture, film, music and visual culture.
&nbsp
&nbsp
Five Cities

By Nicholas Sinclair.


Acclaimed British photographer Nicholas Sinclair here looks at five European cities - Paris, Istanbul, Palermo, Berlin, and Budapest - through their surface markings. Exploring the interaction between a city and its citizens as recorded by graffiti and advertising, Sinclair's photographs occupy a place between documentary and abstraction - a scrawled word or the scrap of a flyer are at once physical scars on a wall and marks hovering graphically on the picture plane. In this beautifully produced book, the second in a trilogy by Sinclair examining the surfaces of European cities, readers are invited to look at graffiti and other unofficial interventions anew: not as aggressive intrusions, but rather as part of an ongoing collaborative project to interpret the modern city.



STATUS: Out of stock

Temporarily out of stock pending additional inventory.

REEL ART PRESS

ISBN: 9781909526891
USD $49.95

| CAN $71.95

Pub Date: 11/7/2023
Forthcoming




DELPIRE & CO/D.A.P.

ISBN: 9781636811154
USD $125.00

| CAN $181

UK &pound 110

Pub Date: 10/10/2023
Active | In stock




DELMONICO BOOKS/THE JAY DEFEO FOUNDATION

ISBN: 9781636811116
USD $75.00

| CAN $108.5

UK &pound 67

Pub Date: 8/22/2023
Active | In stock




ATELIER ÉDITIONS

ISBN: 9781954957053
USD $50.00

| CAN $72.5

UK &pound 44

Pub Date: 11/7/2023
Forthcoming




NATIONAL PORTRAIT GALLERY

ISBN: 9781855145634
USD $49.95

| CAN $71.95

Pub Date: 8/8/2023
Active | In stock




EAKINS PRESS FOUNDATION

ISBN: 9780871300959
USD $65.00

| CAN $94

UK &pound 57

Pub Date: 10/24/2023
Forthcoming




FRAENKEL GALLERY

ISBN: 9781881337362
USD $65.00

| CAN $94

UK &pound 58

Pub Date: 6/13/2023
Active | Out of stock




ATELIER EXB

ISBN: 9782365113779
USD $55.00

| CAN $79

Pub Date: 11/7/2023
Forthcoming




THE MUSEUM OF MODERN ART, NEW YORK

ISBN: 9781633451520
USD $60.00

| CAN $87

Pub Date: 10/27/2023
Forthcoming




MANY VOICES PRESS

ISBN: 9780991218912
USD $65.00

| CAN $94

UK &pound 57

Pub Date: 10/3/2023
Active | In stock




MANY VOICES PRESS

ISBN: 9780991218929
USD $65.00

| CAN $94

UK &pound 57

Pub Date: 9/5/2023
Active | In stock




STEIDL/GORDON PARKS FOUNDATION/RALPH AND FANNY ELLISON CHARITABLE TRUST

ISBN: 9783969991800
USD $60.00

| CAN $84

Pub Date: 4/18/2023
Active | In stock