BOOK FORMAT
Hardcover, 9.5 x 12 in. / 184 pgs.
PUBLISHING STATUS
Pub Date 10/27/2023
Forthcoming
DISTRIBUTION
D.A.P. Exclusive
Catalog: FALL 2023 p. 55
PRODUCT DETAILS
ISBN 9781633451520 TRADE
List Price: $60.00 CDN $87.00
AVAILABILITY
Awaiting stock
TERRITORY
NA ONLY
EXHIBITION SCHEDULE
New York, NY
The Museum of Modern Art, 11/05/23–03/16/24
THE FALL 2023 ARTBOOK | D.A.P. CATALOG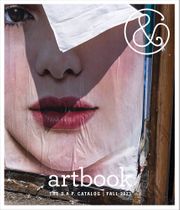 Preview our Fall 2023 catalog, featuring more than 500 new books on art, photography, design, architecture, film, music and visual culture.
&nbsp
&nbsp
An-My Lê: Between Two Rivers

Edited with text by Roxana Marcoci. Text by La Frances Hui, Joan Kee, An-My Lê, Thy Phu, Caitlin Ryan, Monique Truong, Ocean Vuong.


At once quietly grand and pervasively eerie, An-My Lê's photography and art explores scenes of conflict and political intrigue, both real and simulated

Through her photographs, videos, installations and embroidered works, An-My Lê considers the cycles of global history and conflict, the complexities of diaspora and the sensationalizing of warfare. Published to accompany the artist's major survey at the Museum of Modern Art, An-My Lê: Between Two Rivers is the first catalog to present Lê's three-decade practice in different mediums, with seven photographic series presented alongside textiles, installations and newly rediscovered films. The two rivers in the title refer to the Mekong River in Vietnam and the Mississippi River in the southern United States, two important geographic locations that appear in the artist's photography from her earliest to her most recent works. An essay by curator Roxana Marcoci examines the full sweep of Lê's creative practice; essays by scholars La Frances Hui, Joan Kee, Thy Phu and Caitlin Ryan each focus on specific series; and two texts by writers Monique Truong and Ocean Vuong bring poetic sensibility to Lê's singular perspective.
An-My Lê (born 1960) was born in Saigon, Vietnam, and came to the US in 1975 as a political refugee after the fall of Saigon. She studied at Stanford University before attending Yale School of Art, receiving her MFA in 1993. Her previous publications include Small Wars (2005) and Events Ashore (2014), and she is the recipient of the Guggenheim Memorial Foundation Fellowship (1997) and the MacArthur Foundation Fellowship (2012). Lê teaches at Bard College and lives in Brooklyn, New York.




STATUS: Forthcoming | 10/27/2023

This title is not yet published in the U.S. To pre-order or receive notice when the book is available, please email orders @ artbook.com

REEL ART PRESS

ISBN: 9781909526891
USD $49.95

| CAN $71.95

Pub Date: 11/7/2023
Forthcoming




DELPIRE & CO/D.A.P.

ISBN: 9781636811154
USD $125.00

| CAN $181

UK &pound 110

Pub Date: 10/10/2023
Active | In stock




DELMONICO BOOKS/THE JAY DEFEO FOUNDATION

ISBN: 9781636811116
USD $75.00

| CAN $108.5

UK &pound 67

Pub Date: 8/22/2023
Active | In stock




ATELIER ÉDITIONS

ISBN: 9781954957053
USD $50.00

| CAN $72.5

UK &pound 44

Pub Date: 11/7/2023
Forthcoming




NATIONAL PORTRAIT GALLERY

ISBN: 9781855145634
USD $49.95

| CAN $71.95

Pub Date: 8/8/2023
Active | In stock




EAKINS PRESS FOUNDATION

ISBN: 9780871300959
USD $65.00

| CAN $94

UK &pound 57

Pub Date: 10/24/2023
Forthcoming




FRAENKEL GALLERY

ISBN: 9781881337362
USD $65.00

| CAN $94

UK &pound 58

Pub Date: 6/13/2023
Active | Out of stock




ATELIER EXB

ISBN: 9782365113779
USD $55.00

| CAN $79

Pub Date: 11/7/2023
Forthcoming




THE MUSEUM OF MODERN ART, NEW YORK

ISBN: 9781633451520
USD $60.00

| CAN $87

Pub Date: 10/27/2023
Forthcoming




MANY VOICES PRESS

ISBN: 9780991218912
USD $65.00

| CAN $94

UK &pound 57

Pub Date: 10/3/2023
Active | In stock




MANY VOICES PRESS

ISBN: 9780991218929
USD $65.00

| CAN $94

UK &pound 57

Pub Date: 9/5/2023
Active | In stock




STEIDL/GORDON PARKS FOUNDATION/RALPH AND FANNY ELLISON CHARITABLE TRUST

ISBN: 9783969991800
USD $60.00

| CAN $84

Pub Date: 4/18/2023
Active | In stock