Elizabeth Murray
Museum Exhibition Catalogues, Monographs, Artist's Projects, Curatorial Writings and Essays
MONOGRAPHS & CATALOGS
Elizabeth Murray
THE MUSEUM OF MODERN ART, NEW YORK
Hardcover, 9.5 x 11 in. / 212 pgs / 175 color. | 10/15/2005 | In stock
$55.00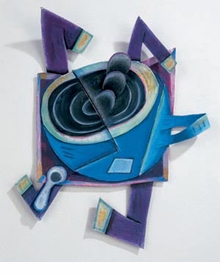 Wild Life: Elizabeth Murray & Jessi Reaves
DANCING FOXES PRESS/CAMH
Colorful explosions of "bad objects": the eccentric constructions of two American artists generations apart
Pbk, 9.5 x 11 in. / 104 pgs / 70 color. | 8/3/2021 | In stock
$29.95
Elizabeth Murray: Pop (Up) Art
THE MUSEUM OF MODERN ART, NEW YORK
Pbk, 6.75 x 8.75 in. / 220 pgs / 120 color. | 10/15/2005 | Not available
$19.95
Published by Dancing Foxes Press/CAMH.
Edited by Karen Kelly, Rebecca Matalon, Barbara Schroeder. Text by Rebecca Matalon. Conversation by Kate Horsfield & Elizabeth Murray, Johanna Fateman & Jessi Reaves.
This volume brings together the paintings and drawings of Elizabeth Murray (1940–2007) and the work of New York–based sculptor Jessi Reaves (born 1986). Despite the generations that separate Murray and Reaves, this publication highlights each artist's lyrical, playful and rigorous engagements with the decorative, domestic and bodily.

Published to accompany an exhibition at the Contemporary Arts Museum Houston, Wild Life explores Murray and Reaves' often ambiguous conceptions of the body and the home, wherein both body and home are continuously coming together and falling apart.

This book features a newly commissioned conversation between Reaves and Johanna Fateman as well as a reprint of a historical interview between Murray and Kate Horsfield, which together chart the two artists' irreverent plays with color and form, high and low cultural references, and notions of masculinity and femininity.
BOOK FORMAT
Paperback, 9.5 x 11 in. / 104 pgs / 70 color.
PUBLISHING STATUS
Pub Date 8/3/2021
Active
DISTRIBUTION
D.A.P. Exclusive
Catalog: SPRING 2020 p. 124
PRODUCT DETAILS
ISBN 9781733688932 TRADE
List Price: $29.95 CDN $41.95 GBP £27.00
AVAILABILITY
In stock
Free Shipping
UPS GROUND IN THE CONTINENTAL U.S.
FOR CONSUMER ONLINE ORDERS
Published by The Museum of Modern Art, New York.
Introduction by Robert Storr.
To accompany the full-scale exhibtion catalogue for Elizabeth Murray's retrospective at The Museum of Modern Art in October 2005, the Museum is also producing a matching artist's book. Since Murray's works often operate in three dimensions, this book will contain two pop-ups, one derived from an existing painting, the other from a drawing created especially for the book. Both pop-ups are to be designed by the accomplished paper engineer Bruce Foster in collaboration with the artist. The book will also show a selection of the preperatory sketches and other drawings that Murray makes to ceate these works. Robert Storr, organizer of the Murray retrospective, will contribute an introduction.


BOOK FORMAT
Paperback, 6.75 x 8.75 in. / 220 pgs / 120 color.
PUBLISHING STATUS
Pub Date 10/15/2005
Out of print
DISTRIBUTION
D.A.P. Exclusive
Catalog: FALL 2005 p. 4
PRODUCT DETAILS
ISBN 9780870704956 TRADE
List Price: $19.95 CDN $25.00
AVAILABILITY
Not available
Published by The Museum of Modern Art, New York.
Essay by Robert Storr.
Elizabeth Murray has radically altered the structure of Modernist painting. Her shaped and constructed canvases, often topologically modeled in three dimensions or fitted together out of multiple jigsaw-like parts, treat figure and ground in unprecedented ways, giving the elastic shapes of classic Surrealism a space in their own image. The alternatively comfortable and cataclysmic world that her images depict would crack irrevocably if it followed Euclidean logic; instead; it constantly metamorphoses under stress. With a chaptered essay by Robert Storr, plate section, and in-depth interview, the book will explore Murray's relation to artists such as Joan Miró, Stuart Davis, Claes Oldenburg and Frank Stella, as well as to the mainstream and opened up options for rising generations. This book accompanies the most detailed examination of Murray's art yet mounted, showing its development from Pop-oriented reliefs in the 1960s to the extraordinary volumetric of her recent work.


BOOK FORMAT
Hardcover, 9.5 x 11 in. / 212 pgs / 175 color.
PUBLISHING STATUS
Pub Date 10/15/2005
Active
DISTRIBUTION
D.A.P. Exclusive
Catalog: FALL 2005 p. 4
PRODUCT DETAILS
ISBN 9780870704932 TRADE
List Price: $55.00 CDN $72.50
AVAILABILITY
In stock
Free Shipping
UPS GROUND IN THE CONTINENTAL U.S.
FOR CONSUMER ONLINE ORDERS