BOOK FORMAT
Paperback, 6 x 9 in. / 160 pgs.
PUBLISHING STATUS
Pub Date 8/8/2023
Active
DISTRIBUTION
D.A.P. Exclusive
Catalog: FALL 2023 p. 77
PRODUCT DETAILS
ISBN 9798986337524 TRADE
List Price: $18.00 CDN $26.00
AVAILABILITY
In stock
TERRITORY
NA LA ASIA AU/NZ AFR ME
THE FALL 2023 ARTBOOK | D.A.P. CATALOG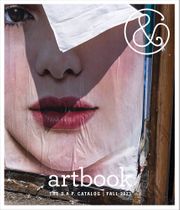 Preview our Fall 2023 catalog, featuring more than 500 new books on art, photography, design, architecture, film, music and visual culture.
&nbsp
&nbsp
Questions to Ask Before Your Bat Mitzvah

Edited by Morgan Bassichis, Jay Saper, Rachel Valinsky. Foreword by Angela Y. Davis. Introduction by Morgan Bassichis. Afterword by Jay Saper. Illustrations by Nicole Eisenman.


"This guidebook provides excellent examples of deep questioning, critical engagement and the embracing of Judaism as an ongoing call for social justice." –Angela Y. Davis

Edited by comedic performance artist and activist Morgan Bassichis with artist and educator Jay Saper and writer Rachel Valinsky, Questions to Ask Before Your Bat Mitzvah invites 36 writers, artists, scholars and activists to offer accessible reflections on 36 questions to help young Jews—and anyone else who picks up this book—feel grounded in the Jewish radical tradition, unlearn Zionism and deepen their solidarity with Palestinians. With a foreword by seminal scholar-activist Angela Y. Davis and illustrations by artist Nicole Eisenman, this essential volume offers an accessible and challenging set of personal and collective responses to critical questions for our time. Questions included range from "What even is a Bat Mitzvah?" and "I'm queer/nonbinary/secular/old/not even Jewish—are Bat Mitzvahs for me?" to "What do Palestinian kids do when they turn thirteen?"
Contributors include: Basel Abbas and Ruanne Abou-Rahme, Imani Altemus-Williams, Sumaya Awad, Shirly Bahar, Kholoud Balata, Morgan Bassichis, Bazeed, Gregg Bordowitz, Lukaza Branfman-Verissimo, Ilise Benshushan Cohen, Jonah Aline Daniel, Maya Edery, Esther Farmer, Dan Fishback, Aitan Groener, Rabbi Miriam Grossman, Noah Habeeb, Olivia Katbi, Aurora Levins Morales, Brooke Lober, Tariq Luthun, Collier Meyerson, Dori Midnight, Izzy Mustafa, Aidan Orly and Jonathan Brenneman, Una Aya Osato, Khury Petersen-Smith, Rabbi Brant Rosen, Dylan Saba, Mahdi Sabbagh, Jay Saper, Ita Segev, Dean Spade, Elena Stein, Sandra Tamari, Kendra Watkins and Satya Zamudio.




Free Shipping

UPS GROUND IN THE CONTINENTAL U.S.
FOR CONSUMER ONLINE ORDERS

HATJE CANTZ

ISBN: 9783775755702
USD $50.00

| CAN $73

Pub Date: 11/21/2023
Forthcoming




REDSTONE PRESS

ISBN: 9781739597627
USD $25.00

| CAN $36

UK &pound 25

Pub Date: 8/8/2023
Active | In stock




WENDY'S SUBWAY/CARPENTER CENTER FOR THE VISUAL ARTS AT HARVARD UNIVERSITY/INSTIT

ISBN: 9798986337524
USD $18.00

| CAN $26

Pub Date: 8/8/2023
Active | In stock




NATIONAL PORTRAIT GALLERY

ISBN: 9781855145771
USD $29.95

| CAN $42.95

Pub Date: 5/23/2023
Active | In stock




VERLAG FüR MODERNE KUNST

ISBN: 9783903439702
USD $14.95

| CAN $19.95

Pub Date: 3/21/2023
Active | In stock




SKIRA

ISBN: 9788857248738
USD $9.00

| CAN $13

Pub Date: 4/25/2023
Active | In stock




REDSTONE PRESS

ISBN: 9781739597603
USD $24.95

| CAN $34.95

Pub Date: 6/13/2023
Active | In stock




FUEL PUBLISHING

ISBN: 9781739887803
USD $55.00

| CAN $77

Pub Date: 5/30/2023
Active | In stock




THE DESIGN MUSEUM

ISBN: 9781872005614
USD $45.00

| CAN $63

Pub Date: 8/23/2022
Active | Out of stock




JBE BOOKS

ISBN: 9782365680615
USD $49.95

| CAN $67.95

Pub Date: 4/12/2022
Active | In stock




REDSTONE PRESS

ISBN: 9780995518193
USD $24.95

| CAN $33.95

Pub Date: 6/7/2022
Active | Out of stock




REDSTONE PRESS

ISBN: 9780995518186
USD $24.95

| CAN $33.95

UK &pound 19.99

Pub Date: 3/15/2022
Active | In stock