BOOK FORMAT
Paperback, 8.3 x 11.7 in. / 100 pgs / 100 color.
PUBLISHING STATUS
Pub Date 11/11/2017
Out of print
DISTRIBUTION
D.A.P. Exclusive
Catalog: Publisher Backlist
PRODUCT DETAILS
ISBN 9789491677830 TRADE
List Price: $18.00 CDN $24.95
AVAILABILITY
Not available
TERRITORY
NA LA ASIA AFR
THE FALL 2023 ARTBOOK | D.A.P. CATALOG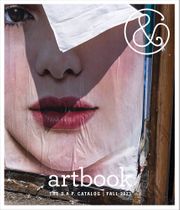 Preview our Fall 2023 catalog, featuring more than 500 new books on art, photography, design, architecture, film, music and visual culture.
&nbsp
&nbsp
50 anniversaries

Edited by Freek Lomme.


This publication and exhibition explore the typically Dutch tradition of publicly displaying homemade photo collages throughout streets and neighborhoods in celebration of a person's 50th birthday. Almost reminiscent of missing pet posters, amateur portrait photographs are distributed and displayed by being taped onto lamp posts and stapled to trees by friends or relatives, at the mercy of public opinion. Exposed to judgment and ridicule by friends, family, and strangers, due to the usually demeaning nature of the photographs through unflattering holiday photos and the likes, individuals are exposed, raised out of anonymity and placed in the public eye.To an extent the street becomes an exhibition space for the non art-oriented person. It's a document of the democratization of the public domain, through a tradition which allows artistic expression and experimentation for anyone, under the gaze of a watchful even if disengaged audience.

The presented collection of posters, possibly a study of non-intentional art under the scrutiny of the public eye, constitutes an archive and an ode to amateur, homemade graphic design, made possible through the democratization of artistic means and software such as word art, paint, and clip art. A non-hierarchical demonstration of taste and aesthetic is catapulted into the streets and now gathered in the exhibition space. Perhaps involuntarily, the posters bear a sense of humor and irony to the rest of the onlooking public.




MARSILIO ARTE

ISBN: 9791254631263
USD $39.95

| CAN $56.95

UK &pound 33.99

Pub Date: 12/12/2023
Forthcoming




HATJE CANTZ

ISBN: 9783775755610
USD $65.00

| CAN $88

Pub Date: 1/9/2024
Forthcoming




LA FáBRICA

ISBN: 9788418934612
USD $42.00

| CAN $62

UK &pound 36

Pub Date: 1/9/2024
Forthcoming




INTERNATIONAL CENTER OF PHOTOGRAPHY/D.A.P.

ISBN: 9781636811178
USD $49.95

| CAN $71.95

UK &pound 43.99

Pub Date: 7/4/2023
Active | In stock




HATJE CANTZ

ISBN: 9783775754668
USD $62.00

| CAN $89

Pub Date: 7/4/2023
Active | Out of stock




HATJE CANTZ

ISBN: 9783775755016
USD $49.95

| CAN $71.95

Pub Date: 9/19/2023
Active | In stock




HATJE CANTZ

ISBN: 9783775754804
USD $65.00

| CAN $94

Pub Date: 6/6/2023
Active | In stock




HATJE CANTZ

ISBN: 9783775755191
USD $50.00

| CAN $72.5

Pub Date: 8/15/2023
Active | In stock




KERBER

ISBN: 9783735609120
USD $55.00

| CAN $79

Pub Date: 9/26/2023
Active | In stock




KERBER

ISBN: 9783735609021
USD $45.00

| CAN $65

Pub Date: 9/26/2023
Active | In stock




MOUSSE PUBLISHING

ISBN: 9788867495726
USD $40.00

| CAN $58

Pub Date: 9/19/2023
Active | In stock




OSMOS BOOKS

ISBN: 9781734555707
USD $60.00

| CAN $87

UK &pound 54

Pub Date: 1/9/2024
Forthcoming