BOOK FORMAT
Paperback, 11 x 13 in. / 104 pgs / 76 color.
PUBLISHING STATUS
Pub Date 5/27/2017
Active
DISTRIBUTION
D.A.P. Exclusive
Catalog: Publisher Backlist
PRODUCT DETAILS
ISBN 9789491677625 TRADE
List Price: $35.00 CDN $45.00
AVAILABILITY
Out of stock
TERRITORY
NA LA ASIA AFR
THE FALL 2023 ARTBOOK | D.A.P. CATALOG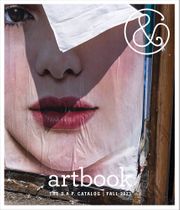 Preview our Fall 2023 catalog, featuring more than 500 new books on art, photography, design, architecture, film, music and visual culture.
&nbsp
&nbsp
Paint & Polish

Cultural Economy & Visual Culture From The Chicago West-Side

Edited by Freek Lomme, Helen Maurene Cooper. Text by Ryan Kenneth Blocker, Roula Seikaly. Interview by Patricia Reed.


Paint & Polish sources visual inspiration from the microeconomic culture of Hispanic and African-American nail artists in the Northwest Side of Chicago. It fosters engagement with these artists by highlighting their work and collaborating with them.

Included are oral histories, conversations with various nail artists, their portraits by Helen Maurene Cooper, and photography from their business. By documenting the community, this set of materials engages with it profoundly. Inspired by these sources and the visually tempting, distinct style of the nail art, Cooper's photographic artworks open a gateway to elaborate on the visual identification of nail art. In both photography and the nail art scene, concerns such as gesture, self-expression, and labor are prominent. The accompanying writings take these issues into consideration.




STATUS: Out of stock

Temporarily out of stock pending additional inventory.

VALIZ

ISBN: 9789493246195
USD $27.50

| CAN $39.5

Pub Date: 10/3/2023
Active | In stock




WALTHER KöNIG, KöLN

ISBN: 9783753301433
USD $59.95

| CAN $83.95

Pub Date: 1/10/2023
Active | In stock




THE DESIGN MUSEUM

ISBN: 9781872005645
USD $35.00

| CAN $49

Pub Date: 8/1/2023
Active | In stock




POOL PUBLISHING

ISBN: 9783903572355
USD $30.00

| CAN $40

Pub Date: 4/12/2022
Active | In stock




MUSEUM OF ARTS AND DESIGN

ISBN: 9781646570072
USD $59.95

| CAN $81.95

UK &pound 47.99

Pub Date: 5/3/2022
Active | Out of stock




SILVANA EDITORIALE

ISBN: 9788836646975
USD $90.00

| CAN $123

Pub Date: 10/12/2021
Active | In stock




THE DESIGN MUSEUM

ISBN: 9781872005539
USD $29.95

| CAN $39.95

Pub Date: 8/10/2021
Active | In stock




REEL ART PRESS

ISBN: 9781909526822
USD $49.95

| CAN $64.95

Pub Date: 12/21/2021
Active | In stock




MW EDITIONS

ISBN: 9780998701875
USD $27.50

| CAN $38.5

Pub Date: 11/17/2020
Active | In stock




MARSILIO

ISBN: 9788829706648
USD $39.95

| CAN $55.95

UK &pound 34.99

Pub Date: 8/25/2020
Active | In stock




ONOMATOPEE PROJECTS

ISBN: 9789493148147
USD $30.00

| CAN $45

Pub Date: 11/26/2019
Active | In stock




NAI010 PUBLISHERS

ISBN: 9789462085121
USD $65.00

| CAN $90

Pub Date: 11/12/2019
Active | In stock