BOOK FORMAT
Slip, Paperback, 6 x 6.5 in. / 120 pgs / illustrated throughout.
PUBLISHING STATUS
Pub Date 9/27/2016
Active
DISTRIBUTION
D.A.P. Exclusive
Catalog: SPRING 2016 p. 197
PRODUCT DETAILS
ISBN 9789491435447 FLAT40
List Price: $22.50 CDN $31.00
AVAILABILITY
In stock
TERRITORY
NA LA ASIA AU/NZ AFR ME
THE FALL 2023 ARTBOOK | D.A.P. CATALOG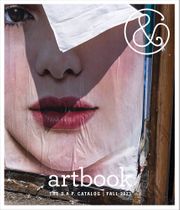 Preview our Fall 2023 catalog, featuring more than 500 new books on art, photography, design, architecture, film, music and visual culture.
&nbsp
&nbsp
Qiu Zhijie: Unicorns in a Blueprint

Edited with text by Defne Ayas. Text by Charles Esche, Chus Martinez, Bik van der Pol, Eugene Wang.


To produce his large-scale ink-based maps and diagrams, Chinese artist Qiu Zhije (born 1969) explores political and historical narratives, from Confucianism to the Enlightenment. This book includes his new "Map of the Third World," presented at the 2015 Moscow Biennale.


Qiu Zhijie (born 1969) is a contemporary Chinese artist who works primarily in video and photography.

Defne Ayas (b.1976) is the Director and Curator of the Witte de With Center for Contemporary Art in Rotterdam.

Charles Esche is Director of the Van Abbemuseum, Eindhoven, The Netherlands, and served as Curator of the 31st Sao Paulo Biennial 2014.

Chus Martínez is Head of the Institute of Art at the FHNW Academy of Art and Design in Basel, Switzerland.

Bik Van Der Pol is the artists duo Liesbeth Bik (born 1959) and Jos van der Pol (born 1961), who have worked together since 1994 as conceptual and installation artists.

Eugene Wang is the Abby Aldrich Rockefeller Professor of Asian Art at Harvard University.

Free Shipping

UPS GROUND IN THE CONTINENTAL U.S.
FOR CONSUMER ONLINE ORDERS

ART BOOKS & MUSEUM EXHIBITION CATALOGS: FORTHCOMING AND RECENT RELEASES

THE MUSEUM OF MODERN ART, NEW YORK

ISBN: 9781633451506
USD $75.00

| CAN $108.5

Pub Date: 10/3/2023
Active | In stock




GREGORY R. MILLER & CO./BALTIMORE MUSEUM OF ART/SAINT LOUIS ART MUSEUM

ISBN: 9781941366547
USD $55.00

| CAN $79

UK &pound 49

Pub Date: 6/27/2023
Active | In stock




GLENSTONE MUSEUM

ISBN: 9798987425411
USD $70.00

| CAN $101.5

UK &pound 62

Pub Date: 1/9/2024
Forthcoming




LOS ANGELES COUNTY MUSEUM OF ART

ISBN: 9781636810799
USD $85.00

| CAN $123

UK &pound 76

Pub Date: 7/4/2023
Active | In stock




J&L BOOKS/MAGIC HOUR PRESS

ISBN: 9780999365557
USD $45.00

| CAN $65

UK &pound 40

Pub Date: 9/12/2023
Active | In stock




DELMONICO BOOKS/BUFFALO AKG ART MUSEUM

ISBN: 9781636811017
USD $75.00

| CAN $108.5

UK &pound 65

Pub Date: 10/17/2023
Forthcoming




LUDION/D.A.P.

ISBN: 9789493039759
USD $125.00

| CAN $181

Pub Date: 11/19/2023
Forthcoming




GUGGENHEIM MUSEUM PUBLICATIONS

ISBN: 9780892075638
USD $65.00

| CAN $94

UK &pound 57

Pub Date: 12/12/2023
Forthcoming




DELMONICO BOOKS/BIG NDN PRESS

ISBN: 9781636811024
USD $75.00

| CAN $108.5

UK &pound 67

Pub Date: 8/22/2023
Active | Out of stock




DELMONICO BOOKS/NASHER SCULPTURE CENTER

ISBN: 9781636811109
USD $59.95

| CAN $85.95

UK &pound 48

Pub Date: 11/21/2023
Forthcoming




ROYAL ACADEMY OF ARTS

ISBN: 9781912520411
USD $50.00

| CAN $72.5

Pub Date: 12/5/2023
Forthcoming




RADIUS BOOKS

ISBN: 9781955161107
USD $65.00

| CAN $94

UK &pound 57

Pub Date: 10/3/2023
Forthcoming