BOOK FORMAT
Clth, 10 x 12 in. / 280 pgs / illustrated throughout.
PUBLISHING STATUS
Pub Date 7/31/2013
Active
DISTRIBUTION
D.A.P. Exclusive
Catalog: FALL 2013 p. 57
PRODUCT DETAILS
ISBN 9788890539411 TRADE
List Price: $195.00 CDN $260.00 GBP £180.00
AVAILABILITY
In stock
TERRITORY
WRLD Excl France Belgium Switz
EXHIBITION SCHEDULE
Turin, Italy
Pinacoteca Giovanni e Marella Agnellli, 04/05/13-09/08/13
THE FALL 2023 ARTBOOK | D.A.P. CATALOG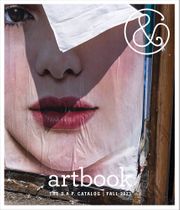 Preview our Fall 2023 catalog, featuring more than 500 new books on art, photography, design, architecture, film, music and visual culture.
&nbsp
&nbsp
A Passion for Jean Prouvé

From Furniture to Architecture: The Laurence and Patrick Seguin Collection




Aluminum and machine aesthetics: the entire Prouvé vision, from furniture to architecture

The esteemed collectors Laurence and Patrick Seguin first discovered the work of Jean Prouvé in the late 1980s, and were quick to embrace his entire aesthetic vision, from architectural design to furniture. "There is no difference between constructing a piece of furniture and constructing a building," Prouvé once famously said, and the Seguins have modeled their collection around his stance, becoming major advocates and disseminators of his work in France. This gorgeously produced volume, which presents the Seguins' Prouvé collection for the first time, consequently provides a comprehensive overview of their holdings. An entire chapter is devoted to Prouvé works at the Seguins' Paris residence. Other sections include an examination of Prouvé's relevance to contemporary art; a chapter on Prouvé's Aluminum Métropole House, a structure that exemplifies the brilliance of Prouvé's architectural work; and a survey of around 40 pieces, most of which are prototypes or rarities, from the armchair designed for the University of Nancy in 1932, to the light armchair created for the University of Antony in 1954, to the African furniture. These are supplemented by archival documents (sketches, models, photographs, etc. and detailed analysis. Also included is a wealth of photo-documentation of the exhibition this volume accompanies, held at the famous former Fiat building in Turin, Italy--once described by Le Corbusier as "one of the most impressive sights in industry" and recently rebuilt into a modern shopping/cultural complex by Renzo Piano, a longstanding admirer of Prouvé.

Equally admired for his work in furniture, metalwork and architecture, Jean Prouvé (1901-1984) is one of the most influential designers of the early modern design movement. His innovative chairs, desks, lamps and shelves have long been collector's items.


Featured image is reproduced from A Passion for Jean Prouvé.

Free Shipping

UPS GROUND IN THE CONTINENTAL U.S.
FOR CONSUMER ONLINE ORDERS

CORY REYNOLDS | DATE 12/1/2013

Featured photograph, made at the home of Laurence and Patrick Seguin, features artwork by Mark Grotjahn, Richard Prince, Richard Kern, Nick Cave, Jean Michel Basquiat, Nate Lowman, Jim Lambie and Wade Guyton & Kelley Walker, and furniture by Jean Prouvé, Pierre Jeanneret & Charlotte Perriand and Serge Mouille. It is reproduced from A Passion for Jean Prouvé: From Furniture to Architecture: The Laurence and Patrick Seguin Collection, one of the most unabashedly beautiful titles on our list, one of our top Holiday Gift Books of 2013, and a featured title at our booth at Design Miami. continue to blog

CORY REYNOLDS | DATE 8/21/2013

Laurence and Patrick Seguin have been fervently collecting the work of French designer and architect Jean Prouvé since the 1980s. This featured image, of their Paris living room (with artwork by Andy Warhol, Haim Steinbach, Jean-Michel Basquiat and Richard Prince; sofa, armchairs and coffee table by Jean Royère; African table by Charlotte Perriand / Ateliers Jean Prouvé and lamp by Jean Prouvé) is reproduced from the magnificent new collection catalogue, A Passion for Jean Prouvé. continue to blog

WALTHER KöNIG, KöLN

ISBN: 9783753302980
USD $55.00

| CAN $79

Pub Date: 11/14/2023
Forthcoming




MOUSSE PUBLISHING

ISBN: 9788867495863
USD $29.95

| CAN $43.95

Pub Date: 12/5/2023
Forthcoming




ARQUINE

ISBN: 9786078880195
USD $55.00

| CAN $79

UK &pound 47

Pub Date: 1/16/2024
Forthcoming




LARS MüLLER PUBLISHERS

ISBN: 9783037787229
USD $15.00

| CAN $21.5

Pub Date: 6/6/2023
Active | In stock




ARQUINE

ISBN: 9786078880096
USD $40.00

| CAN $58

UK &pound 35

Pub Date: 11/7/2023
Forthcoming




ARQUINE

ISBN: 9786078880102
USD $40.00

| CAN $58

UK &pound 35

Pub Date: 9/5/2023
Active | In stock




ARQUINE

ISBN: 9786078880065
USD $30.00

| CAN $43.5

UK &pound 26

Pub Date: 7/4/2023
Active | In stock




ARQUINE

ISBN: 9786078880164
USD $35.00

| CAN $50.5

UK &pound 30

Pub Date: 10/24/2023
Forthcoming




LA FáBRICA

ISBN: 9788418934759
USD $40.00

| CAN $58

UK &pound 35

Pub Date: 2/6/2024
Forthcoming




LARS MüLLER PUBLISHERS

ISBN: 9783037787311
USD $50.00

| CAN $72.5

Pub Date: 9/5/2023
Active | In stock




LARS MüLLER PUBLISHERS

ISBN: 9783037787373
USD $48.00

| CAN $69.6

Pub Date: 11/14/2023
Forthcoming




VERLAG FüR MODERNE KUNST

ISBN: 9783903439818
USD $35.00

| CAN $50.5

Pub Date: 11/21/2023
Forthcoming