BOOK FORMAT
Paperback, 5.25 x 6.5 in. / 96 pgs / 50 color.
PUBLISHING STATUS
Pub Date 4/21/2009
Out of stock indefinitely
DISTRIBUTION
D.A.P. Exclusive
Catalog: Publisher Backlist
PRODUCT DETAILS
ISBN 9788861307384 TRADE
List Price: $8.99 CDN $12.00
AVAILABILITY
Not available
TERRITORY
NA LA
THE FALL 2023 ARTBOOK | D.A.P. CATALOG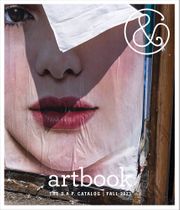 Preview our Fall 2023 catalog, featuring more than 500 new books on art, photography, design, architecture, film, music and visual culture.
&nbsp
&nbsp
Impressionism

Skira MINI Artbooks

By Flaminio Gualdoni.


During the 1870s and 1880s, a group of French artists, including Pissarro, Monet, and Renoir, adopted a style of painting and subjects that challenged the art of the Academie Francaise where "official" assumptions about the meaning of painting prevailed. This compact, well-priced survey of the movement features sixty reproductions of some of the most renowned works, and a highly readable introductory text.




Flaminio Gualdoni is professor of art history at the Accademia di Brera. He is the director of the magazines FMR and Eikon. He is the former director of the Fondazione Arnaldo Pomodoro.

STATUS: Out of stock indefinitely.

MARSILIO ARTE

ISBN: 9791254631515
USD $39.95

| CAN $56.95

UK &pound 33.99

Pub Date: 12/12/2023
Forthcoming




SKIRA

ISBN: 9788857249254
USD $50.00

| CAN $72.5

Pub Date: 1/9/2024
Forthcoming




FONDAZIONE PRADA

ISBN: 9788887029840
USD $80.00

| CAN $116

Pub Date: 1/9/2024
Forthcoming




MFA PUBLICATIONS, MUSEUM OF FINE ARTS, BOSTON

ISBN: 9780878468911
USD $60.00

| CAN $87

UK &pound 54

Pub Date: 10/10/2023
Active | In stock




MARSILIO ARTE

ISBN: 9791254631225
USD $29.95

| CAN $42.95

UK &pound 26

Pub Date: 1/16/2024
Forthcoming




DELMONICO BOOKS/LOS ANGELES COUNTY MUSEUM OF ART

ISBN: 9781636810881
USD $85.00

| CAN $123

UK &pound 75

Pub Date: 11/28/2023
Forthcoming




SKIRA

ISBN: 9788857248059
USD $35.00

| CAN $49

Pub Date: 4/25/2023
Active | In stock




MARSILIO ARTE

ISBN: 9791254630563
USD $19.95

| CAN $26.95

UK &pound 17.99

Pub Date: 3/14/2023
Active | In stock




MARSILIO ARTE

ISBN: 9791254630587
USD $19.95

| CAN $26.95

UK &pound 17.99

Pub Date: 3/14/2023
Active | In stock




JBE BOOKS

ISBN: 9782365680707
USD $25.00

| CAN $35

Pub Date: 3/14/2023
Active | In stock




KAPH BOOKS

ISBN: 9786148035456
USD $45.00

| CAN $63

Pub Date: 6/13/2023
Active | Out of stock




FONDAZIONE PRADA

ISBN: 9788887029833
USD $90.00

| CAN $126

Pub Date: 1/9/2024
Forthcoming