BOOK FORMAT
Paperback, 9 x 10.5 in. / 216 pgs / 194 color.
PUBLISHING STATUS
Pub Date 10/5/2021
Active
DISTRIBUTION
D.A.P. Exclusive
Catalog: FALL 2020 p. 139
PRODUCT DETAILS
ISBN 9788857243832 TRADE
List Price: $50.00 CDN $70.00
AVAILABILITY
In stock
TERRITORY
NA LA
EXHIBITION SCHEDULE
New York, NY
Asia Society Museum; David Geffen Hall; Governors Island; New York Historical Library; The Park Avenue Malls at East 70th Street; Times Square Arts, 06/05/20–08/09/20
THE FALL 2023 ARTBOOK | D.A.P. CATALOG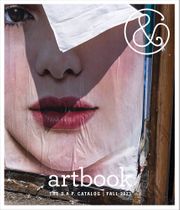 Preview our Fall 2023 catalog, featuring more than 500 new books on art, photography, design, architecture, film, music and visual culture.
&nbsp
&nbsp
We Do Not Dream Alone

Asia Society Triennial

Edited with text by Michelle Yun Mapplethorpe, Boon Hui Tan. Contributions by Susan L. Beningson, Alexandra Chang, Agnes Hsu-Tang.


Featuring approximately 40 artists and artist groups, the first Asia Society Triennial reflects the diversity of contemporary art from Asia and the diaspora

Produced for the inaugural edition of the Triennial, this fully illustrated catalog documents the exhibition in stunning detail through critical essays and works by over 40 contemporary Asian and Asian American artists and artist groups spanning Asia, Australia, the Middle East, Europe and the Americas.

Launched in 2020 by Asia Society, the Triennial is a festival of art, ideas and innovation. The first initiative of its kind in the United States, the Asia Society Triennial is an ambitious recurring multivenue, multimedia initiative across New York City with an exhibition of contemporary arts at its center.

The catalog provides a unique forum for engagement with the rich tapestry of Asian cultures that make up a significant, yet historically underexplored and underrepresented demographic within New York City.




Free Shipping

UPS GROUND IN THE CONTINENTAL U.S.
FOR CONSUMER ONLINE ORDERS

GUGGENHEIM MUSEUM PUBLICATIONS

ISBN: 9780892075614
USD $65.00

| CAN $94

UK &pound 57

Pub Date: 12/5/2023
Forthcoming




SKIRA

ISBN: 9788857250069
USD $55.00

| CAN $79

Pub Date: 12/26/2023
Forthcoming




SKIRA

ISBN: 9788857249971
USD $45.00

| CAN $65

Pub Date: 1/9/2024
Forthcoming




SILVANA EDITORIALE

ISBN: 9788836653751
USD $40.00

| CAN $58

Pub Date: 11/7/2023
Forthcoming




TURNER

ISBN: 9788418895647
USD $120.00

| CAN $168

Pub Date: 10/31/2023
Forthcoming




THE NATIONAL BONSAI FOUNDATION

ISBN: 9798218020804
USD $50.00

| CAN $70

UK &pound 43

Pub Date: 3/14/2023
Active | In stock




HATJE CANTZ

ISBN: 9783775753500
USD $55.00

| CAN $77

Pub Date: 2/21/2023
Active | In stock




NAI010 PUBLISHERS

ISBN: 9789462087286
USD $50.00

| CAN $70

Pub Date: 2/28/2023
Active | Out of stock




SKIRA

ISBN: 9788857248165
USD $45.00

| CAN $63

Pub Date: 2/21/2023
Active | Out of stock




MFA PUBLICATIONS, MUSEUM OF FINE ARTS, BOSTON

ISBN: 9780878468904
USD $29.95

| CAN $41.95

UK &pound 25.99

Pub Date: 5/16/2023
Active | In stock




WEISS PUBLICATIONS

ISBN: 9783948318154
USD $75.00

| CAN $104

UK &pound 60

Pub Date: 10/11/2022
Active | In stock




SKIRA

ISBN: 9788857247724
USD $55.00

| CAN $75

Pub Date: 8/30/2022
Active | In stock