BOOK FORMAT
Clth, 9 x 11 in. / 288 pgs / 150 color.
PUBLISHING STATUS
Pub Date 4/23/2019
Active
DISTRIBUTION
D.A.P. Exclusive
Catalog: SPRING 2019 p. 197
PRODUCT DETAILS
ISBN 9788836641284 FLAT40
List Price: $60.00 CDN $85.00
AVAILABILITY
In stock
EXHIBITION SCHEDULE
Remagen, Germany
Arp Museum Bahnhof Rolandseck, 02/10/19–09/08/19

Augsburg, Germany
Kuntsammlungen und Museen Augsburg–Schaezlerpalais, 10/20/18–01/20/19

Luxembourg City, Luxembourg
Musče National d'historie et d'art, 10/01/20–02/14/20

Brussels, Belgium
Palais de Beaux Arts, June–September 2021

Winter Park, FL
Rollins Museum of Art, 09/23/23–12/31/23

Muncie, IN
David Owsley Museum of Art, Ball State University, 02/24–08/24

Philadelphia, PA
Arthur Ross Gallery, University of Pennsylvania, 09/24–12/24
THE FALL 2023 ARTBOOK | D.A.P. CATALOG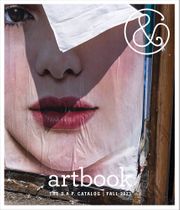 Preview our Fall 2023 catalog, featuring more than 500 new books on art, photography, design, architecture, film, music and visual culture.
&nbsp
&nbsp
Beyond the Medici: The Haukohl Family Collection

Edited by Federico Berti.


Sir Mark Fehrs Haukohl, a Houston-based art collector and cofounder of the Medici Archive Project, has built America's largest private collection of Florentine baroque paintings from the 17th to 18th centuries. The paintings, drawings, textiles, and sculpture illustrated in the collection document the Medici patronage and artists of the period. Particular attention is paid to the Dandini Family of painters: Cesare, Vincenzo, Pier and Ottaviano. Essays by Drs. Eike Schmidt, James Bradburn, Federico Berti, Fabio Sottili and Francesco Scasciamacchia address a broad overview of collecting and history of the period. . Each artist is reviewed in depth along with a generous bibliography. The exhibition has toured five museums in Europe from 2018-2023. The exhibition continues in the United States in 2023-2025 at the Rollins Museum of Art, The David Owsley Museum of Art, and the Arthur Ross Gallery.




Free Shipping

UPS GROUND IN THE CONTINENTAL U.S.
FOR CONSUMER ONLINE ORDERS

MARSILIO ARTE

ISBN: 9791254631515
USD $39.95

| CAN $56.95

UK &pound 33.99

Pub Date: 10/31/2023
Forthcoming




SKIRA

ISBN: 9788857249254
USD $50.00

| CAN $72.5

Pub Date: 12/5/2023
Forthcoming




FONDAZIONE PRADA

ISBN: 9788887029840
USD $80.00

| CAN $116

Pub Date: 11/7/2023
Forthcoming




MFA PUBLICATIONS, MUSEUM OF FINE ARTS, BOSTON

ISBN: 9780878468911
USD $60.00

| CAN $87

UK &pound 54

Pub Date: 10/10/2023
Active | In stock




MARSILIO ARTE

ISBN: 9791254631225
USD $29.95

| CAN $42.95

UK &pound 26

Pub Date: 1/16/2024
Forthcoming




DELMONICO BOOKS/LOS ANGELES COUNTY MUSEUM OF ART

ISBN: 9781636810881
USD $85.00

| CAN $123

UK &pound 75

Pub Date: 11/28/2023
Forthcoming




SKIRA

ISBN: 9788857248059
USD $35.00

| CAN $49

Pub Date: 4/25/2023
Active | In stock




MARSILIO ARTE

ISBN: 9791254630563
USD $19.95

| CAN $26.95

UK &pound 17.99

Pub Date: 3/14/2023
Active | In stock




MARSILIO ARTE

ISBN: 9791254630587
USD $19.95

| CAN $26.95

UK &pound 17.99

Pub Date: 3/14/2023
Active | In stock




JBE BOOKS

ISBN: 9782365680707
USD $25.00

| CAN $35

Pub Date: 3/14/2023
Active | In stock




KAPH BOOKS

ISBN: 9786148035456
USD $45.00

| CAN $63

Pub Date: 6/13/2023
Active | Out of stock




FONDAZIONE PRADA

ISBN: 9788887029833
USD $90.00

| CAN $126

Pub Date: 11/7/2023
Forthcoming