BOOK FORMAT
Hardcover, 10 x 10 in. / 256 pgs / 110 color.
PUBLISHING STATUS
Pub Date 10/23/2018
Active
DISTRIBUTION
D.A.P. Exclusive
Catalog: FALL 2018 p. 85
PRODUCT DETAILS
ISBN 9788836639328 TRADE
List Price: $55.00 CDN $72.50
AVAILABILITY
Out of stock
TERRITORY
NA LA ASIA AU/NZ AFR ME
EXHIBITION SCHEDULE
Rome, Italy
Museo di Roma, Palazzo Braschi, 04/11/18–08/19/18
THE FALL 2023 ARTBOOK | D.A.P. CATALOG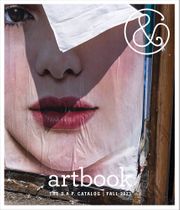 Preview our Fall 2023 catalog, featuring more than 500 new books on art, photography, design, architecture, film, music and visual culture.
&nbsp
&nbsp
Canaletto 1697–1768

Edited by Anna Kowalczyk Bozena.


No-one captures the allure and charm of Venice better than Canaletto

This volume presents a substantial overview of the life and works of the great Venetian painter. More than 70 works by Canaletto, including paintings and drawings from both public and private collections, are brought together to demonstrate the breadth of the artist's creative capacity. Also included is a rare collection of documents concerning Canaletto's artistic adventures, as well as a series of prints that served as inspiration while crafting his iconic city views. Together, these materials illuminate both the public genius and private personality and life of the Venetian master.

Giovanni Antonio Canal (1697–1768), known as Canaletto, began his career as a scene painter for the theaters of Venice. The artist is best known for his ability to capture encompassing views of the Venetian cityscape in paint, works that were frequently sold to European aristocrats on the Grand Tour. These early paintings often subtly blur the boundary between the real and imaginary, as the artist masterfully repositioned buildings and warped viewpoints to achieve the most holistic presentation of his subject. Although Canaletto is regarded as one of the greatest artists of the 18th century today, his life was mired in controversy as he struggled with his public perception, fighting to be accepted by the Venetian Academy of Fine Arts before dying in poverty.




Featured image is reproduced from 'Canaletto 1697–1768.'

STATUS: Out of stock

Temporarily out of stock pending additional inventory.

ART BOOKS & MUSEUM EXHIBITION CATALOGS: FORTHCOMING AND RECENT RELEASES

THE MUSEUM OF MODERN ART, NEW YORK

ISBN: 9781633451506
USD $75.00

| CAN $108.5

Pub Date: 10/3/2023
Active | In stock




GREGORY R. MILLER & CO./BALTIMORE MUSEUM OF ART/SAINT LOUIS ART MUSEUM

ISBN: 9781941366547
USD $55.00

| CAN $79

UK &pound 49

Pub Date: 6/27/2023
Active | In stock




GLENSTONE MUSEUM

ISBN: 9798987425411
USD $70.00

| CAN $101.5

UK &pound 62

Pub Date: 1/9/2024
Forthcoming




LOS ANGELES COUNTY MUSEUM OF ART

ISBN: 9781636810799
USD $85.00

| CAN $123

UK &pound 76

Pub Date: 7/4/2023
Active | In stock




J&L BOOKS/MAGIC HOUR PRESS

ISBN: 9780999365557
USD $45.00

| CAN $65

UK &pound 40

Pub Date: 9/12/2023
Active | In stock




DELMONICO BOOKS/BUFFALO AKG ART MUSEUM

ISBN: 9781636811017
USD $75.00

| CAN $108.5

UK &pound 65

Pub Date: 11/7/2023
Active | In stock




D.A.P./DISTRIBUTED ART PUBLISHERS

ISBN: 9789493039759
USD $125.00

| CAN $181

Pub Date: 11/21/2023
Active | In stock




GUGGENHEIM MUSEUM PUBLICATIONS

ISBN: 9780892075638
USD $65.00

| CAN $94

UK &pound 57

Pub Date: 11/21/2023
Active | In stock




DELMONICO BOOKS/BIG NDN PRESS

ISBN: 9781636811024
USD $75.00

| CAN $108.5

UK &pound 67

Pub Date: 8/22/2023
Active | Out of stock




DELMONICO BOOKS/NASHER SCULPTURE CENTER

ISBN: 9781636811109
USD $59.95

| CAN $85.95

UK &pound 48

Pub Date: 11/7/2023
Active | In stock




ROYAL ACADEMY OF ARTS

ISBN: 9781912520411
USD $50.00

| CAN $72.5

Pub Date: 1/16/2024
Forthcoming




RADIUS BOOKS

ISBN: 9781955161107
USD $65.00

| CAN $94

UK &pound 57

Pub Date: 12/5/2023
Active | In stock