PUBLISHER
BOOK FORMAT
Clth, 9.5 x 11.25 in. / 96 pgs / 70 color.
PUBLISHING STATUS
Pub Date 3/31/2011
Active
DISTRIBUTION
D.A.P. Exclusive
Catalog: SPRING 2011 p. 70
PRODUCT DETAILS
ISBN 9788836617234 TRADE
List Price: $32.00 CDN $42.50
AVAILABILITY
Out of stock
TERRITORY
NA LA ASIA AU/NZ AFR ME
EXHIBITION SCHEDULE
Luxembourg
National Museum of History and Art, 12/02/10-03/27/11
THE FALL 2023 ARTBOOK | D.A.P. CATALOG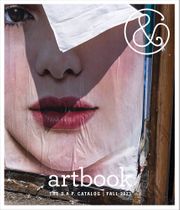 Preview our Fall 2023 catalog, featuring more than 500 new books on art, photography, design, architecture, film, music and visual culture.
&nbsp
&nbsp
The Age of Symbolism in Latvia

Edited by Dace Lamberga.


Though its best known adherents are Redon and Moreau, Frenchmen, the late-nineteenth-century Symbolist movement in painting found some of its most fascinating expressions in Eastern and North-Eastern Europe. Latvia in this era was radically transformed by an expansion of industry and its increased prosperity naturally impacted its arts, in the flowering of Symbolism and Art Nouveau. Published on the occasion of exhibitions at the City Hall of Brussels and the National Museum of History and Art in Luxembourg, the catalogue illustrates this radiant epoch in Latvia's cultural and artistic past. It features works by some of the major representatives of Latvian Symbolism including Janis Rozentals, Vilhelms Purvitis and Johann Walter, along with their contemporaries, Jekabs Belzens, Aleksandrs Romans and Rudolfs Perle. The book also includes an essay by Dace Lamberga.


Featured image is Beauty, a sketch of a fresco for the Riga Latvian Society by Janis Rozentals, reproduced fromThe Age of Symbolism in Latvia.

STATUS: Out of stock

Temporarily out of stock pending additional inventory.

FROM THE BOOK

"The many-layered and saturated language of Symbolism and the stylistics of Art Nouveau were reflected in Latvian art in more restrained ways than in Western examples. However, local features created sufficiently original characteristics. To a large degree, the means of expression of both movements voice the moods of the age. They evoke reflections on the purposeful path of our national art on the way to a creative maturity ruled by two basic themes—nature and man. The human image is reflected both as contemporary to the creator and as a hero of mythological stories and folklore. On the other hand, nature, an integral component of human existence, is reflected in the peaceful landscape of Latvia's fields, forests, rivers and marshes and its restrained northern colorfulness. Symbolism sprang from the cosmopolitan soil in the late 19th century and its essence is linked to universal humanitarian ideas. However, in the world of Latvian art the movement undoubtedly became enriched with specific national features that came from the romantic world of folk tales, legends and folk songs."

Dace Lamberga, excerpted from The Age of Symbolism in Latvia.

OF RELATED INTEREST

THE MUSEUM OF MODERN ART, NEW YORK

ISBN: 9780870707025
USD $55.00

| CAN $65

Pub Date: 10/15/2005
Out of print | Not available




MARSILIO ARTE

ISBN: 9791254631515
USD $39.95

| CAN $56.95

UK &pound 33.99

Pub Date: 10/31/2023
Forthcoming




SKIRA

ISBN: 9788857249254
USD $50.00

| CAN $72.5

Pub Date: 12/5/2023
Forthcoming




FONDAZIONE PRADA

ISBN: 9788887029840
USD $80.00

| CAN $116

Pub Date: 11/7/2023
Forthcoming




MFA PUBLICATIONS, MUSEUM OF FINE ARTS, BOSTON

ISBN: 9780878468911
USD $60.00

| CAN $87

UK &pound 54

Pub Date: 10/10/2023
Active | In stock




MARSILIO ARTE

ISBN: 9791254631225
USD $29.95

| CAN $42.95

UK &pound 26

Pub Date: 1/16/2024
Forthcoming




DELMONICO BOOKS/LOS ANGELES COUNTY MUSEUM OF ART

ISBN: 9781636810881
USD $85.00

| CAN $123

UK &pound 75

Pub Date: 11/28/2023
Forthcoming




SKIRA

ISBN: 9788857248059
USD $35.00

| CAN $49

Pub Date: 4/25/2023
Active | In stock




MARSILIO ARTE

ISBN: 9791254630563
USD $19.95

| CAN $26.95

UK &pound 17.99

Pub Date: 3/14/2023
Active | In stock




MARSILIO ARTE

ISBN: 9791254630587
USD $19.95

| CAN $26.95

UK &pound 17.99

Pub Date: 3/14/2023
Active | In stock




JBE BOOKS

ISBN: 9782365680707
USD $25.00

| CAN $35

Pub Date: 3/14/2023
Active | In stock




KAPH BOOKS

ISBN: 9786148035456
USD $45.00

| CAN $63

Pub Date: 6/13/2023
Active | Out of stock




FONDAZIONE PRADA

ISBN: 9788887029833
USD $90.00

| CAN $126

Pub Date: 11/7/2023
Forthcoming