PUBLISHER
RM
BOOK FORMAT
Paperback, 9.5 x 8.75 in. / 214 pgs.
PUBLISHING STATUS
Pub Date 1/1/2010
Active
DISTRIBUTION
D.A.P. Exclusive
Catalog: Publisher Backlist
PRODUCT DETAILS
ISBN 9788492480166 TRADE
List Price: $28.00 CDN $39.00
AVAILABILITY
In stock
THE FALL 2023 ARTBOOK | D.A.P. CATALOG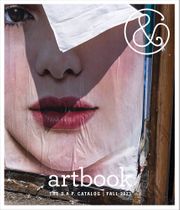 Preview our Fall 2023 catalog, featuring more than 500 new books on art, photography, design, architecture, film, music and visual culture.
&nbsp
&nbsp
La vuelta al día en 80 mundos (Around the Day in Eighty Worlds, Spanish Edition)

By Julio Cortázar. Edited by Julio Silva.


El dibujo a tinta de la portada es de Ricardo Martínez. Apareció en la primera edición de Pedro Páramo, que se terminó de imprimir el 19 de marzo de 1955.

Editorial RM is publishing this facsimile of the first edition (1967) of Julio Cortázar's "La vuelta al día en 80 mundos" designed by Julio Silva. The author creates a collage of scattered prose pieces accompanied by images and drawings, blurring the bounds of literary genres and transforming the reading of the book into a genuine adventure within his own literary, poetic, and artistic world. "I owe the title of this book to my namesake Jules Verne, and to Lester Young the freedom to alter the saga of Phileas Fogg without committing an offense against it." Julio Cortázar




Free Shipping

UPS GROUND IN THE CONTINENTAL U.S.
FOR CONSUMER ONLINE ORDERS

MOUSSE PUBLISHING

ISBN: 9788867493395
USD $19.00

| CAN $29.95

Pub Date: 2/19/2019
Active | In stock




BLANK FORMS EDITIONS

ISBN: 9781953691149
USD $15.00

| CAN $22

Pub Date: 4/2/2024
Forthcoming




FOUR CORNERS BOOKS

ISBN: 9781909829190
USD $37.00

| CAN $53

Pub Date: 7/18/2023
Forthcoming




WAKEFIELD PRESS

ISBN: 9781939663887
USD $19.95

| CAN $26.95

UK &pound 16.95

Pub Date: 11/22/2022
Active | In stock




WAKEFIELD PRESS

ISBN: 9781939663870
USD $16.95

| CAN $29.95

UK &pound 13.95

Pub Date: 11/22/2022
Active | In stock




SPECTOR BOOKS

ISBN: 9783959055215
USD $20.00

| CAN $28

Pub Date: 12/13/2022
Active | In stock




KAYA PRESS

ISBN: 9781885030832
USD $18.95

| CAN $25.95

UK &pound 15.95

Pub Date: 8/1/2023
Forthcoming




KARMA BOOKS, NEW YORK

ISBN: 9781949172720
USD $35.00

| CAN $49

UK &pound 25

Pub Date: 7/19/2022
Active | In stock




ERRANT BODIES PRESS

ISBN: 9783982316628
USD $24.00

| CAN $33.5

Pub Date: 7/4/2023
Forthcoming




BLANK FORMS EDITIONS

ISBN: 9781953691118
USD $20.00

| CAN $28

Pub Date: 11/15/2022
Active | In stock




AFTER 8 BOOKS

ISBN: 9782492650055
USD $16.00

| CAN $22

Pub Date: 7/26/2022
Active | In stock




AFTER 8 BOOKS

ISBN: 9782955948644
USD $16.00

| CAN $22

Pub Date: 6/21/2022
Active | Out of stock