PUBLISHER
RM
BOOK FORMAT
Paperback, 5.25 x 7.5 in. / 366 pgs.
PUBLISHING STATUS
Pub Date 8/31/2018
Active
DISTRIBUTION
D.A.P. Exclusive
Catalog: Publisher Backlist
PRODUCT DETAILS
ISBN 9788417047665 TRADE
List Price: $15.00 CDN $20.00
AVAILABILITY
In stock
THE FALL 2023 ARTBOOK | D.A.P. CATALOG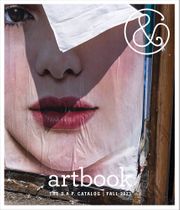 Preview our Fall 2023 catalog, featuring more than 500 new books on art, photography, design, architecture, film, music and visual culture.
&nbsp
&nbsp
Obra (Oeuvre, Spanish Edition)

By Juan Rulfo.


Este libro recoge las obras fundamentales de Juan Rulfo: la colección de cuentos de El Llano en llamas (1953), la novela Pedro Páramo (1955) y El gallo de oro (1958). Esta edición apareció al cumplirse cien años del nacimiento de Rulfo y ya desvinculada de esa efeméride, reaparece en esta nueva presentación en tapa rústica. La obra de Juan Rulfo ha sido elogiada por autores del mayor prestigio internacional, entre los que cabe destacar a José María Arguedas, Gabriel García Márquez, Jorge Luis Borges, Günter Grass, Susan Sontag, Elias Canetti o Mario Vargas Llosa. Se trata de los textos definitivos de las obras establecidos por la Fundación Juan Rulfo.

This book collects the fundamental works of Juan Rulfo: the collection of short stories of El Llano en llamas (1953), the novel Pedro Páramo (1955) and El gallo de oro (1958). This edition appeared on the hundredth anniversary of the birth of Rulfo and already detached from that anniversary, reappears in this new presentation in paperback. The work of Juan Rulfo has been praised by authors of the greatest international prestige, among which it is worth mentioning José María Arguedas, Gabriel García Márquez, Jorge Luis Borges, Günter Grass, Susan Sontag, Elias Canetti or Mario Vargas Llosa. These are the definitive texts of the works established by the Juan Rulfo Foundation.




Free Shipping

UPS GROUND IN THE CONTINENTAL U.S.
FOR CONSUMER ONLINE ORDERS

MOUSSE PUBLISHING

ISBN: 9788867493395
USD $19.00

| CAN $29.95

Pub Date: 2/19/2019
Active | In stock




BLANK FORMS EDITIONS

ISBN: 9781953691149
USD $15.00

| CAN $22

Pub Date: 4/2/2024
Forthcoming




FOUR CORNERS BOOKS

ISBN: 9781909829190
USD $37.00

| CAN $53

Pub Date: 7/18/2023
Forthcoming




WAKEFIELD PRESS

ISBN: 9781939663887
USD $19.95

| CAN $26.95

UK &pound 16.95

Pub Date: 11/22/2022
Active | In stock




WAKEFIELD PRESS

ISBN: 9781939663870
USD $16.95

| CAN $29.95

UK &pound 13.95

Pub Date: 11/22/2022
Active | In stock




SPECTOR BOOKS

ISBN: 9783959055215
USD $20.00

| CAN $28

Pub Date: 12/13/2022
Active | In stock




KAYA PRESS

ISBN: 9781885030832
USD $18.95

| CAN $25.95

UK &pound 15.95

Pub Date: 8/1/2023
Forthcoming




KARMA BOOKS, NEW YORK

ISBN: 9781949172720
USD $35.00

| CAN $49

UK &pound 25

Pub Date: 7/19/2022
Active | In stock




ERRANT BODIES PRESS

ISBN: 9783982316628
USD $24.00

| CAN $33.5

Pub Date: 7/4/2023
Forthcoming




BLANK FORMS EDITIONS

ISBN: 9781953691118
USD $20.00

| CAN $28

Pub Date: 11/15/2022
Active | In stock




AFTER 8 BOOKS

ISBN: 9782492650055
USD $16.00

| CAN $22

Pub Date: 7/26/2022
Active | In stock




AFTER 8 BOOKS

ISBN: 9782955948644
USD $16.00

| CAN $22

Pub Date: 6/21/2022
Active | Out of stock