BOOK FORMAT
Hardcover, 5.75 x 9 in. / 416 pgs.
PUBLISHING STATUS
Pub Date 4/21/2017
Active
DISTRIBUTION
D.A.P. Exclusive
Catalog: Publisher Backlist
PRODUCT DETAILS
ISBN 9788417047115 TRADE
List Price: $35.00 CDN $49.00
AVAILABILITY
In stock
THE FALL 2023 ARTBOOK | D.A.P. CATALOG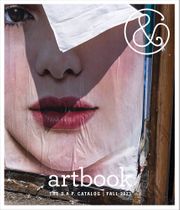 Preview our Fall 2023 catalog, featuring more than 500 new books on art, photography, design, architecture, film, music and visual culture.
&nbsp
&nbsp
Noticias sobre Juan Rulfo (News on Juan Rulfo, Spanish Edition)

Edited with text by Alberto Vital.


Alberto Vital is currently one of the greatest connoisseurs of the life and work of Juan Rulfo. On the occasion of the Centenary of Juan Rulfo, this new edition is published, with a practical format and stimulating and informative reading, which incorporates new data and reflections on the literature and photography of Juan Rulfo. The book includes the writer's family tree, correspondence, documents and family photographs, as well as four texts by Rulfo himself about his life experience and training as a writer, as well as two unpublished interviews; all materials that illuminate aspects hitherto ignored or unknown of his career. A biography that renounces the endless list of inaccuracies and legends forged around Rulfo and that will make it a definitive reference.




Free Shipping

UPS GROUND IN THE CONTINENTAL U.S.
FOR CONSUMER ONLINE ORDERS

MOUSSE PUBLISHING

ISBN: 9788867493395
USD $19.00

| CAN $29.95

Pub Date: 2/19/2019
Active | In stock




BLANK FORMS EDITIONS

ISBN: 9781953691149
USD $15.00

| CAN $22

Pub Date: 4/2/2024
Forthcoming




FOUR CORNERS BOOKS

ISBN: 9781909829190
USD $37.00

| CAN $53

Pub Date: 7/18/2023
Forthcoming




WAKEFIELD PRESS

ISBN: 9781939663887
USD $19.95

| CAN $26.95

UK &pound 16.95

Pub Date: 11/22/2022
Active | In stock




WAKEFIELD PRESS

ISBN: 9781939663870
USD $16.95

| CAN $29.95

UK &pound 13.95

Pub Date: 11/22/2022
Active | In stock




SPECTOR BOOKS

ISBN: 9783959055215
USD $20.00

| CAN $28

Pub Date: 12/13/2022
Active | In stock




KAYA PRESS

ISBN: 9781885030832
USD $18.95

| CAN $25.95

UK &pound 15.95

Pub Date: 8/1/2023
Forthcoming




KARMA BOOKS, NEW YORK

ISBN: 9781949172720
USD $35.00

| CAN $49

UK &pound 25

Pub Date: 7/19/2022
Active | In stock




ERRANT BODIES PRESS

ISBN: 9783982316628
USD $24.00

| CAN $33.5

Pub Date: 7/4/2023
Forthcoming




BLANK FORMS EDITIONS

ISBN: 9781953691118
USD $20.00

| CAN $28

Pub Date: 11/15/2022
Active | In stock




AFTER 8 BOOKS

ISBN: 9782492650055
USD $16.00

| CAN $22

Pub Date: 7/26/2022
Active | In stock




AFTER 8 BOOKS

ISBN: 9782955948644
USD $16.00

| CAN $22

Pub Date: 6/21/2022
Active | Out of stock