BOOK FORMAT
Hardcover, 8 x 10 in. / 264 pgs / illustrated throughout.
PUBLISHING STATUS
Pub Date 12/31/2014
Active
DISTRIBUTION
D.A.P. Exclusive
Catalog: FALL 2014 p. 166
PRODUCT DETAILS
ISBN 9788415832850 TRADE
List Price: $50.00 CDN $67.50
AVAILABILITY
In stock
TERRITORY
NA AFR ME
EXHIBITION SCHEDULE
New York
Museum of Art and Design, 11/04/14
THE FALL 2023 ARTBOOK | D.A.P. CATALOG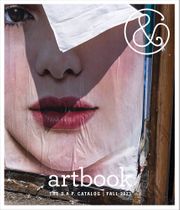 Preview our Fall 2023 catalog, featuring more than 500 new books on art, photography, design, architecture, film, music and visual culture.
&nbsp
&nbsp
New Territories

Laboratories for Design, Craft and Art in Latin America

Introduction by Lowery Stokes Sims. Text by Mari Carmen Ramírez, Gabriela Rangel, Jorge Rivas Pérez, Regine Basha, Fabiana Lopes and Nessia Leonzini Pope, Antonio Sánchez Gómez, Ana Elena Mallet, Magdalena Grüneisen, Adélia Borges, Adriana Kertzer, Marcella Echavarría


New Territories examines creative practices in today's globalized world, in which disciplines overlap more than ever before. Looking in particular at countries such as Brazil, Cuba, Panama, Columbia, Mexico, El Salvador, Puerto Rico, Venezuela and Chile, this volume discusses the ways in which craft, art and design have transcended their former identities. Today, artists in these fields may address issues of not only commodification and mass production, but also social concerns of urbanization, displacement, housing and sustainability. Including the work of more than 100 artists, designers/design studios and artisans, New Territories sets out to explore the present state of design--much of which has emerged from interfaces between manufacturers, folk artisans, indigenous artists and designers--and its future.


Featured image shows work by Castrellón, reproduced from New Territories.

Free Shipping

UPS GROUND IN THE CONTINENTAL U.S.
FOR CONSUMER ONLINE ORDERS

CORY REYNOLDS | DATE 3/27/2015

WALTHER KöNIG, KöLN/THE NATIONAL MUSEUM OF ART, ARCHITECTURE AND DESIGN, OSLO

ISBN: 9783753303666
USD $40.00

| CAN $58

Pub Date: 1/9/2024
Forthcoming




MARSILIO ARTE

ISBN: 9791254631409
USD $45.00

| CAN $65

UK &pound 36

Pub Date: 1/23/2024
Forthcoming




SKIRA

ISBN: 9788857249544
USD $50.00

| CAN $72.5

Pub Date: 9/26/2023
Active | In stock




NAI010 PUBLISHERS

ISBN: 9789462087736
USD $75.00

| CAN $108.5

Pub Date: 10/3/2023
Active | In stock




MFA PUBLICATIONS, MUSEUM OF FINE ARTS, BOSTON

ISBN: 9780878468935
USD $24.95

| CAN $35.95

UK &pound 22

Pub Date: 10/3/2023
Active | In stock




SKIRA

ISBN: 9788857249285
USD $35.00

| CAN $50.5

Pub Date: 6/6/2023
Active | In stock




SKIRA

ISBN: 9788857248011
USD $45.00

| CAN $63

Pub Date: 4/25/2023
Active | Out of stock




SKIRA

ISBN: 9788857248257
USD $52.00

| CAN $73

Pub Date: 4/25/2023
Active | In stock




SILVANA EDITORIALE

ISBN: 9788836652921
USD $45.00

| CAN $63

Pub Date: 5/30/2023
Active | In stock




MARSILIO ARTE

ISBN: 9791254630624
USD $35.00

| CAN $49

UK &pound 30

Pub Date: 3/14/2023
Active | In stock




MARSILIO ARTE

ISBN: 9791254630891
USD $45.00

| CAN $63

UK &pound 39

Pub Date: 10/3/2023
Active | In stock




HATJE CANTZ

ISBN: 9783775752558
USD $50.00

| CAN $69

Pub Date: 1/3/2023
Active | In stock