BOOK FORMAT
Slip, Hardcover, 8.5 x 11.5 in. / 120 pgs / illustrated throughout.
PUBLISHING STATUS
Pub Date 5/31/2014
Active
DISTRIBUTION
D.A.P. Exclusive
Catalog: SPRING 2014 p. 50
PRODUCT DETAILS
ISBN 9786185039042 TRADE
List Price: $80.00 CDN $107.50
AVAILABILITY
In stock
TERRITORY
NA LA ASIA AU/NZ AFR ME
THE FALL 2023 ARTBOOK | D.A.P. CATALOG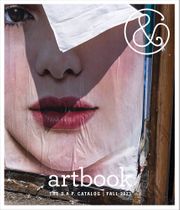 Preview our Fall 2023 catalog, featuring more than 500 new books on art, photography, design, architecture, film, music and visual culture.
&nbsp
&nbsp
1968: Radical Italian Design

Photographs by Maurizio Cattelan & Pieropaolo Ferrari

Preface by Maria Cristina Didero. Drawings by Alessandro Mendini.


The Toilet Paper team's eye-popping homage to Italian Radical Design

1968: Radical Italian Design, the newest project from Maurizio Cattelan and Pierpaolo Ferrari's Toilet Paper in collaboration with the Deste Foundation in Athens, offers an unorthodox, kaleidoscopic walk through the Dakis Joannou collection of Italian Radical Design furniture. Led by avant-garde design firms such as Archizoom, Superstudio, Global Tools and 9999, Radical Design was firmly opposed to the ethics, and indeed the very notion of, "good design" or taste. Toilet Paper's bold, mischievous interpretation of Joannou's collection results in delightful, high-contrast photographs that merge the seductive lines of Radical Design furniture and objects with the curves of the modern-day nymphs cavorting among them. Published as a board book, and named after a year that was pivotal for architecture and design (and, of course, the world at large), 1968 is a collection of dreams and nightmares, an inspiring, eye-popping compendium of colorful, ironic objects and bodies. At once charmingly retro and alarmingly surreal, 1968 includes drawings by one of the Radical Design movement's foremost architects, Alessandro Mendini.


Featured image is reproduced from 1968: Radical Italian Furniture.

PRAISE AND REVIEWS

PIN-UP

Kevin Greenberg

The 120-page tome strikes the perfect tone for its subject, with each full-color spread popping in acid hues and featuring compositions full of cheeky humor, sex, and the occasional gross-out, with key pieces from Joannou's collection playing both starring and supporting roles.

The New York Times, Styles Section

Emami Gazelle

Named for the revolutionary spirit of 1968, the book celebrates these objects by placing them in surreal scenarios. "It's a book about lightness and freedom — our idea of '68 is about declining responsibility, about being independent of those who preceded us," says Cattelan, who retired from the art world in 2011 with a flashy retrospective at the Guggenheim. These days, he runs a biannual, photo-driven magazine with Ferrari, Toilet Paper, which shares a similar aesthetic and spirit with "1968."

Like the many oversize pieces in this furniture collection, the book itself — chunky, with images printed onto thick cardboard pages — has a self-announcing physicality to it. "This is not a book, it's an object," Cattelan says, suggesting that any book about design should aspire to be a piece of design itself. "You can actually kill a man with it!"

Art Flash

Michele D'Aurizio

Recently released, 1968: ITALIAN RADICAL DESIGN is a highly crafted volume comprised of more than sixty photographs staged by Catelan and Ferrari, prefaced by Maria Cristina Didero adn accompanied by drawings by living legend Alessandro Mendini. The book offers a hallucinatory survey of the items that populated domestic interiors of the 1970's, projecting onto them the fantasies and perversions of their then users.

Free Shipping

UPS GROUND IN THE CONTINENTAL U.S.
FOR CONSUMER ONLINE ORDERS

CORY REYNOLDS | DATE 5/28/2014

In her preface to 1968: Radical Italian Furniture, the super sexy new board book documenting the Dakis Joannou furniture collection, design curator and journalist Maria Cristina Didero writes, "1968 was a year to remember. Martin Luther King and Robert Kennedy were assassinated, Yuri Gagarin died in an airplane crash, Russian troops invaded the former Czechoslovakia, the first interracial kiss in the history of American television took place in an episode of Star Trek, the Apollo 8 mission returned safely to Earth, and Marcel Duchamp played his last game of chess and died. But large parts of the world – Italy, France and Europe in general, but also Mexico City, California, and elsewhere – were shaken by a major social, political, and cultural movement with the potential to change the way we live forever. With regards to design, 1968 was also a year to remember as the so-called 'avant-gardes' translated this Cultural Revolution into a new language of form and sensibility, often defined as Radical Design." Featured image, by Maurizio Cattelan and Pieropaolo Ferrari of Toilet Paper, is Ettore Sottsass's 1970 mirror, "Ultrafragola." continue to blog

SET MARGINS' PUBLICATIONS

ISBN: 9789083350103
USD $30.00

| CAN $44

Pub Date: 11/7/2023
Forthcoming




MOUSSE PUBLISHING

ISBN: 9788867495962
USD $40.00

| CAN $58

Pub Date: 12/5/2023
Forthcoming




ANDREA CAPUTO

ISBN: 9791221003420
USD $135.00

| CAN $195

Pub Date: 9/5/2023
Active | In stock




SILVANA EDITORIALE

ISBN: 9788836654529
USD $75.00

| CAN $108.5

Pub Date: 2/20/2024
Forthcoming




SILVANA EDITORIALE

ISBN: 9788836651085
USD $40.00

| CAN $58

Pub Date: 11/7/2023
Forthcoming




SKIRA PARIS

ISBN: 9782370741967
USD $45.00

| CAN $63

Pub Date: 11/21/2023
Forthcoming




VITRA DESIGN MUSEUM

ISBN: 9783945852545
USD $52.00

| CAN $72

Pub Date: 1/3/2023
Active | In stock




SILVANA EDITORIALE

ISBN: 9788836652082
USD $40.00

| CAN $55

Pub Date: 11/15/2022
Active | In stock




LARS MüLLER PUBLISHERS

ISBN: 9783037787106
USD $70.00

| CAN $98

Pub Date: 1/31/2023
Active | In stock




KERBER

ISBN: 9783735608765
USD $85.00

| CAN $119

Pub Date: 5/23/2023
Active | In stock




MOUSSE PUBLISHING

ISBN: 9788867495429
USD $80.00

| CAN $112

Pub Date: 4/4/2023
Active | Out of stock




LARS MüLLER PUBLISHERS

ISBN: 9783037787151
USD $50.00

| CAN $70

Pub Date: 3/21/2023
Active | In stock