BOOK FORMAT
Paperback, 9 x 12 in. / 102 pgs / 160 bw.
PUBLISHING STATUS
Pub Date 2/27/2018
Active
DISTRIBUTION
D.A.P. Exclusive
Catalog: FALL 2017 p. 95
PRODUCT DETAILS
ISBN 9783958293205 TRADE
List Price: $35.00 CDN $47.50
AVAILABILITY
Out of stock
THE FALL 2023 ARTBOOK | D.A.P. CATALOG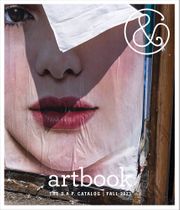 Preview our Fall 2023 catalog, featuring more than 500 new books on art, photography, design, architecture, film, music and visual culture.
After The Americans, The Lines of My Hand is Frank's most important book and the publication that established his autobiographical, sometimes confessional, approach to bookmaking.

THE PHOTOGRAPHER: Robert Frank was born in Zurich in 1924 and immigrated to the United States in 1947. He is best known for his seminal book The Americans, first published in English in 1959, which gave rise to a distinctly 'new form of the photobook, He divides his time between New York City and Nova Scotia, Canada.
ABOUT THE BOOK: Originally published in 1972, reprinted by Pantheon in 1989, and by Scalo in 1996 this is a a photobook classic.Chronological selections from every stage of Frank's work until 1972: early photos in Switzerland 1945'46, Peru, Paris, Valencia, London and Wales, contact sheets from The Americans, photo-collages, film stills Pull My Daisy (1959).
This new Steidl edition is made in close collaboration with Robert Frank, it follows and updates the first US edition by Lustrum Press of 1972.
&nbsp
&nbsp
Robert Frank: The Lines of My Hand

Text by Robert Frank.


After The Americans, The Lines of My Hand is arguably Robert Frank's most important book, and without doubt the publication that established his autobiographical, sometimes confessional, approach to bookmaking.

The book was originally published by Yugensha in Tokyo in 1972, and this new Steidl edition, made in close collaboration with Frank, follows and updates the first US edition by Lustrum Press of 1972.

The Lines of My Hand is structured chronologically and presents selections from every stage of Frank's work until 1972—from early photos in Switzerland in 1945–46, to images of his travels in Peru, Paris, Valencia, London and Wales, and to contact sheets from his 1955–56 journey through the US that resulted in The Americans. Here too are intimate photos of Frank's young family, later photo-collages and stills from films including Pull My Daisy and About Me: A Musical.




STATUS: Out of stock

Temporarily out of stock pending additional inventory.

THE MUSEUM OF MODERN ART, NEW YORK

ISBN: 9781633451193
USD $14.95

| CAN $20.95

Pub Date: 3/9/2021
Active | In stock




STEIDL

ISBN: 9783958293069
USD $30.00

| CAN $42

Pub Date: 11/10/2020
Active | In stock




STEIDL

ISBN: 9783958295506
USD $40.00

| CAN $56

Pub Date: 4/23/2019
Active | In stock




STEIDL

ISBN: 9783958290396
USD $45.00

| CAN $60

Pub Date: 6/18/2019
Active | In stock




STEIDL

ISBN: 9783958293205
USD $35.00

| CAN $47.5

Pub Date: 2/27/2018
Active | Out of stock




STEIDL

ISBN: 9783958293113
USD $30.00

| CAN $40

Pub Date: 11/21/2017
Active | In stock




STEIDL

ISBN: 9783869309040
USD $40.00

| CAN $54

Pub Date: 11/22/2016
Active | In stock




STEIDL

ISBN: 9783958290952
USD $30.00

| CAN $40

Pub Date: 3/22/2016
Active | In stock




STEIDL

ISBN: 9783958290365
USD $175.00

| CAN $235

Pub Date: 10/25/2016
Active | In stock




STEIDL

ISBN: 9783869307954
USD $30.00

| CAN $40

Pub Date: 9/30/2014
Active | In stock




STEIDL/THE ROBERT FRANK PROJECT

ISBN: 9783865218117
USD $35.00

| CAN $40

Pub Date: 4/1/2009
Forthcoming




STEIDL

ISBN: 9783869306605
USD $35.00

| CAN $47.5

Pub Date: 12/15/2013
Active | In stock




STEIDL

ISBN: 9783869301983
USD $40.00

| CAN $54

Pub Date: 2/1/2011
Active | In stock




STEIDL

ISBN: 9783869305851
USD $30.00

| CAN $40

Pub Date: 1/30/2013
Active | In stock




STEIDL

ISBN: 9783869301013
USD $30.00

| CAN $40

Pub Date: 8/1/2010
Active | In stock




STEIDL

ISBN: 9783869305028
USD $50.00

| CAN $67.5

Pub Date: 10/31/2012
Active | In stock