BOOK FORMAT
Hardcover, 7 x 4.5 in. / 288 pgs / 80 bw.
PUBLISHING STATUS
Pub Date 1/9/2016
Active
DISTRIBUTION
D.A.P. Exclusive
Catalog: Publisher Backlist
PRODUCT DETAILS
ISBN 9783944669922 TRADE
List Price: $29.00 CDN $39.50
AVAILABILITY
In stock
TERRITORY
NA LA AFR ME
THE FALL 2023 ARTBOOK | D.A.P. CATALOG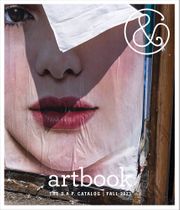 Preview our Fall 2023 catalog, featuring more than 500 new books on art, photography, design, architecture, film, music and visual culture.
&nbsp
&nbsp
Travelling Communiqué

Edited by Armin Linke, Vanessa Vasic-Janekovic, Sarah Poppel.


The archive of the Photo Service of the President of the Socialist Federal Republic of Yugoslavia contains nearly 300,000 photographs documenting Josip Broz Tito's public and private activities from 1948 until his death in 1980. It is housed today in the Museum of Yugoslav History (MYH) in Belgrade. In 2012, the MYH curatorial staff initiated Travelling Communiqué, a title taken from the first conference of the Non-Aligned Movement in Belgrade in September 1961. It represents an ongoing collective project that opened this summer to the public with an exhibition, a summer school, and a film programme. The working journal is dedicated to the pioneering spirit of the Non-Aligned Movement and to Tito's photo archive.


Free Shipping

UPS GROUND IN THE CONTINENTAL U.S.
FOR CONSUMER ONLINE ORDERS

MARSILIO ARTE

ISBN: 9791254631263
USD $39.95

| CAN $56.95

UK &pound 33.99

Pub Date: 1/16/2024
Forthcoming




HATJE CANTZ

ISBN: 9783775755610
USD $65.00

| CAN $88

Pub Date: 12/19/2023
Active | In stock




LA FáBRICA

ISBN: 9788418934612
USD $42.00

| CAN $62

UK &pound 36

Pub Date: 1/16/2024
Forthcoming




INTERNATIONAL CENTER OF PHOTOGRAPHY/D.A.P.

ISBN: 9781636811178
USD $49.95

| CAN $71.95

UK &pound 43.99

Pub Date: 7/4/2023
Active | In stock




HATJE CANTZ

ISBN: 9783775754668
USD $62.00

| CAN $89

Pub Date: 7/4/2023
Active | Out of stock




HATJE CANTZ

ISBN: 9783775755016
USD $49.95

| CAN $71.95

Pub Date: 9/19/2023
Active | In stock




HATJE CANTZ

ISBN: 9783775754804
USD $65.00

| CAN $94

Pub Date: 6/6/2023
Active | In stock




HATJE CANTZ

ISBN: 9783775755191
USD $50.00

| CAN $72.5

Pub Date: 8/15/2023
Active | In stock




KERBER

ISBN: 9783735609120
USD $55.00

| CAN $79

Pub Date: 9/26/2023
Active | In stock




KERBER

ISBN: 9783735609021
USD $45.00

| CAN $65

Pub Date: 9/26/2023
Active | In stock




MOUSSE PUBLISHING

ISBN: 9788867495726
USD $40.00

| CAN $58

Pub Date: 9/19/2023
Active | In stock




OSMOS BOOKS

ISBN: 9781734555707
USD $60.00

| CAN $87

UK &pound 54

Pub Date: 1/9/2024
Forthcoming