BOOK FORMAT
Hardcover, 7.75 x 10 in. / 96 pgs / illustrated throughout.
PUBLISHING STATUS
Pub Date 1/1/2014
Active
DISTRIBUTION
D.A.P. Exclusive
Catalog: Publisher Backlist
PRODUCT DETAILS
ISBN 9783944669434 TRADE
List Price: $19.00 CDN $26.50
AVAILABILITY
In stock
TERRITORY
NA LA AFR ME
THE FALL 2023 ARTBOOK | D.A.P. CATALOG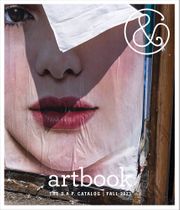 Preview our Fall 2023 catalog, featuring more than 500 new books on art, photography, design, architecture, film, music and visual culture.
&nbsp
&nbsp
Luca Frei: Thursday Followed Wednesday and Tuesday Followed Monday and There Was Sunday and There Was Saturday and There Was Friday

Edited by Fanny Gonella, Christina von Rotenhan, Sabine Rusterholz Petko.


Following the exhibitions at Bonner Kunstverein and Kunsthaus Glarus in 2012 and 2013, this is the first monograph dedicated to the Swiss artist Luca Frei (b. 1976). In his artistic practice—from installations, sculptures, drawings and paintings to exhibition design—Frei questions and revisits ideas and speculations about modernist forms. In particular, his interest is aimed at their potential to foster new perception and audience response. Rather than offering new interpretations and meanings, Frei's multi-faceted works and their arrangement in space follow a line of open-ended, associative, even participatory possibilities. The book introduces Frei's work in a similarly intertwined structure: six authors that have shared a long-term dialogue with the artist shed a personal light on Frei's practice from different angles. The book's title is borrowed from a novel by Gertrude Stein, and relates to the matters of time, change, and shifting perspectives that are central to Frei's work.


Free Shipping

UPS GROUND IN THE CONTINENTAL U.S.
FOR CONSUMER ONLINE ORDERS

ART BOOKS & MUSEUM EXHIBITION CATALOGS: FORTHCOMING AND RECENT RELEASES

THE MUSEUM OF MODERN ART, NEW YORK

ISBN: 9781633451506
USD $75.00

| CAN $108.5

Pub Date: 10/3/2023
Active | In stock




GREGORY R. MILLER & CO./BALTIMORE MUSEUM OF ART/SAINT LOUIS ART MUSEUM

ISBN: 9781941366547
USD $55.00

| CAN $79

UK &pound 49

Pub Date: 6/27/2023
Active | In stock




GLENSTONE MUSEUM

ISBN: 9798987425411
USD $70.00

| CAN $101.5

UK &pound 62

Pub Date: 1/9/2024
Forthcoming




LOS ANGELES COUNTY MUSEUM OF ART

ISBN: 9781636810799
USD $85.00

| CAN $123

UK &pound 76

Pub Date: 7/4/2023
Active | In stock




J&L BOOKS/MAGIC HOUR PRESS

ISBN: 9780999365557
USD $45.00

| CAN $65

UK &pound 40

Pub Date: 9/12/2023
Active | In stock




DELMONICO BOOKS/BUFFALO AKG ART MUSEUM

ISBN: 9781636811017
USD $75.00

| CAN $108.5

UK &pound 65

Pub Date: 10/17/2023
Forthcoming




LUDION/D.A.P.

ISBN: 9789493039759
USD $125.00

| CAN $181

Pub Date: 11/19/2023
Forthcoming




GUGGENHEIM MUSEUM PUBLICATIONS

ISBN: 9780892075638
USD $65.00

| CAN $94

UK &pound 57

Pub Date: 12/12/2023
Forthcoming




DELMONICO BOOKS/BIG NDN PRESS

ISBN: 9781636811024
USD $75.00

| CAN $108.5

UK &pound 67

Pub Date: 8/22/2023
Active | Out of stock




DELMONICO BOOKS/NASHER SCULPTURE CENTER

ISBN: 9781636811109
USD $59.95

| CAN $85.95

UK &pound 48

Pub Date: 11/21/2023
Forthcoming




ROYAL ACADEMY OF ARTS

ISBN: 9781912520411
USD $50.00

| CAN $72.5

Pub Date: 12/5/2023
Forthcoming




RADIUS BOOKS

ISBN: 9781955161107
USD $65.00

| CAN $94

UK &pound 57

Pub Date: 10/3/2023
Forthcoming