BOOK FORMAT
DVD video, 5.5 x 7.5 in. / DVD (NTSC).
PUBLISHING STATUS
Pub Date 8/1/2008
Active
DISTRIBUTION
D.A.P. Exclusive
Catalog: FALL 2008 p. 155
PRODUCT DETAILS
ISBN 9783905829372 TRADE
List Price: $35.00 CDN $47.50
AVAILABILITY
In stock
THE FALL 2023 ARTBOOK | D.A.P. CATALOG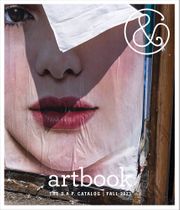 Preview our Fall 2023 catalog, featuring more than 500 new books on art, photography, design, architecture, film, music and visual culture.
&nbsp
&nbsp
A Crime Against Art

A film by Hila Peleg. With Charles Esche, Liam Gillick, Maria Lind.


Inspired by André Breton's mock trials of the 1920s and 30s, A Crime Against Art is a film based on a staged trial at the 2007 ARCO Art Fair in Madrid. Set as a television courtroom drama, this DVD condenses the trial to 100 minutes. Starring Jan Verwoert, Vasif Kortun, Chus Martinez and Charles Esche.


Free Shipping

UPS GROUND IN THE CONTINENTAL U.S.
FOR CONSUMER ONLINE ORDERS

JRP|RINGIER

ISBN: 9783905701807
USD $45.00

| CAN $60

Pub Date: 8/15/2006
Out of stock indefinitely | Not available




JRP|RINGIER

ISBN: 9783905701814
USD $45.00

| CAN $55

Pub Date: 8/15/2006
Out of print | Not available




DELMONICO BOOKS/ACADEMY MUSEUM OF MOTION PICTURES

ISBN: 9781636810607
USD $39.95

| CAN $57.95

UK &pound 35

Pub Date: 11/14/2023
Forthcoming




DAMIANI

ISBN: 9788862088046
USD $59.95

| CAN $85.95

Pub Date: 10/17/2023
Forthcoming




BLACKSTAR PROJECTS/INSTITUTE OF CONTEMPORARY ART, UNIVERSITY OF PENNSYLVANIA

ISBN: 9780884541578
USD $60.00

| CAN $87

UK &pound 54

Pub Date: 7/4/2023
Forthcoming




MOUSSE PUBLISHING

ISBN: 9788867495603
USD $60.00

| CAN $84

Pub Date: 4/4/2023
Active | In stock




MOUSSE PUBLISHING

ISBN: 9788867495245
USD $40.00

| CAN $55

Pub Date: 1/24/2023
Active | In stock




PRIMARY INFORMATION

ISBN: 9781737797968
USD $20.00

| CAN $28

Pub Date: 5/16/2023
Active | In stock




STEIDL/SCOTIABANK PHOTOGRAPHY AWARD

ISBN: 9783969990735
USD $65.00

| CAN $91

Pub Date: 1/10/2023
Active | In stock




SPECTOR BOOKS

ISBN: 9783959056113
USD $45.00

| CAN $63

Pub Date: 5/30/2023
Active | In stock




LA FáBRICA

ISBN: 9788418934452
USD $35.00

| CAN $49

Pub Date: 8/8/2023
Forthcoming




SKIRA PARIS

ISBN: 9782370741929
USD $35.00

| CAN $49

Pub Date: 7/25/2023
Forthcoming




DELMONICO BOOKS/ACADEMY MUSEUM OF MOTION PICTURES

ISBN: 9781636810195
USD $75.00

| CAN $102

UK &pound 60

Pub Date: 6/20/2023
Active | In stock




DIS VOIR

ISBN: 9782381620046
USD $24.95

| CAN $33.95

UK &pound 19.99

Pub Date: 3/1/2022
Active | In stock