BOOK FORMAT
Paperback, 12 x 9 in. / 564 pgs.
PUBLISHING STATUS
Pub Date 3/22/2022
Active
DISTRIBUTION
D.A.P. Exclusive
Catalog: SPRING 2022 p. 173
PRODUCT DETAILS
ISBN 9783903796997 FLAT40
List Price: $25.00 CDN $34.00
AVAILABILITY
In stock
TERRITORY
NA LA ASIA AU/NZ AFR ME
THE FALL 2023 ARTBOOK | D.A.P. CATALOG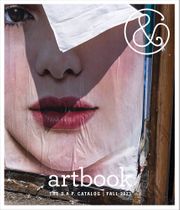 Preview our Fall 2023 catalog, featuring more than 500 new books on art, photography, design, architecture, film, music and visual culture.
&nbsp
&nbsp
The Healthy Times 2

FUck N Forever

Text by Nicolas Bourriaud, Anna Burghardt, Severin Corti, Andrea Petrini, et al.


The second magazine from a collective working at the juncture of gastronomy and performance art

The Healthy Boy Band is an Austrian cooking/art collective founded by top cooks Lukas Mraz (two Michelin Stars), Philip Rachinger (four of five Gault & Millau toque) and Felix Schellhorn. This second edition of their magazine collects their performances.




Free Shipping

UPS GROUND IN THE CONTINENTAL U.S.
FOR CONSUMER ONLINE ORDERS

HAUSER & WIRTH PUBLISHERS

ISBN: 9781734365634
USD $18.00

| CAN $25

Pub Date: 9/5/2023
Active | In stock




SPECTOR BOOKS

ISBN: 9783959056663
USD $15.00

| CAN $21.5

Pub Date: 12/5/2023
Forthcoming




SPECTOR BOOKS

ISBN: 9783959056649
USD $15.00

| CAN $21.5

Pub Date: 12/5/2023
Forthcoming




SPECTOR BOOKS

ISBN: 9783959056625
USD $15.00

| CAN $21.5

Pub Date: 12/5/2023
Forthcoming




SPECTOR BOOKS

ISBN: 9783959056601
USD $15.00

| CAN $21.5

Pub Date: 12/5/2023
Forthcoming




SPECTOR BOOKS

ISBN: 9783959056588
USD $15.00

| CAN $21.5

Pub Date: 12/5/2023
Forthcoming




SPECTOR BOOKS

ISBN: 9783959056014
USD $15.00

| CAN $21.5

Pub Date: 12/5/2023
Forthcoming




SPECTOR BOOKS

ISBN: 9783959055994
USD $15.00

| CAN $21.5

Pub Date: 12/5/2023
Forthcoming




SPECTOR BOOKS

ISBN: 9783959055970
USD $15.00

| CAN $21.5

Pub Date: 12/5/2023
Forthcoming




SPECTOR BOOKS

ISBN: 9783959055956
USD $15.00

| CAN $21.5

Pub Date: 12/5/2023
Forthcoming




ERRANT BODIES PRESS

ISBN: 9783982316673
USD $23.00

| CAN $33

Pub Date: 7/4/2023
Active | In stock




SKIRA

ISBN: 9788857247908
USD $48.00

| CAN $67

Pub Date: 4/25/2023
Active | Out of stock