BOOK FORMAT
Clth, 9.5 x 12.5 in. / 406 pgs / illustrated throughout.
PUBLISHING STATUS
Pub Date 7/20/2011
Out of stock indefinitely
DISTRIBUTION
D.A.P. Exclusive
Catalog: FALL 2014
PRODUCT DETAILS
ISBN 9783869303871 TRADE
List Price: $72.00 CDN $85.00
AVAILABILITY
Not available
TERRITORY
NA ONLY
THE FALL 2023 ARTBOOK | D.A.P. CATALOG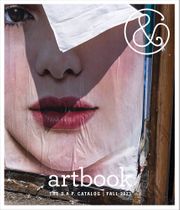 Preview our Fall 2023 catalog, featuring more than 500 new books on art, photography, design, architecture, film, music and visual culture.
&nbsp
&nbsp
Appropriated Landscapes

Edited by Corrine Diserens.


Appropriated Landscapes explores the landscapes of Southern Africa through photography and video by artists including David Goldblatt, Santu Mofokeng, Jo Ractliffe, Penny Siopis and Guy Tillim. By examining the effects of war, migration, colonization, industrialization and ideology upon countries such as South Africa, Namibia, Angola and Mozambique, this book reveals the varied histories of these regions and their peoples. Landscapeshows itself to be ultimately a construct of the mind, composed as much from strata of memory as from layers of rock.


STATUS: Out of stock indefinitely.

MARSILIO ARTE

ISBN: 9791254631263
USD $39.95

| CAN $56.95

UK &pound 33.99

Pub Date: 10/31/2023
Forthcoming




HATJE CANTZ

ISBN: 9783775755610
USD $65.00

| CAN $88

Pub Date: 11/21/2023
Forthcoming




LA FáBRICA

ISBN: 9788418934612
USD $42.00

| CAN $62

UK &pound 36

Pub Date: 10/31/2023
Forthcoming




INTERNATIONAL CENTER OF PHOTOGRAPHY/D.A.P.

ISBN: 9781636811178
USD $49.95

| CAN $71.95

UK &pound 43.99

Pub Date: 7/4/2023
Active | In stock




HATJE CANTZ

ISBN: 9783775754668
USD $62.00

| CAN $89

Pub Date: 7/4/2023
Active | Out of stock




HATJE CANTZ

ISBN: 9783775755016
USD $49.95

| CAN $71.95

Pub Date: 9/19/2023
Active | In stock




HATJE CANTZ

ISBN: 9783775754804
USD $65.00

| CAN $94

Pub Date: 6/6/2023
Active | In stock




HATJE CANTZ

ISBN: 9783775755191
USD $50.00

| CAN $72.5

Pub Date: 8/15/2023
Active | In stock




KERBER

ISBN: 9783735609120
USD $55.00

| CAN $79

Pub Date: 9/26/2023
Active | In stock




KERBER

ISBN: 9783735609021
USD $45.00

| CAN $65

Pub Date: 9/26/2023
Active | In stock




MOUSSE PUBLISHING

ISBN: 9788867495726
USD $40.00

| CAN $58

Pub Date: 9/19/2023
Active | In stock




OSMOS BOOKS

ISBN: 9781734555707
USD $60.00

| CAN $87

UK &pound 54

Pub Date: 12/5/2023
Forthcoming