BOOK FORMAT
Hardcover, 9.25 x 12 in. / 336 pgs / 340 color.
PUBLISHING STATUS
Pub Date 7/23/2019
Active
DISTRIBUTION
D.A.P. Exclusive
Catalog: FALL 2019 p. 170
PRODUCT DETAILS
ISBN 9783775745345 TRADE
List Price: $65.00 CDN $90.00
AVAILABILITY
In stock
EXHIBITION SCHEDULE
Ludwigshafen, Heidelberg, Bad Dürkheim and Mannheim, Germany
Wilhelm-Hack-Museum, Sammlung Prinzhorn, Museum Haus Cajeth, Galerie Alte Turnhalle, and Zeitraumexit EV, 03/31/19–08/04/19
DOWNLOAD THE SPRING 2023 CATALOG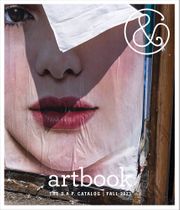 Preview our Spring 2023 catalog, featuring more than 500 new books on art, photography, design, architecture, film, music and visual culture.
&nbsp
&nbsp
Gewächse der Seele

Floral Fantasies between Symbolism and Outsider Art

Text by Ingrid von Beyme, Astrid Ihle, Claudia Jeschke, Theresia Kiefer, Julia Nebenführ, Gabriele Osswald, et al.


The plant as a mirror of the soul

Gewächse der Seele explores the recurrence of plants as a motif in outsider art, symbolism and surrealism. Outsider art often features studies of plants, plant creatures, plants with souls and even plant–animal entities, here represented by works from the period between 1840 and 1945.

Symbolist and surrealist artists had a strong attraction to these works during the first decades of the 20th century. In this catalog, the outsider art by Anna Zemánková, Hanna Hellman, Johannes Waldbrunner, Pellegrino Vignali and Ondrej Šteberl is juxtaposed with symbolist and surrealist works by Mikalojus Konstantinas Ciurlionis, William Degouve de Nuncques, Max Ernst, Barbara Honywood, Paul Klee, Hilma af Klint, František Kupka, Séraphine Louis and Odilon Redon. Also featured are contemporary works by artists such as Wilhelm Groener, Doris Uhlich, Theater Thikwa & Martin Clausen, Walter Siegfried, Wolfgang Sautermeister, Dorothea Rust and Atelier Dell'Errore.




Free Shipping

UPS GROUND IN THE CONTINENTAL U.S.
FOR CONSUMER ONLINE ORDERS

ROYAL ACADEMY OF ARTS

ISBN: 9781912520954
USD $35.00

| CAN $49

Pub Date: 5/9/2023
Active | In stock




MFA PUBLICATIONS, MUSEUM OF FINE ARTS, BOSTON

ISBN: 9780878468768
USD $45.00

| CAN $63

UK &pound 35

Pub Date: 6/1/2021
Active | In stock




SPECTOR BOOKS

ISBN: 9783959054034
USD $20.00

| CAN $28

Pub Date: 7/13/2021
Active | In stock




INSTITUTE 193/TINWOOD

ISBN: 9781732848221
USD $30.00

| CAN $45

UK &pound 27

Pub Date: 9/17/2019
Active | In stock




HATJE CANTZ

ISBN: 9783775745345
USD $65.00

| CAN $90

Pub Date: 7/23/2019
Active | In stock




INSTITUTE 193

ISBN: 9781732848207
USD $45.00

| CAN $55

UK &pound 40

Pub Date: 4/23/2019
Active | In stock




HATJE CANTZ

ISBN: 9783775744751
USD $65.00

| CAN $90

Pub Date: 2/19/2019
Active | In stock




HAUSER & WIRTH PUBLISHERS

ISBN: 9783906915111
USD $40.00

| CAN $54

Pub Date: 6/26/2018
Active | In stock




RAW VISION

ISBN: 9780615785653
USD $80.00

| CAN $107.5

UK &pound 71

Pub Date: 11/30/2013
Active | In stock




HAYWARD GALLERY PUBLISHING

ISBN: 9781853323164
USD $35.00

| CAN $47.5

Pub Date: 9/30/2013
Active | Out of stock