BOOK FORMAT
Hardcover, 9 x 11.5 in. / 256 pgs / 240 color.
PUBLISHING STATUS
Pub Date 1/31/2014
Out of stock indefinitely
DISTRIBUTION
D.A.P. Exclusive
Catalog: FALL 2013 p. 162
PRODUCT DETAILS
ISBN 9783775736619 TRADE
List Price: $60.00 CDN $79.00
AVAILABILITY
Not available
TERRITORY
NA LA
EXHIBITION SCHEDULE
Munich, Germany
Pinakothek der Moderne, Museum for Archtecture TU Munich, 09/13/13-01/13/14
THE FALL 2023 ARTBOOK | D.A.P. CATALOG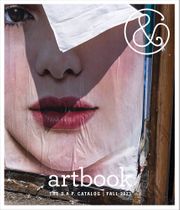 Preview our Fall 2023 catalog, featuring more than 500 new books on art, photography, design, architecture, film, music and visual culture.
&nbsp
&nbsp
Afritecture: Building Social Change

Edited by Andres Lepik.


Where a term like "Western architecture" is likely to conjure a gamut of specific examples ranging from the Colosseum to the Empire State Building, "African architecture"-whether ancient or modern-still connotes very little for a general audience in the West. Happily, this is changing, as Africa's recent economic boom is transforming the urban landscape across the continent, and yielding a rich new crop of architects and buildings with a range of approaches and solutions as diverse as Africa itself. This opulently illustrated volume, with informative texts by the architectural historian Andres Lepik and documentation of models and maps, examines a broad range of examples of contemporary architecture in Africa. The selection is confined to countries south of the Sahara, such as Burkina Faso, Rwanda and South Africa, where the transformation of the architectural landscape has been particularly pronounced and remarkable in recent years. Throughout, references to the hallmarks and principles of Western historical architecture are notable; but equally striking is the innovative use of local materials and often minimal resources. Very little has been published on contemporary African architecture, making this substantial volume an important and pioneering publication.


STATUS: Out of stock indefinitely.

SPECTOR BOOKS

ISBN: 9783959056748
USD $35.00

| CAN $50

Pub Date: 3/5/2024
Forthcoming




WALTHER KöNIG, KöLN

ISBN: 9783753303109
USD $55.00

| CAN $79

Pub Date: 10/3/2023
Active | In stock




WALTHER KöNIG, KöLN

ISBN: 9783753302584
USD $55.00

| CAN $79

Pub Date: 10/3/2023
Active | In stock




LA BIENNALE DI VENEZIA/SILVANA EDITORIALE

ISBN: 9788836654512
USD $95.00

| CAN $137

Pub Date: 11/7/2023
Forthcoming




NAI010 PUBLISHERS

ISBN: 9789462087835
USD $40.00

| CAN $58

Pub Date: 12/5/2023
Forthcoming




NAI010 PUBLISHERS

ISBN: 9789462087804
USD $40.00

| CAN $58

Pub Date: 10/3/2023
Active | In stock




NAI010 PUBLISHERS

ISBN: 9789462087705
USD $40.00

| CAN $58

Pub Date: 10/10/2023
Active | In stock




NAI010 PUBLISHERS

ISBN: 9789462087866
USD $60.00

| CAN $87

Pub Date: 10/3/2023
Active | In stock




NAI010 PUBLISHERS

ISBN: 9789462087194
USD $55.00

| CAN $77

Pub Date: 10/10/2023
Active | In stock




BOKFöRLAGET STOLPE

ISBN: 9789189425958
USD $35.00

| CAN $49

Pub Date: 11/7/2023
Forthcoming




MARSILIO ARTE

ISBN: 9791254630778
USD $30.00

| CAN $42

UK &pound 26

Pub Date: 10/3/2023
Active | In stock




LOUISIANA MUSEUM OF MODERN ART

ISBN: 9788793659551
USD $25.00

| CAN $34

UK &pound 22

Pub Date: 3/28/2023
Active | Out of stock