BOOK FORMAT
Hardcover, 8.25 x 11 in. / 296 pgs / 427 images.
PUBLISHING STATUS
Pub Date 2/12/2017
Out of stock indefinitely
DISTRIBUTION
D.A.P. Exclusive
Catalog: Publisher Backlist
PRODUCT DETAILS
ISBN 9783037785164 TRADE
List Price: $50.00 CDN $67.50
AVAILABILITY
Not available
TERRITORY
NA ONLY
THE FALL 2023 ARTBOOK | D.A.P. CATALOG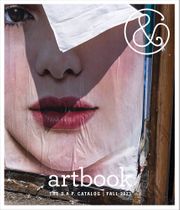 Preview our Fall 2023 catalog, featuring more than 500 new books on art, photography, design, architecture, film, music and visual culture.
&nbsp
&nbsp
Allan Wexler

Absurd Thinking-Between Art and Design

Edited by Ashley Simone.


This book features projects, developed during the artist Allan Wexler's forty-five-year career, which mediate the gap between fine and applied art using the mediums of architecture, sculpture, photography, painting, and drawing. Wexler's production can be broadly described as tactile poetry composed by re-framing the ordinary with the intention of sustaining a narrative about landscape, nature, and the built environment that highlights the intriguing and surprising characteristics latent in the elements and rituals that pervade daily life. His work demonstrates a commitment to re-evaluating basic assumptions about our relationship to the built and natural environments. Organized thematically across four categories—abstraction, landscape, private space, and public places—this publication is a richly illustrated cross section of Wexler's multi-scale, multi-media work, featuring his own writings, narratives, and reflections.




Ashley Simone is a designer, educator, writer, and photographer based in New York City.

STATUS: Out of stock indefinitely.

FROM THE BOOK

On the Fine Art of Applied Art

I make buildings, furniture, vessels, and utensils.
I use function as media.

I try to make theater out of everyday life.

I explore eating, sleeping, bathing.
I work with gravity, wind, and rain.

I build structures that try to rise upward into the sky.
I build structures that try to descend into the earth.
I preserve the artifacts of living.
I document the dream.
I protect the dreamer.
I am interested in desire.
I make charcoal drawings of furniture with burnt tree branches.
I build furniture with trees.
I try to give life to the dead.
I try to stop time.
- Allan Wexler, 2008

ART BOOKS & MUSEUM EXHIBITION CATALOGS: FORTHCOMING AND RECENT RELEASES

THE MUSEUM OF MODERN ART, NEW YORK

ISBN: 9781633451506
USD $75.00

| CAN $108.5

Pub Date: 10/3/2023
Active | In stock




GREGORY R. MILLER & CO./BALTIMORE MUSEUM OF ART/SAINT LOUIS ART MUSEUM

ISBN: 9781941366547
USD $55.00

| CAN $79

UK &pound 49

Pub Date: 6/27/2023
Active | In stock




GLENSTONE MUSEUM

ISBN: 9798987425411
USD $70.00

| CAN $101.5

UK &pound 62

Pub Date: 1/9/2024
Forthcoming




LOS ANGELES COUNTY MUSEUM OF ART

ISBN: 9781636810799
USD $85.00

| CAN $123

UK &pound 76

Pub Date: 7/4/2023
Active | In stock




J&L BOOKS/MAGIC HOUR PRESS

ISBN: 9780999365557
USD $45.00

| CAN $65

UK &pound 40

Pub Date: 9/12/2023
Active | In stock




DELMONICO BOOKS/BUFFALO AKG ART MUSEUM

ISBN: 9781636811017
USD $75.00

| CAN $108.5

UK &pound 65

Pub Date: 10/31/2023
Forthcoming




LUDION/D.A.P.

ISBN: 9789493039759
USD $125.00

| CAN $181

Pub Date: 11/19/2023
Forthcoming




GUGGENHEIM MUSEUM PUBLICATIONS

ISBN: 9780892075638
USD $65.00

| CAN $94

UK &pound 57

Pub Date: 12/12/2023
Forthcoming




DELMONICO BOOKS/BIG NDN PRESS

ISBN: 9781636811024
USD $75.00

| CAN $108.5

UK &pound 67

Pub Date: 8/22/2023
Active | Out of stock




DELMONICO BOOKS/NASHER SCULPTURE CENTER

ISBN: 9781636811109
USD $59.95

| CAN $85.95

UK &pound 48

Pub Date: 11/21/2023
Forthcoming




ROYAL ACADEMY OF ARTS

ISBN: 9781912520411
USD $50.00

| CAN $72.5

Pub Date: 12/5/2023
Forthcoming




RADIUS BOOKS

ISBN: 9781955161107
USD $65.00

| CAN $94

UK &pound 57

Pub Date: 12/5/2023
Forthcoming