BOOK FORMAT
Paperback, 6.75 x 9 in. / 64 pgs.
PUBLISHING STATUS
Pub Date 3/28/2012
Out of print
DISTRIBUTION
D.A.P. Exclusive
Catalog: Publisher Backlist
PRODUCT DETAILS
ISBN 9783037782774 TRADE
List Price: $25.00 CDN $32.50
AVAILABILITY
Not available
TERRITORY
NA ONLY
THE FALL 2023 ARTBOOK | D.A.P. CATALOG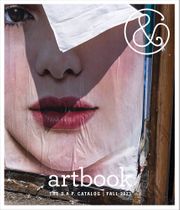 Preview our Fall 2023 catalog, featuring more than 500 new books on art, photography, design, architecture, film, music and visual culture.
&nbsp
&nbsp
Poemotion

By Takahiro Kurashima.


Poemotion is an interactive book-object. The abstract graphical patterns in this small volume are set in motion as soon as you move the attached special foil across them: moiré effects allow complex forms to develop, set circles in motion and make graphical patterns vibrate. Inspired by Seesaw, an earlier book from the publisher, in a playful and at the same time minimalist way the Japanese designer Takahiro Kurashima establishes a link to the motif of a "School of Seeing" that has long occupied a special place in the program of Lars Müller Publishers. With this book the viewer can discover how, as if by magic, figures and forms are created out of optical overlays, set in motion and then disappear again. In the era of digitalization this book shows that interactivity is also possible in the format of the analogous, bound book.




Takahiro Kurashima, born in 1970, studied graphic design at Musashino Art University.

LARS MüLLER PUBLISHERS

ISBN: 9783037781838
USD $29.00

| CAN $39.5

Pub Date: 11/25/2009
Active | In stock




BOOK HORSE/CABINET BOOKS

ISBN: 9783952339138
USD $12.00

| CAN $17.5

Pub Date: 7/31/2012
Out of stock indefinitely | Not available




PRIMARY INFORMATION

ISBN: 9781737797975
USD $20.00

| CAN $28

Pub Date: 4/4/2023
Active | In stock




DABA

ISBN: 9781734681703
USD $24.00

| CAN $34

UK &pound 20

Pub Date: 2/23/2021
Active | In stock




LARS MüLLER PUBLISHERS

ISBN: 9783037786574
USD $30.00

| CAN $42

Pub Date: 9/29/2020
Active | In stock




KERBER

ISBN: 9783735607010
USD $45.00

| CAN $63

Pub Date: 4/13/2021
Active | In stock




KERBER

ISBN: 9783735607294
USD $49.95

| CAN $69.95

Pub Date: 4/13/2021
Active | In stock




VERLAG FüR MODERNE KUNST

ISBN: 9783903320475
USD $49.95

| CAN $69.95

Pub Date: 4/13/2021
Active | In stock




MOUSSE PUBLISHING

ISBN: 9788867494170
USD $25.00

| CAN $34.5

Pub Date: 4/20/2021
Active | In stock




EDITION PATRICK FREY

ISBN: 9783906803807
USD $40.00

| CAN $56

Pub Date: 5/11/2021
Active | In stock




STEIDL

ISBN: 9783958298675
USD $40.00

| CAN $56

Pub Date: 11/3/2020
Active | In stock




STEIDL

ISBN: 9783958298682
USD $40.00

| CAN $56

Pub Date: 6/1/2021
Active | In stock




MOUSSE PUBLISHING

ISBN: 9788867494248
USD $25.00

| CAN $34.5

Pub Date: 3/9/2021
Active | In stock




MOUSSE PUBLISHING

ISBN: 9788867494293
USD $25.00

| CAN $34.5

Pub Date: 3/30/2021
Active | Out of stock