BOOK FORMAT
Hardcover, 7.5 x 11.5 in. / 304 pgs / 147 images.
PUBLISHING STATUS
Pub Date 7/1/2010
Out of stock indefinitely
DISTRIBUTION
D.A.P. Exclusive
Catalog: Publisher Backlist
PRODUCT DETAILS
ISBN 9783037782163 TRADE
List Price: $65.00 CDN $87.00
AVAILABILITY
Not available
TERRITORY
NA ONLY
THE FALL 2023 ARTBOOK | D.A.P. CATALOG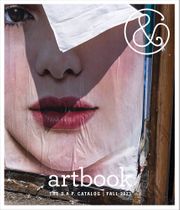 Preview our Fall 2023 catalog, featuring more than 500 new books on art, photography, design, architecture, film, music and visual culture.
&nbsp
&nbsp
Blindhaedir

East Iceland

By Silvia Bachili.


Silvia Bachli and Eric Hatan spent four months, from March to June, in Seydisfjordur in eastern Iceland. The landscape they explored on their daily walks is dominated by snow, which shapes the atmosphere in and around the fjord with its changeable forms: turquoise meltwater, frost patterns, a few glass-clear bright colours in the whiteness, walls of snow by the edge of the road, drifts, icicles and at last the first brown snow-free places - things are slowly turning green. The artists create a unique portrait of Iceland's magnificent landscapes with their photographs, in all its detail, thus chronicling the passage of time and the approach of the warmer season.




STATUS: Out of stock indefinitely.

MARSILIO ARTE

ISBN: 9791254631263
USD $39.95

| CAN $56.95

UK &pound 33.99

Pub Date: 10/31/2023
Forthcoming




HATJE CANTZ

ISBN: 9783775755610
USD $65.00

| CAN $88

Pub Date: 11/21/2023
Forthcoming




LA FáBRICA

ISBN: 9788418934612
USD $42.00

| CAN $62

UK &pound 36

Pub Date: 10/31/2023
Forthcoming




INTERNATIONAL CENTER OF PHOTOGRAPHY/D.A.P.

ISBN: 9781636811178
USD $49.95

| CAN $71.95

UK &pound 43.99

Pub Date: 7/4/2023
Active | In stock




HATJE CANTZ

ISBN: 9783775754668
USD $62.00

| CAN $89

Pub Date: 7/4/2023
Active | Out of stock




HATJE CANTZ

ISBN: 9783775755016
USD $49.95

| CAN $71.95

Pub Date: 9/19/2023
Active | In stock




HATJE CANTZ

ISBN: 9783775754804
USD $65.00

| CAN $94

Pub Date: 6/6/2023
Active | In stock




HATJE CANTZ

ISBN: 9783775755191
USD $50.00

| CAN $72.5

Pub Date: 8/15/2023
Active | In stock




KERBER

ISBN: 9783735609120
USD $55.00

| CAN $79

Pub Date: 9/26/2023
Active | In stock




KERBER

ISBN: 9783735609021
USD $45.00

| CAN $65

Pub Date: 9/26/2023
Active | In stock




MOUSSE PUBLISHING

ISBN: 9788867495726
USD $40.00

| CAN $58

Pub Date: 9/19/2023
Active | In stock




OSMOS BOOKS

ISBN: 9781734555707
USD $60.00

| CAN $87

UK &pound 54

Pub Date: 12/5/2023
Forthcoming