BOOK FORMAT
Flexi, 9.5 x 11.75 in. / 60 pgs / illustrated throughout.
PUBLISHING STATUS
Pub Date 3/19/2019
Out of stock indefinitely
DISTRIBUTION
D.A.P. Exclusive
Catalog: SPRING 2017 p. 46
PRODUCT DETAILS
ISBN 9783037644881 TRADE
List Price: $40.00 CDN $49.95
AVAILABILITY
Not available
TERRITORY
NA LA ASIA AU/NZ AFR ME
THE FALL 2023 ARTBOOK | D.A.P. CATALOG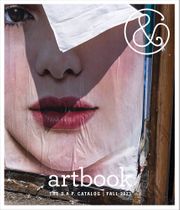 Preview our Fall 2023 catalog, featuring more than 500 new books on art, photography, design, architecture, film, music and visual culture.
&nbsp
&nbsp
Dorothy Iannone: A Cookbook

Edited by Clément Dirié.


A facsimile of artist Dorothy Iannone's notorious, emotionally and sexually charged 1969 recipe book

Since the 1960s, Dorothy Iannone (born 1933) has aimed at representing ecstatic love, "the union of gender, feeling and pleasure." Today her oeuvre, encompassing paintings, drawings, collages, videos, sculptures, objects and artist's books, is widely recognized as one of the most provocative and fruitful bodies of work in recent decades for its liberalization of female sexuality, and political and feminist issues.

Created in 1969, when she was living with Swiss artist Dieter Roth, the Cookbook is a perfect example of how Iannone mixes daily life, creativity and thought, culminating in her vision of cooking as an outlet for both eroticism and introspection. A real book of recipes full of visual delights, the Cookbook contains densely decorated pages with patterned designs, packed text and vibrant colors. Personal sentences are interspersed among the lists of ingredients, revealing the exultations and tribulations of her life between the lines of recipes. Filled with wit, wordplay and idiosyncratic thoughts—"At least one can turn pain to color" accompanies the recipe for gazpacho; "Dorothy's spirit is like this: green and yellow," is written next to the ingredients for lentil soup—the Cookbook constitutes a self-portrait of the artist as a cook and a lover. This publication is a facsimile of the 1969 original , now published with a dust jacket specially designed by the artist.


Above, a spread from 'Dorothy Iannone: A Cookbook.'

PRAISE AND REVIEWS

Frieze

[The book] publishes the prominent feminist artist's recipes for Sauce Madeira, gazpacho and beef wellington.

AIGA

Madeleine Morley

In A Cookbook, internal musings on love and daily life mix together, framing the activity of cooking as a space for both eroticism and personal introspection.

Brooklyn Rail

Shelby Shaw

A Cookbook merges an affinity for pleasurable cooking with the autobiography of a woman in love, heartache, and absolute creative flourishing, uncensored on the page.

Paris Review

Iannone's 1969 A Cookbook drips with love and color.

STATUS: Out of stock indefinitely.

CORY REYNOLDS | DATE 3/7/2019

Featured spread is reproduced from Dorothy Iannone: A Cookbook, a facsimile of the artist's legendary 1969 hand-written recipe book, compiled while she was living, and fighting, with her equally tempestuous lover, Dieter Roth—to whom the book is dedicated. "Those years were among the most prolific work periods of my life," the artist writes. "In my atelier, I worked on the Cookbook on a drawing table, and when I had had enough of that, I resumed painting one of my large canvases, now referred to as the Eros series, which was placed against the wall behind me. While I painted, I played my favorite LP records. Cigarettes and vodka, music and song, accompanied my journey through the nights in my atelier. And now, reading the comments with which each page of the Cookbook is adorned, I realize that nothing less than love could have prompted the transforming of an accumulation of recipes into a work of art." continue to blog

CORY REYNOLDS | DATE 3/8/2019

"Sometimes I hate you so much that I must suppose I really hate you," Dorothy Iannone wrote in one of the opening spreads of her hand-written 1969 Cookbook dedicated to then-lover, Dieter Roth. "But that's only when you hurt me and just from my midget point of view. When I look at you full height I find you admirable and loveable and sort of godlike (I'm an old Catholic and have studied literature so I've got an idea what he's like—for one thing I know God is a man). Is this true? Anyway what I wanted to say the whole time is that I never would have started this recipe book if I didn't have the pleasure of cooking for you here and there. That's true." On the facing page, solid recipes for gazpacho, lentil soup and baked trout meuniere are surrounded by additional commentary, including: "I don't like to be sad. Half the time I am." "This is my ass mentally. Black + blue." "Only pain or pleasure can make art. Some people say longing too. Others say only men." And: "Dorothy's spirit is like this: green and yellow. No red?" Read more about this staff favorite facsimile edition here. continue to blog

LOUISIANA MUSEUM OF MODERN ART

ISBN: 9788793659568
USD $30.00

| CAN $42

UK &pound 26

Pub Date: 3/28/2023
Active | In stock




JRP|EDITIONS

ISBN: 9783037645543
USD $55.00

| CAN $75

Pub Date: 1/28/2020
Active | In stock




JRP|RINGIER

ISBN: 9783037643785
USD $59.95

| CAN $79

Pub Date: 2/24/2015
Active | In stock




KERBER

ISBN: 9783866789241
USD $50.00

| CAN $67.5

Pub Date: 9/30/2014
Active | Out of stock




SIGLIO

ISBN: 9781938221071
USD $45.00

| CAN $60

UK &pound 40

Pub Date: 11/30/2014
Active | In stock




HOLZWARTH PUBLICATIONS

ISBN: 9783935567275
USD $45.00

| CAN $60

Pub Date: 3/1/2006
Active | In stock