BOOK FORMAT
Paperback, 6 x 9 in. / 240 pgs / 67 bw.
PUBLISHING STATUS
Pub Date 1/23/2018
Active
DISTRIBUTION
D.A.P. Exclusive
Catalog: FALL 2017 p. 82
PRODUCT DETAILS
ISBN 9781939663252 TRADE
List Price: $22.95 CDN $32.00 GBP £20.99
AVAILABILITY
In stock
THE FALL 2023 ARTBOOK | D.A.P. CATALOG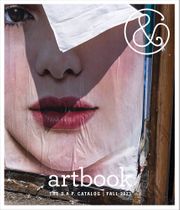 Preview our Fall 2023 catalog, featuring more than 500 new books on art, photography, design, architecture, film, music and visual culture.
French novelist Pierre Mac Orlan's 1930s take on the spy novel, set in Hamburg, London, Palermo, Brest and elsewhere during the 1920s and 1930s.

ABOUT THE AUTHOR: Pierre Mac Orlan was a French novelist and songwriter. His novel Quai des Brumes was the source for Marcel Carne's 1938 film. He was also a prolific writer of chansons, many of which were popularized by singers such as Juliette Greco. Little-translated into English, he was a huge influence on a generation of French authors, most famously on Boris Vian and Guy Debord. Artaud described him as "the prophet of adventure." Berenice Abbott also counted him as a "huge influence."
ABOUT THE BOOK: It tells the tales of three secret agents. It is profusely illustrated with the same drawings by 1940s-50s French caricaturist Gus Bofa that were in the French edition. Wakefield's previous Mac Orlan title, Handbook for the Perfect Adventurer, has been a steady seller at independents. Wakefield Press is making a project of translating Mac Orlan (as with Paul Scheerbart and Marcel Schwob) and there will be more Mac Orlan in future seasons.



&nbsp
&nbsp
Mademoiselle Bambu

By Pierre Mac Orlan. Translation and introduction by Chris Clarke. Illustrations by Gus Bofa.


Mademoiselle Bambù is Pierre Mac Orlan's take on the spy novel, written and expanded between 1932 and 1966.

Set in Hamburg, London, Palermo, Brest and other ports of call in the anxious Europe of the 1920s and 1930s, Mademoiselle Bambù tells the tales of three secret agents: the melancholic adventurer and accidental spy, Captain Hartmann; his enigmatic mistress from Naples (and a double agent for the Germans), Signorina Bambù; and the sinister Père Barbançon, who retires from his life of espionage and murder to eke out his troubled days in an aptly named "Boarding House of Usher," where shadows are as likely to strangle a man as they are to haunt him.

Like all of Mac Orlan's novels, Mademoiselle Bambù is less a novel than a barometer of societal unease, crippling melancholy and dark humor.

Pierre Mac Orlan (1882–1970) was a prolific writer of absurdist tales, adventure novels, flagellation erotica and essays, as well as the composer of a trove of songs made famous by the likes of Juliette Gréco. A member of both the Académie Goncourt and the Collège de 'Pataphysique, Mac Orlan was admired by everyone from Raymond Queneau and Boris Vian to André Malraux and Guy Debord.




PRAISE AND REVIEWS

The New York Review of Books

[Bofa's] drawings suggest the existential darkness that overtook a Europe defaced by war and modernization. The illustrations he made for Mac Orlan's moody novel of espionage Mademoiselle Bambù—of spies, prostitutes, sailors, and drifters—compliment the tale of a web of interconnected characters as they circulated around Europe's port cities, a depiction of the dark unease of the early twentieth century.

Free Shipping

UPS GROUND IN THE CONTINENTAL U.S.
FOR CONSUMER ONLINE ORDERS

MOUSSE PUBLISHING

ISBN: 9788867493395
USD $19.00

| CAN $29.95

Pub Date: 2/19/2019
Active | In stock




BLANK FORMS EDITIONS

ISBN: 9781953691149
USD $15.00

| CAN $22

Pub Date: 4/2/2024
Forthcoming




FOUR CORNERS BOOKS

ISBN: 9781909829190
USD $37.00

| CAN $53

Pub Date: 7/18/2023
Forthcoming




WAKEFIELD PRESS

ISBN: 9781939663887
USD $19.95

| CAN $26.95

UK &pound 16.95

Pub Date: 11/22/2022
Active | In stock




WAKEFIELD PRESS

ISBN: 9781939663870
USD $16.95

| CAN $29.95

UK &pound 13.95

Pub Date: 11/22/2022
Active | In stock




SPECTOR BOOKS

ISBN: 9783959055215
USD $20.00

| CAN $28

Pub Date: 12/13/2022
Active | In stock




KAYA PRESS

ISBN: 9781885030832
USD $18.95

| CAN $25.95

UK &pound 15.95

Pub Date: 8/1/2023
Forthcoming




KARMA BOOKS, NEW YORK

ISBN: 9781949172720
USD $35.00

| CAN $49

UK &pound 25

Pub Date: 7/19/2022
Active | In stock




ERRANT BODIES PRESS

ISBN: 9783982316628
USD $24.00

| CAN $33.5

Pub Date: 7/4/2023
Forthcoming




BLANK FORMS EDITIONS

ISBN: 9781953691118
USD $20.00

| CAN $28

Pub Date: 11/15/2022
Active | In stock




AFTER 8 BOOKS

ISBN: 9782492650055
USD $16.00

| CAN $22

Pub Date: 7/26/2022
Active | In stock




AFTER 8 BOOKS

ISBN: 9782955948644
USD $16.00

| CAN $22

Pub Date: 6/21/2022
Active | Out of stock