BOOK FORMAT
Hardcover, 7.75 x 10.5 in. / 108 pgs / 200 color.
PUBLISHING STATUS
Pub Date 11/21/2017
Active
DISTRIBUTION
D.A.P. Exclusive
Catalog: FALL 2017 p. 64
PRODUCT DETAILS
ISBN 9781938221163 TRADE
List Price: $32.50 CDN $42.50 GBP £28.50
AVAILABILITY
In stock
TERRITORY
WORLD Except France
THE FALL 2023 ARTBOOK | D.A.P. CATALOG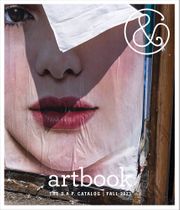 Preview our Fall 2023 catalog, featuring more than 500 new books on art, photography, design, architecture, film, music and visual culture.
A counter-culture book of the highest order. Great fun! Subversive, funny, biting art made from RUBBER stamps out of a little shop in Paris.

ABOUT THE ARTIST: Vincent Sardon is a radically independent artist who began his career as political cartoonist for the left-wing Liberation, then, disillusioned, he set out on his own to make rubber stamps. He has an ardent cult following in France where a book about him Le Tampographe, is now in its third printing. A good comparison for him would be the US author/humorist/ cartoonist David Rees (Get YOur War On , How to Sharpen Pencil). He is the right artist for ATLAS OBSCURA crowd.
ABOUT THE BOOK: Some of it is word based (I don't give a Fuck, PIss Off) and many have intricate drawings -- naked gay cowboys, the middle finger, skeletons, and dragon flies. He even has "publisher stamps" with manuscript rejections and publisher correspondence ("We are pleased to announce that we will be publishing your autobiography, however your life will be as a shitty as ever.") This is a book for our times, funny and raunchy, it's also a visual delight. Who doesn't want a stamp right now that says,"Shut the Fuck Up"? Trump has a cameo on a page of stamped images of Dictators and Despots. A lefty political gift book for people who loved "We Go to the Gallery"
PRESS & PROMO: Working with the Cultural Services of the French Embassy on book-related event(s) and a pop-up exhibition. Launch at NY Artsist Book Fair. Sardon has strong social media presence: 60,000 followers on Facebook. Plus, Sardon produces videos that will be used in promotion. BEA giveaway of the publisher stamps on small cards.



&nbsp
&nbsp
Vincent Sardon: The Stampographer




The Stampographer traverses the fantastic, anarchic imagination of Parisian artist Vincent Sardon (born 1970), whose dark, combative sense of humor is infused with Dadaist subversion and Pataphysical play.

Using rubber stamps he designs and manufactures himself, Sardon commandeers a medium often associated with petty and idiotic displays of bureaucratic power, then uses those stamps not to assert authority, but to refuse it. He scours the Parisian landscape as well as the world at large, skewering the power-hungry and the pretentious, reveling in the vulgar and profane.

In The Stampographer, there are insults in multiple languages, sadomasochistic Christmas ornaments, and a miniature Kamasutra with an auto-erotic Jesus. Sardon also wields the stamp as satirical device, deconstructing Warhol portraits into primary colors, turning ink blots into Pollock paint drips, and clarifying just what Yves Klein did with women's bodies. Yet Sardon's razor-sharp wit is tinged with the irony of his exquisite sense of beauty. The stamps are rarely static—they have an animating magic, whether boxers are punching faces out of place or dragonflies seemingly hover over the page.

Sardon's work is provocative in its subject matter as well as in its process and dissemination: he not only stands defiantly outside the art world's modes of commerce but his artworks (the rubber stamps themselves) are actually the means with which anyone can make a work of their own. The Stampographer introduces English-speaking readers to one of the most unusual and original voices in contemporary French culture.




Featured image is reproduced from 'Vincent Sardon: The Stampographer.'

PRAISE AND REVIEWS

Print Magazine

Steven Heller

For me, the most exciting book of the Fall publishing season (featuring one of the best covers) is The Stampographer, which showcases the fantastic, anarchic imagination of Parisian artist Vincent Sardon … There are insults in multiple languages, sadomasochistic Christmas ornaments, and a miniature Kama Sutra with an auto-erotic Jesus. Sardon also uses the stamp as satirical tool and weapon, deconstructing Warhol portraits into primary colors, turning ink blots into Pollock paint drips, and clarifying just what Yves Klein did with women's bodies. Whew!

Publishers Weekly

Gorgeously uncouth, cynical, and—in moments—despairing, Sardon's work primarily revels in a Dada-like spirit of playful inconsequence and good-natured goading, and it's expertly captured here.

Paris Review

Dan Piepenbring

Its pages produce a kind of alternate bureaucracy, a profane portal dedicated not to renewing your driver's license but to spreading chaos and fatalism, one inky impression at a time.

LA Review of Books

Mairead Case

Sardon is firm about his practice, which is rooted at once in experience and "utter uselessness" (a stamp isn't food, it isn't a roof). There is a punky purity here too.

AIGA

Introducing English-speaking readers to one of the most unusual and original voices in contemporary French culture.

Free Shipping

UPS GROUND IN THE CONTINENTAL U.S.
FOR CONSUMER ONLINE ORDERS

FROM THE BOOK

Excerpt from the Interview with Vincent Sardon by Richard Kraft and Lisa Pearson

Q: Why rubber stamps?

A: I'm not very good at answering this kind of question; I have a hard time seeing the primary causes of my work. My work is not the only thing I have a hard time explaining. There is a long list of such things: eccentric Parisian behavior, the books on display in bookshops, the erratic love life of certain friends, jogging, concept stores, religion, seafood sauerkraut, television, colon cancer, rents in the eleventh arrondissement, skorts, and generally almost everything I see when I venture out of my workshop. My work simply reflects the world, which seems to have been created by an absolute moron. To devote one's existence to designing stamps that are also miniature portable artistic machines seems neither more nor less stupid to me than any other human endeavor. So much for primary causes.

When I was a student I had a ton of shitty summer jobs. Once I worked in an insurance company, where I spent my days making stacks of contract cancellation letters from unhappy clients; I would stamp them before putting them on the shelf. I had a big stamp that read TO BE DESTROYED. I stamped each page. Many of the letters were extremely aggressive. Some of them were very well written; others were filled with grammatical mistakes, which somehow made them even more violent. I won't deny that I enjoyed reading them. My interest in stamps and in a certain kind of written violence that stamps convey and amplify might perhaps date from that time.

I was an art student at the University of Bordeaux, in southwest France. Typically, French universities don't get a lot of funding, and in this sense you could say that mine was exceedingly typical. But we had access to the engraving workshop at the school of fine arts. The professors there considered engraving to be a hopelessly outdated sub-genre, somewhere between historical paintings and cloisonné enamel. And the fine arts students wouldn't have been caught dead in this workshop, so we had the place to ourselves. I started by engraving linoleum, copper, zinc, wood: anything I could find there. We used acid, varnish, iron perchloride and all kinds of quirky, somewhat toxic techniques that I liked a lot. It was around this time that I began to engrave stamps with gouge chisels on linoleum or wood. I was broke, so I bought cheap convenience store erasers and used them to make stamps, too. With these, I printed fanzines that I would sell for five francs a copy. Once I sold twenty copies, I would call a friend and we would drink the proceeds in a little bar down the road from where I lived.

Once I graduated, I joined the "workforce" (horrible word). My first job was doing illustration. I was obsessed with drawing. I drew all the time. As soon as I had a minute to spare, I'd take my pad out and go at it. I ghost illustrated some stuff for a Gallimard author, a creep with one of those stupid floppy fringe hairstyles who exploited about a dozen kids like me; then I moved to Paris. I was twenty-five years old. I went to show my drawings to newspapers and quickly found work as a political illustrator for Libération and Le Monde. I was more obsessed than ever with drawing and spent hours honing caricatures of Jacques Chirac, Lionel Jospin, and George W. Bush. I hated every minute of it, but I was in denial. Then, slowly the stamps began to take over. The more I hated working for newspapers, the more this thing was getting bigger. That's how it started.

Translation by Philippe Aronson

ART BOOKS & MUSEUM EXHIBITION CATALOGS: FORTHCOMING AND RECENT RELEASES

THE MUSEUM OF MODERN ART, NEW YORK

ISBN: 9781633451506
USD $75.00

| CAN $108.5

Pub Date: 10/3/2023
Active | In stock




GREGORY R. MILLER & CO./BALTIMORE MUSEUM OF ART/SAINT LOUIS ART MUSEUM

ISBN: 9781941366547
USD $55.00

| CAN $79

UK &pound 49

Pub Date: 6/27/2023
Active | In stock




GLENSTONE MUSEUM

ISBN: 9798987425411
USD $70.00

| CAN $101.5

UK &pound 62

Pub Date: 1/9/2024
Forthcoming




LOS ANGELES COUNTY MUSEUM OF ART

ISBN: 9781636810799
USD $85.00

| CAN $123

UK &pound 76

Pub Date: 7/4/2023
Active | In stock




J&L BOOKS/MAGIC HOUR PRESS

ISBN: 9780999365557
USD $45.00

| CAN $65

UK &pound 40

Pub Date: 9/12/2023
Active | In stock




DELMONICO BOOKS/BUFFALO AKG ART MUSEUM

ISBN: 9781636811017
USD $75.00

| CAN $108.5

UK &pound 65

Pub Date: 10/17/2023
Forthcoming




LUDION/D.A.P.

ISBN: 9789493039759
USD $125.00

| CAN $181

Pub Date: 11/19/2023
Forthcoming




GUGGENHEIM MUSEUM PUBLICATIONS

ISBN: 9780892075638
USD $65.00

| CAN $94

UK &pound 57

Pub Date: 12/12/2023
Forthcoming




DELMONICO BOOKS/BIG NDN PRESS

ISBN: 9781636811024
USD $75.00

| CAN $108.5

UK &pound 67

Pub Date: 8/22/2023
Active | Out of stock




DELMONICO BOOKS/NASHER SCULPTURE CENTER

ISBN: 9781636811109
USD $59.95

| CAN $85.95

UK &pound 48

Pub Date: 11/21/2023
Forthcoming




ROYAL ACADEMY OF ARTS

ISBN: 9781912520411
USD $50.00

| CAN $72.5

Pub Date: 12/5/2023
Forthcoming




RADIUS BOOKS

ISBN: 9781955161107
USD $65.00

| CAN $94

UK &pound 57

Pub Date: 10/3/2023
Forthcoming