BOOK FORMAT
Clth, 10 x 11.75 in. / 228 pgs / 175 color.
PUBLISHING STATUS
Pub Date 10/31/2009
Out of print
DISTRIBUTION
D.A.P. Exclusive
Catalog: FALL 2009 p. 176
PRODUCT DETAILS
ISBN 9781933045986 TRADE
List Price: $60.00 CDN $70.00
AVAILABILITY
Not available
TERRITORY
WRLD Export via T&H
EXHIBITION SCHEDULE
Brussels
Bozar Center for Fine Arts, 02/10/11-05/08/11

Wexner Center for the Arts 09/17/09-01/03/10

San Francisco
SFMOMA, 02/06/10-05/02/10

Dallas
Dallas Museum of Art, 06/06/10-09/06/10

Chicago
The Museum of Contemporary Art, 10/02/10-01/09/11
THE FALL 2023 ARTBOOK | D.A.P. CATALOG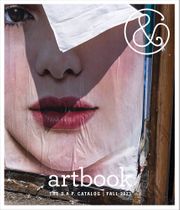 Preview our Fall 2023 catalog, featuring more than 500 new books on art, photography, design, architecture, film, music and visual culture.
&nbsp
&nbsp
Luc Tuymans

Edited by Madeleine Grynsztejn, Helen Molesworth. Text by Helen Molesworth, Joseph L. Koerner, Ralph Rugoff, Bill Horrigan.


Luc Tuymans is one of today's most widely admired painters, a continuation of the great tradition of Northern European painting and an enduring influence on younger and emerging artists. As a European child of the 1950s, his relationship to painting is inevitably structured by television, cinema and by the lingering effects of World War II; more recent historical preoccupations have included the dramatic turn of world events post-9/11. Tuymans combines a muted palette with deteriorated surface effect and a singular use of cropping, close-up and sequencing--perfect devices with which to undertake his investigation of the pathological, the banal and the conspiratorial. Published in conjunction with the artist's first full-scale American survey, this is without question the authoritative publication on Tuymans. It features approximately 75 key works from 1978 to the present, and is accompanied by essays analyzing the painter's main concerns, with particular attention paid to his working process and his adaptation of source materials. Helen Molesworth examines themes of sinister banality, Joseph Leo Koerner writes on iconophobia and iconophilia, Ralph Rugoff considers the nature of visual experience in light of Tuymans' recent work, and Bill Horrigan examines cinematic sources. This book is not only the most comprehensive survey of Tuymans' career to date, but also the most thorough chronology of his artistic development.
Born in Mortsel, Belgium, in 1958, Luc Tuymans first exhibited his paintings in 1985, at Palais des Thermes in Ostend. His first U.S. exhibition came ten years later, at The Renaissance Society in Chicago. He has also worked in film and printmaking.


"Like a ragged piece of cloth hung on the wall to dry, Towel can be understood as a humorous riposte to the history and reception of modernist painting and art criticism. The theories of the critic Clement Greenberg, who argued for flatness and self-referentiality as modernist painting's highest aim, seem to be a particular target of Tuymans' wry parody. Towel, if it were actually woven cloth, instead of a quasi-realist oil painting, would indeed integrate line, color and surface in a single plane, serving as a kind of readymade modernist canvas. At the same time, the worn appearance of Towel cynically suggests that the utopian aesthetic of modernist painting such as Mondrian's, in spite of its proponents' socially radical utopian aims, has found its end in banal domestic objects, becoming entrenched in daily life as an outdated modernist-kitsch style."

Lanka Tattersall's description of Luc Tuymans' painting Towel, featured here and excerpted from Luc Tuymans

FROM THE BOOK

"Red and green lines cross over a drab background, forming an irregular grid that vaguely evokes the paintings of the Piet Mondrian, the Dutch artist known for his rigorous geometric abstractions. In Tuymans' painting, however, each of the hallmarks of the Mondrian's aesthetic strategy is wryly subverted. Instead of painting solely with the primary colors, plus black and white, Tuymans has used the non-primary green, red, and a decidedly unpure shade of beige. Where Mondrian progressively attempted to eradicate the illusion of depth in his paintings, the crossed lines of

Towel

create a layered space. Moreover, the title of Tuymans' painting indicates that such an attempt at a formalist reading of this painting is, of course, a farce. In spite of its superficially modern "style", the pattern is drawn from a quotidian plaid towel, a commonplace design of that pre-dates modernist painting."

Lanka Tattersall's description of Luc Tuymans' painting Towel, in Luc Tuymans

HATJE CANTZ

ISBN: 9783775712651
USD $24.95

| CAN $27.5

Pub Date: 5/2/2003
Out of print | Not available




SALON VERLAG & EDITION

ISBN: 9783897703032
USD $75.00

| CAN $90

Pub Date: 10/31/2009
Out of print | Not available




MARSILIO EDITORI

ISBN: 9788831779494
USD $45.00

| CAN $62

UK &pound 40

Pub Date: 6/18/2019
Active | In stock




FONDAZIONE PRADA

ISBN: 9788887029741
USD $70.00

| CAN $100

Pub Date: 9/17/2019
Active | In stock




LUDION

ISBN: 9789491819797
USD $35.00

| CAN $47.5

Pub Date: 7/24/2018
Active | In stock




LUDION

ISBN: 9789491819353
USD $85.00

| CAN $112.5

Pub Date: 1/26/2016
Active | Out of stock




LUDION

ISBN: 9789491819391
USD $45.00

| CAN $60

Pub Date: 1/26/2016
Active | In stock




LUDION

ISBN: 9789491819032
USD $150.00

| CAN $200

Pub Date: 8/31/2014
Active | In stock




LUDION/DAVID ZWIRNER

ISBN: 9789461300720
USD $55.00

| CAN $72.5

Pub Date: 1/31/2013
Active | Out of stock




STOCKMANS/DE VOS

ISBN: 9789077207185
USD $35.00

| CAN $47.5

Pub Date: 3/1/2009
Active | In stock