BOOK FORMAT
Cloth, 10.5 x 12 in. / 159 pgs / illustrated throughout.
PUBLISHING STATUS
Pub Date 7/19/2016
Active
DISTRIBUTION
D.A.P. Exclusive
Catalog: Publisher Backlist
PRODUCT DETAILS
ISBN 9781910350416 TRADE
List Price: $45.00 CDN $60.00
AVAILABILITY
In stock
THE FALL 2023 ARTBOOK | D.A.P. CATALOG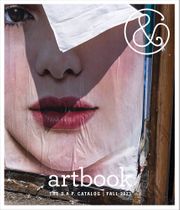 Preview our Fall 2023 catalog, featuring more than 500 new books on art, photography, design, architecture, film, music and visual culture.
&nbsp
&nbsp
Anthony Whishaw

By Richard Davey.


The subjects and styles of painter Anthony Whishaw encompass an exceptional range. He paints in concurrent series, which sometimes overlap to form unexpected hybrids. His paintings vary in scale from only 8 inches to nearly 23 feet in length, and a similar breadth of scope also exists within his subject matter, which examines macro- and microcosms from the depths of space to instances of electrochemical activity in the brain. His paintings can be both figurative and abstract, illustrative and allusive, and he uses a wide range of media, often adding sand, soil, ash, or metal to his works. The results are considerations of memory and experience. Past and present pictorial languages combine to create unforeseen visual encounters on the edge of representation. This authoritative book, lavishly illustrated, includes text by Richard Davey that unravels the complexities of Whishaw s remarkable work.


Free Shipping

UPS GROUND IN THE CONTINENTAL U.S.
FOR CONSUMER ONLINE ORDERS

ART BOOKS & MUSEUM EXHIBITION CATALOGS: FORTHCOMING AND RECENT RELEASES

THE MUSEUM OF MODERN ART, NEW YORK

ISBN: 9781633451506
USD $75.00

| CAN $108.5

Pub Date: 10/3/2023
Active | In stock




GREGORY R. MILLER & CO./BALTIMORE MUSEUM OF ART/SAINT LOUIS ART MUSEUM

ISBN: 9781941366547
USD $55.00

| CAN $79

UK &pound 49

Pub Date: 6/27/2023
Active | In stock




GLENSTONE MUSEUM

ISBN: 9798987425411
USD $70.00

| CAN $101.5

UK &pound 62

Pub Date: 1/9/2024
Forthcoming




LOS ANGELES COUNTY MUSEUM OF ART

ISBN: 9781636810799
USD $85.00

| CAN $123

UK &pound 76

Pub Date: 7/4/2023
Active | In stock




J&L BOOKS/MAGIC HOUR PRESS

ISBN: 9780999365557
USD $45.00

| CAN $65

UK &pound 40

Pub Date: 9/12/2023
Active | In stock




DELMONICO BOOKS/BUFFALO AKG ART MUSEUM

ISBN: 9781636811017
USD $75.00

| CAN $108.5

UK &pound 65

Pub Date: 10/17/2023
Forthcoming




LUDION/D.A.P.

ISBN: 9789493039759
USD $125.00

| CAN $181

Pub Date: 11/19/2023
Forthcoming




GUGGENHEIM MUSEUM PUBLICATIONS

ISBN: 9780892075638
USD $65.00

| CAN $94

UK &pound 57

Pub Date: 12/12/2023
Forthcoming




DELMONICO BOOKS/BIG NDN PRESS

ISBN: 9781636811024
USD $75.00

| CAN $108.5

UK &pound 67

Pub Date: 8/22/2023
Active | Out of stock




DELMONICO BOOKS/NASHER SCULPTURE CENTER

ISBN: 9781636811109
USD $59.95

| CAN $85.95

UK &pound 48

Pub Date: 11/21/2023
Forthcoming




ROYAL ACADEMY OF ARTS

ISBN: 9781912520411
USD $50.00

| CAN $72.5

Pub Date: 12/5/2023
Forthcoming




RADIUS BOOKS

ISBN: 9781955161107
USD $65.00

| CAN $94

UK &pound 57

Pub Date: 10/3/2023
Forthcoming