BOOK FORMAT
Paperback, 6.03 x 8.63 in. / 333 pgs.
PUBLISHING STATUS
Pub Date 11/1/2017
Active
DISTRIBUTION
D.A.P. Exclusive
Catalog: Publisher Backlist
PRODUCT DETAILS
ISBN 9781909932395 TRADE
List Price: $29.95 CDN $45.00
AVAILABILITY
In stock
TERRITORY
NA ONLY
THE FALL 2023 ARTBOOK | D.A.P. CATALOG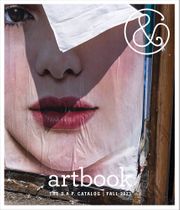 Preview our Fall 2023 catalog, featuring more than 500 new books on art, photography, design, architecture, film, music and visual culture.
&nbsp
&nbsp
Richard Flood: Notes From The Playground




Notes from the Playground is a carefully selected anthology of thirty essays by the curator, academic and writer, Richard Flood.

This new collection of his written work from over the past 40 years reveals an original and rigorous connection to the world of ideas and beauty and the critical and aesthetic experience of our present times. Drawing from his broad knowledge of history, cinema, literature, poetry, design and architecture, Flood's writings combine the autobiographical with the theoretical, presenting an intimate understanding of renowned contemporary artists.

Throughout many of the essays, Flood draws on personal correspondence between himself and the artist, including an annotated conversation with Paul Thek discussing his fabricated works of wax 'raw meat' facsimiles embedded in luxurious Plexiglas cases; four interviews with Robert Gober during the 1990s, offering vivid accounts of his sculptural and creative process; and a detailed description of a portrait sitting at Michael Landy's studio. Flood's significant essay on Arte Povera, co-authored with Frances Morris, is also reproduced, providing evidence of his ability to write in multiple ways.




Free Shipping

UPS GROUND IN THE CONTINENTAL U.S.
FOR CONSUMER ONLINE ORDERS

ART BOOKS & MUSEUM EXHIBITION CATALOGS: FORTHCOMING AND RECENT RELEASES

THE MUSEUM OF MODERN ART, NEW YORK

ISBN: 9781633451506
USD $75.00

| CAN $108.5

Pub Date: 10/3/2023
Active | In stock




GREGORY R. MILLER & CO./BALTIMORE MUSEUM OF ART/SAINT LOUIS ART MUSEUM

ISBN: 9781941366547
USD $55.00

| CAN $79

UK &pound 49

Pub Date: 6/27/2023
Active | In stock




GLENSTONE MUSEUM

ISBN: 9798987425411
USD $70.00

| CAN $101.5

UK &pound 62

Pub Date: 1/9/2024
Forthcoming




LOS ANGELES COUNTY MUSEUM OF ART

ISBN: 9781636810799
USD $85.00

| CAN $123

UK &pound 76

Pub Date: 7/4/2023
Active | In stock




J&L BOOKS/MAGIC HOUR PRESS

ISBN: 9780999365557
USD $45.00

| CAN $65

UK &pound 40

Pub Date: 9/12/2023
Active | In stock




DELMONICO BOOKS/BUFFALO AKG ART MUSEUM

ISBN: 9781636811017
USD $75.00

| CAN $108.5

UK &pound 65

Pub Date: 11/7/2023
Active | In stock




D.A.P./DISTRIBUTED ART PUBLISHERS

ISBN: 9789493039759
USD $125.00

| CAN $181

Pub Date: 11/21/2023
Active | In stock




GUGGENHEIM MUSEUM PUBLICATIONS

ISBN: 9780892075638
USD $65.00

| CAN $94

UK &pound 57

Pub Date: 11/21/2023
Active | In stock




DELMONICO BOOKS/BIG NDN PRESS

ISBN: 9781636811024
USD $75.00

| CAN $108.5

UK &pound 67

Pub Date: 8/22/2023
Active | Out of stock




DELMONICO BOOKS/NASHER SCULPTURE CENTER

ISBN: 9781636811109
USD $59.95

| CAN $85.95

UK &pound 48

Pub Date: 11/7/2023
Active | In stock




ROYAL ACADEMY OF ARTS

ISBN: 9781912520411
USD $50.00

| CAN $72.5

Pub Date: 1/16/2024
Forthcoming




RADIUS BOOKS

ISBN: 9781955161107
USD $65.00

| CAN $94

UK &pound 57

Pub Date: 12/5/2023
Active | In stock