BOOK FORMAT
Clth, 9.5 x 11.38 in. / 160 pgs / illustrated throughout.
PUBLISHING STATUS
Pub Date 4/1/2017
Active
DISTRIBUTION
D.A.P. Exclusive
Catalog: Publisher Backlist
PRODUCT DETAILS
ISBN 9781909932340 TRADE
List Price: $50.00 CDN $67.50
AVAILABILITY
Out of stock
THE FALL 2023 ARTBOOK | D.A.P. CATALOG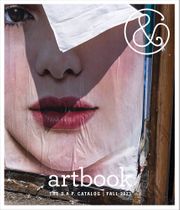 Preview our Fall 2023 catalog, featuring more than 500 new books on art, photography, design, architecture, film, music and visual culture.
&nbsp
&nbsp
Bill Lynch

Text by Verne Dawson, Matthew Higgs, Caoimhin Mac Giolla Leith.


This is the first comprehensive monograph on the late American artist, Bill Lynch (1960–2013) .

Painting primarily onto salvaged plywood sheets, leaving areas raw and exposed, Lynch depicted landscapes and wildlife, cultural artefacts and mythical symbols with instinctive and direct brushstrokes and a psychological connection to his subject matter.

The artist's vested interest in Chinese painting is apparent in his confident gestures, combining a dry lambent brush and thick pasty paint.

Making use of irregularities such as the knots and grain in the wooden support, Lynch merged the material of the surfaces with images creating an ambiguity between the physicality of the ground and his luscious pictorial visions. Bill Lynch was born in Albuquerque, New Mexico. He studied art at Cooper Union, New York where he lived and worked before moving to Mill Valley, California and then Raleigh, North Carolina.

In 2014 a retrospective of Lynch's work, curated by Verne Dawson, took place at White Columns, New York. Reviewing that exhibition in the New York Times, Roberta Smith wrote, 'Genius lands where genius will, and I'm pretty sure some alighted on Bill Lynch.'




STATUS: Out of stock

Temporarily out of stock pending additional inventory.

ART BOOKS & MUSEUM EXHIBITION CATALOGS: FORTHCOMING AND RECENT RELEASES

THE MUSEUM OF MODERN ART, NEW YORK

ISBN: 9781633451506
USD $75.00

| CAN $108.5

Pub Date: 10/3/2023
Active | In stock




GREGORY R. MILLER & CO./BALTIMORE MUSEUM OF ART/SAINT LOUIS ART MUSEUM

ISBN: 9781941366547
USD $55.00

| CAN $79

UK &pound 49

Pub Date: 6/27/2023
Active | In stock




GLENSTONE MUSEUM

ISBN: 9798987425411
USD $70.00

| CAN $101.5

UK &pound 62

Pub Date: 1/9/2024
Forthcoming




LOS ANGELES COUNTY MUSEUM OF ART

ISBN: 9781636810799
USD $85.00

| CAN $123

UK &pound 76

Pub Date: 7/4/2023
Active | In stock




J&L BOOKS/MAGIC HOUR PRESS

ISBN: 9780999365557
USD $45.00

| CAN $65

UK &pound 40

Pub Date: 9/12/2023
Active | In stock




DELMONICO BOOKS/BUFFALO AKG ART MUSEUM

ISBN: 9781636811017
USD $75.00

| CAN $108.5

UK &pound 65

Pub Date: 10/17/2023
Forthcoming




LUDION/D.A.P.

ISBN: 9789493039759
USD $125.00

| CAN $181

Pub Date: 11/19/2023
Forthcoming




GUGGENHEIM MUSEUM PUBLICATIONS

ISBN: 9780892075638
USD $65.00

| CAN $94

UK &pound 57

Pub Date: 12/12/2023
Forthcoming




DELMONICO BOOKS/BIG NDN PRESS

ISBN: 9781636811024
USD $75.00

| CAN $108.5

UK &pound 67

Pub Date: 8/22/2023
Active | Out of stock




DELMONICO BOOKS/NASHER SCULPTURE CENTER

ISBN: 9781636811109
USD $59.95

| CAN $85.95

UK &pound 48

Pub Date: 11/21/2023
Forthcoming




ROYAL ACADEMY OF ARTS

ISBN: 9781912520411
USD $50.00

| CAN $72.5

Pub Date: 12/5/2023
Forthcoming




RADIUS BOOKS

ISBN: 9781955161107
USD $65.00

| CAN $94

UK &pound 57

Pub Date: 10/3/2023
Forthcoming