BOOK FORMAT
Paperback, 5.88 x 8.875 in. / 208 pgs.
PUBLISHING STATUS
Pub Date 7/1/2015
Active
DISTRIBUTION
D.A.P. Exclusive
Catalog: Publisher Backlist
PRODUCT DETAILS
ISBN 9781909932029 TRADE
List Price: $25.00 CDN $34.95
AVAILABILITY
In stock
THE FALL 2023 ARTBOOK | D.A.P. CATALOG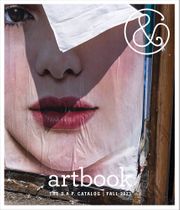 Preview our Fall 2023 catalog, featuring more than 500 new books on art, photography, design, architecture, film, music and visual culture.
&nbsp
&nbsp
Room 225-6: A Novel

By Karsten Schubert.


Recounting an art dealer's recuperation from major surgery in the famous Claridge's Hotel in London, this idiosyncratic novel interweaves reality with fantasy.

Room 225–6 follows the author-character 'The Protagonist' around London's Mayfair as he hosts endless art world gatherings, tea parties for twenty and visits a multitude of local galleries and stores.

Incorporating multi-layered voices and devices, the distinctive narrative introduces the reader to a memorable host of characters – from the 'The Political Prisoner' to 'The Little Mondrian' – in a tale filled with humour of observation and incident.

Bringing to life this frightening yet extraordinary period in one man's life, it is at once honest, satirical, idiotic and bold.




Free Shipping

UPS GROUND IN THE CONTINENTAL U.S.
FOR CONSUMER ONLINE ORDERS

THOMAS EVANS | DATE 8/13/2019

We are very sad to hear of the death of Karsten Schubert, publisher of Ridinghouse and famed gallerist who did so much to shape the landscape of British art in the 1990s.
continue to blog

MOUSSE PUBLISHING

ISBN: 9788867493395
USD $19.00

| CAN $29.95

Pub Date: 2/19/2019
Active | In stock




BLANK FORMS EDITIONS

ISBN: 9781953691149
USD $15.00

| CAN $22

Pub Date: 4/2/2024
Forthcoming




FOUR CORNERS BOOKS

ISBN: 9781909829190
USD $37.00

| CAN $53

Pub Date: 7/18/2023
Forthcoming




WAKEFIELD PRESS

ISBN: 9781939663887
USD $19.95

| CAN $26.95

UK &pound 16.95

Pub Date: 11/22/2022
Active | In stock




WAKEFIELD PRESS

ISBN: 9781939663870
USD $16.95

| CAN $29.95

UK &pound 13.95

Pub Date: 11/22/2022
Active | In stock




SPECTOR BOOKS

ISBN: 9783959055215
USD $20.00

| CAN $28

Pub Date: 12/13/2022
Active | In stock




KAYA PRESS

ISBN: 9781885030832
USD $18.95

| CAN $25.95

UK &pound 15.95

Pub Date: 8/1/2023
Forthcoming




KARMA BOOKS, NEW YORK

ISBN: 9781949172720
USD $35.00

| CAN $49

UK &pound 25

Pub Date: 7/19/2022
Active | In stock




ERRANT BODIES PRESS

ISBN: 9783982316628
USD $24.00

| CAN $33.5

Pub Date: 7/4/2023
Forthcoming




BLANK FORMS EDITIONS

ISBN: 9781953691118
USD $20.00

| CAN $28

Pub Date: 11/15/2022
Active | In stock




AFTER 8 BOOKS

ISBN: 9782492650055
USD $16.00

| CAN $22

Pub Date: 7/26/2022
Active | In stock




AFTER 8 BOOKS

ISBN: 9782955948644
USD $16.00

| CAN $22

Pub Date: 6/21/2022
Active | Out of stock