BOOK FORMAT
Paperback, 8.5 x 11 in. / 128 pgs / 40 color.
PUBLISHING STATUS
Pub Date 11/20/2018
Active
DISTRIBUTION
D.A.P. Exclusive
Catalog: FALL 2018 p. 54
PRODUCT DETAILS
ISBN 9781881390572 TRADE
List Price: $39.95 CDN $53.95 GBP £35.00
AVAILABILITY
Out of stock
EXHIBITION SCHEDULE
Columbus, OH
Wexner Center for the Arts, The Ohio State University, 9/15/18Ė12/30/18
DOWNLOAD THE SPRING 2023 CATALOG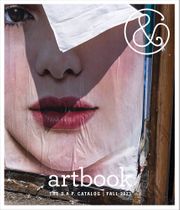 Preview our Spring 2023 catalog, featuring more than 500 new books on art, photography, design, architecture, film, music and visual culture.
&nbsp
&nbsp
Mickalene Thomas: I Canít See You Without Me

Foreword by Sherri Geldin. Text by Nicole R. Fleetwood, Michael Goodson, Beverly Guy-Sheftall, Antwaun Sargent.


Deconstructing the charged connections between sitter, artist and viewer

Presenting paintings of some of the artist's key models and muses, I Can't See You Without Me illuminates the work of Brooklyn painter Mickalene Thomas (born 1971). Culling from art history and popular culture, Thomas creates scintillating portraits that deconstruct the highly charged connections between sitter, artist and viewer. Whether depicted as classically composed 19th-century odalisques, Afro-adorned vixens of blaxploitation films or as a powerful maternal figure yearning for social mobility, the recurring models in Thomas' compositions (almost exclusively women of color) convey a spirit of strength and self-confidence. Across this archetypal array, it is both their contradictions and kinships that make the black female body such fertile terrain for the artist's ongoing investigations. By casting herself, her late mother and other formidable women in her life as models, muses and collaborators, Thomas particularizes her distinctive oeuvre of portraiture. Focused yet expansive, the catalog both reasserts and further contextualizes issues of identity, sexuality and agency in Thomas' work that have only become more nuanced and palpable over time.




"Tell Her It's Over" (2006) is reproduced from 'Mickalene Thomas: I Canít See You Without Me.'

PRAISE AND REVIEWS

Harper's Bazaar Arabia

Iman Vakil

I Canít See You Without Me is a touching monograph of Mickalene Thomasí portraits and her deconstruction between sitter, artist and viewer. Outlining how her subjects would often take on the form of 19th century odalisques, Afro-adorned vixens of blaxploitation films or a powerful maternal figure yearning for social mobility, the impressive essayists detail how these contradictions and kinships make the Black female body such fertile terrain for the artistís ongoing investigations.

STATUS: Out of stock

Temporarily out of stock pending additional inventory.

CORY REYNOLDS | DATE 3/8/2020

"By portraying real women with their own unique history, beauty and background, I'm working to diversify the representations of black women in art," Mickalene Thomas is quoted in I Canít See You Without Me, her best-selling collection of muse paintings from the Wexner Center. "We are not validated until we see ourselves: Not only are we present, we demand that we be seen, be heard, and be acknowledged." Featured image, a self-portrait, is "It Hurts So Good! (Brawlin' Spitfire Two)" (2007). continue to blog

CORY REYNOLDS | DATE 6/12/2020

"Racquel Reclining Wearing Purple Jumpsuit" (2015) is reproduced from Mickalene Thomas: I Canít See You Without Me, published by the Wexner Center. Essayst Nicole R. Fleetwood writes, "Thomas's reclining nudes and their interior staging are acts of world makingóthe origins of a universeóthrough the oeuvre of a black female artist and centered on black women's erotic exchanges, fantasies and performative identificationÖ As Thomas's art so adroitly reminds us, every rehearsal and reimagining of black female erotic identification is a practice of purposeful becoming." continue to blog

WEXNER CENTER FOR THE ARTS

ISBN: 9781881390572
USD $39.95

| CAN $53.95

UK &pound 35

Pub Date: 11/20/2018
Active | Out of stock