BOOK FORMAT
Hardcover, 10 x 12 in. / 112 pgs / 43 bw.
PUBLISHING STATUS
Pub Date 6/27/2017
Active
DISTRIBUTION
D.A.P. Exclusive
Catalog: FALL 2017 p. 96
PRODUCT DETAILS
ISBN 9781881337454 TRADE
List Price: $65.00 CDN $87.00 GBP £57.00
AVAILABILITY
In stock
THE FALL 2023 ARTBOOK | D.A.P. CATALOG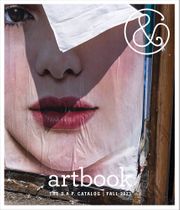 Preview our Fall 2023 catalog, featuring more than 500 new books on art, photography, design, architecture, film, music and visual culture.
Photographs of Nehalem Bay State Park, Oregon, in peril due to imminent threats both man made and environmental along the North Western coastline.

ABOUT THE ARTIST: Photographer Robert Adams (b. 1937) has published more than forty books of photographs, with the changing landscape of the American West as his primary subject. He lives and works in Astoria, Oregon. He is represented by the Fraenkel Gallery in San Francisco.
ABOUT THE BOOK: New work by Adams made between 2013 and 2015, with short texts by the artist. Adams recent photographs of the landscape reference the peril to the land of clear cutting, environmental degradation, and natural disasters along the Northwestern coast of the US.
&nbsp
&nbsp
Robert Adams: Tenancy




A major new work, Tenancy is comprised of 42 photographs by Robert Adams (born 1937) made in Nehalem Bay State Park, Oregon, between 2013 and 2015, with short texts by the artist.

The book's theme of tenancy expresses the idea of "temporary possession of what belongs to another"—specifically, the natural environment. Adams' recent photographs of the landscape reference the current and imminent threats of clearcutting, environmental degradation and natural disasters along the Northwestern coast of the US.

The black-and-white photographs include poignant images of massive tree stumps on the beach—a product of the cutting of first and early second growth—as well as shimmering stretches of coastline protected for endangered birds previously thought to have abandoned northern Oregon.




Free Shipping

UPS GROUND IN THE CONTINENTAL U.S.
FOR CONSUMER ONLINE ORDERS

FRAENKEL GALLERY

ISBN: 9781881337164
USD $65.00

| CAN $88

UK &pound 53

Pub Date: 5/10/2022
Active | In stock




STEIDL

ISBN: 9783969990179
USD $45.00

| CAN $62

Pub Date: 6/28/2022
Active | In stock




FRAENKEL GALLERY

ISBN: 9781881337515
USD $35.00

| CAN $49

UK &pound 30

Pub Date: 2/9/2021
Active | Out of stock




FRAENKEL GALLERY

ISBN: 9781881337522
USD $35.00

| CAN $49

UK &pound 30

Pub Date: 2/9/2021
Active | In stock




STEIDL

ISBN: 9783958296817
USD $50.00

| CAN $69.95

Pub Date: 2/6/2024
Forthcoming




STEIDL

ISBN: 9783958296619
USD $45.00

| CAN $62

Pub Date: 6/28/2022
Active | In stock




STEIDL

ISBN: 9783958296831
USD $50.00

| CAN $69.95

Pub Date: 2/6/2024
Forthcoming




STEIDL

ISBN: 9783958296824
USD $95.00

| CAN $135

Pub Date: 10/3/2023
Active | Out of stock




STEIDL

ISBN: 9783958296848
USD $60.00

| CAN $85

Pub Date: 2/6/2024
Forthcoming




FRAENKEL GALLERY

ISBN: 9781881337478
USD $65.00

| CAN $87

UK &pound 57

Pub Date: 10/23/2018
Active | Out of stock




WALTHER KöNIG, KöLN

ISBN: 9783960981237
USD $45.00

| CAN $60

Pub Date: 9/26/2017
Active | In stock




FRAENKEL GALLERY

ISBN: 9781881337454
USD $65.00

| CAN $87

UK &pound 57

Pub Date: 6/27/2017
Active | In stock




STEIDL

ISBN: 9783958291683
USD $145.00

| CAN $200

Pub Date: 2/19/2019
Active | Out of stock




STEIDL

ISBN: 9783958291690
USD $85.00

| CAN $112.5

Pub Date: 9/25/2018
Active | Out of stock




STEIDL

ISBN: 9783958290976
USD $55.00

| CAN $72.5

Pub Date: 4/24/2018
Active | In stock




STEIDL

ISBN: 9783958290969
USD $50.00

| CAN $67.5

Pub Date: 4/24/2018
Active | In stock