BOOK FORMAT
Paperback, 9 x 12 in. / 120 pgs.
PUBLISHING STATUS
Pub Date 3/17/2020
Active
DISTRIBUTION
D.A.P. Exclusive
Catalog: FALL 2020 p. 80
PRODUCT DETAILS
ISBN 9781734365603 TRADE
List Price: $18.00 CDN $25.00
AVAILABILITY
In stock
TERRITORY
NA LA ASIA AU/NZ AFR ME
THE FALL 2023 ARTBOOK | D.A.P. CATALOG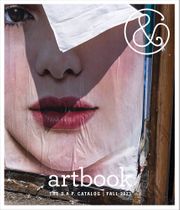 Preview our Fall 2023 catalog, featuring more than 500 new books on art, photography, design, architecture, film, music and visual culture.
&nbsp
&nbsp
Ursula: Issue 5

Edited by Randy Kennedy. Conversations with Paul McCarthy, Annie Leibovitz, Rashid Johnson, the Wooster Group.


Featuring Paul McCarthy, Rashid Johnson, Annie Leibovitz, Gerard Malanga and more, the fifth issue of Hauser & Wirth's magazine Ursula is themed around alchemy and color

The fifth issue of Ursula magazine is themed around alchemy and color. For the cover story, Paul McCarthy talks with fellow Los Angeles artist Tala Madani about their shared interest in digging into meaning through work that strains the bounds of cultural acceptance. The issue also includes work by Rashid Johnson, Annie Leibovitz, Gerard Malanga, Alina Szapocznikow, David Zink-Yi and the Wooster Group.

Ursula is the large-format quarterly art magazine of Hauser & Wirth gallery, featuring essays, profiles, interviews, original portfolios and photography by some of the most thought-provoking writers and artists in the world. Ursula takes its name from the internationally admired cofounder of the gallery—the patron, collector, mentor and art-world materfamilias Ursula Hauser. It reflects the inclusive values and broad perspective of the gallery she helped to establish in Zurich in 1992.




Free Shipping

UPS GROUND IN THE CONTINENTAL U.S.
FOR CONSUMER ONLINE ORDERS

HAUSER & WIRTH PUBLISHERS

ISBN: 9781734365627
USD $18.00

| CAN $25

Pub Date: 3/21/2023
Active | In stock




HAUSER & WIRTH PUBLISHERS

ISBN: 9781734365610
USD $18.00

| CAN $25

Pub Date: 5/19/2020
Active | In stock




HAUSER & WIRTH PUBLISHERS

ISBN: 9781734365603
USD $18.00

| CAN $25

Pub Date: 3/17/2020
Active | In stock




HAUSER & WIRTH

ISBN: 9780578576374
USD $18.00

| CAN $25

Pub Date: 11/26/2019
Active | In stock




HAUSER & WIRTH

ISBN: 9780578485065
USD $18.00

| CAN $24.95

Pub Date: 8/20/2019
Active | In stock




HAUSER & WIRTH PUBLISHERS

ISBN: 9783906915210
USD $18.00

| CAN $24.95

Pub Date: 5/21/2019
Active | In stock




HAUSER & WIRTH PUBLISHERS

ISBN: 9783906915203
USD $18.00

| CAN $24.95

Pub Date: 2/19/2019
Active | In stock




HAUSER & WIRTH PUBLISHERS

ISBN: 9781734365627
USD $18.00

| CAN $25

Pub Date: 3/21/2023
Active | In stock




HAUSER & WIRTH PUBLISHERS

ISBN: 9781734365627
USD $18.00

| CAN $25

Pub Date: 3/21/2023
Active | In stock




HAUSER & WIRTH PUBLISHERS

ISBN: 9781734365634
USD $18.00

| CAN $25

Pub Date: 9/5/2023
Active | In stock




SPECTOR BOOKS

ISBN: 9783959056663
USD $15.00

| CAN $21.5

Pub Date: 1/9/2024
Forthcoming




SPECTOR BOOKS

ISBN: 9783959056649
USD $15.00

| CAN $21.5

Pub Date: 1/9/2024
Forthcoming




SPECTOR BOOKS

ISBN: 9783959056625
USD $15.00

| CAN $21.5

Pub Date: 1/9/2024
Forthcoming




SPECTOR BOOKS

ISBN: 9783959056601
USD $15.00

| CAN $21.5

Pub Date: 1/9/2024
Forthcoming




SPECTOR BOOKS

ISBN: 9783959056588
USD $15.00

| CAN $21.5

Pub Date: 1/9/2024
Forthcoming




SPECTOR BOOKS

ISBN: 9783959056014
USD $15.00

| CAN $21.5

Pub Date: 1/9/2024
Forthcoming




SPECTOR BOOKS

ISBN: 9783959055994
USD $15.00

| CAN $21.5

Pub Date: 1/9/2024
Forthcoming




SPECTOR BOOKS

ISBN: 9783959055970
USD $15.00

| CAN $21.5

Pub Date: 1/9/2024
Forthcoming




SPECTOR BOOKS

ISBN: 9783959055956
USD $15.00

| CAN $21.5

Pub Date: 1/9/2024
Forthcoming




ERRANT BODIES PRESS

ISBN: 9783982316673
USD $23.00

| CAN $33

Pub Date: 7/4/2023
Active | In stock




SKIRA

ISBN: 9788857247908
USD $48.00

| CAN $67

Pub Date: 4/25/2023
Active | Out of stock