BOOK FORMAT
Hardcover, 9 x 12 in. / 128 pgs / 116 color.
PUBLISHING STATUS
Pub Date 12/7/2021
Active
DISTRIBUTION
D.A.P. Exclusive
Catalog: SPRING 2022 p. 38
PRODUCT DETAILS
ISBN 9781732321243 TRADE
List Price: $45.00 CDN $61.50 GBP £36.00
AVAILABILITY
In stock
EXHIBITION SCHEDULE
Traverse City, MI
The Dennos Museum Center, 03/23–06/23

Tucson, AZ
University of Arizona, 10/24/21–03/20/22

Portland, OR
Jordan Schnitzer Museum of Art at Portland State University, 09/24/22–12/10/22
DOWNLOAD THE SPRING 2023 CATALOG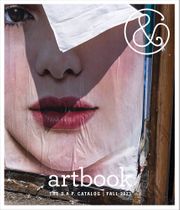 Preview our Spring 2023 catalog, featuring more than 500 new books on art, photography, design, architecture, film, music and visual culture.
&nbsp
&nbsp
The Art of Food

From the Collections of Jordan D. Schnitzer and His Family Foundation

Edited by Carolyn Vaughan. Foreword by Jill McCleary. Introduction by Jonathan Mabry. Text by Olivia Miller, Jordan D. Schnitzer.


Artists from Lorna Simpson to Andy Warhol explore the iconography and culture of food

Showing how artists in the 20th and 21st centuries have considered this universal subject, The Art of Food provides a lens with which to examine food beyond its purpose as body fuel. Food is integral to our relationships, cultures and languages. We transform it by cutting, cooking and dressing it. We use food as an intermediary to connect with others through holiday meals, business lunches and dates. We deny food to others as a tool of suppression and cultural erasure. Through the works of artists such as Enrique Chagoya, Damien Hirst, Hung Liu, Analia Saban, Lorna Simpson and Andy Warhol, from the Collections of Jordan D. Schnitzer and His Family Foundation, it becomes clear why food is a recurring subject in art.




Featured image is reproduced from The Art of Food'.

Free Shipping

UPS GROUND IN THE CONTINENTAL U.S.
FOR CONSUMER ONLINE ORDERS

MOUSSE PUBLISHING

ISBN: 9788867493319
USD $32.00

| CAN $45

Pub Date: 2/19/2019
Active | In stock




WALTHER KöNIG, KöLN

ISBN: 9783753303062
USD $45.00

| CAN $63

Pub Date: 8/8/2023
Forthcoming




SILVANA EDITORIALE

ISBN: 9788836647453
USD $40.00

| CAN $56

Pub Date: 5/30/2023
Active | In stock




THE MUSEUM OF MODERN ART, NEW YORK

ISBN: 9781633451230
USD $45.00

| CAN $63

Pub Date: 4/18/2023
Active | In stock




GREGORY R. MILLER & CO.

ISBN: 9781941366509
USD $60.00

| CAN $84

UK &pound 52

Pub Date: 5/2/2023
Active | In stock




WALTHER KöNIG, KöLN

ISBN: 9783753303239
USD $49.95

| CAN $69.95

Pub Date: 4/11/2023
Active | In stock




DELMONICO BOOKS/INSTITUTE OF CONTEMPORARY ART, MIAMI

ISBN: 9781636810836
USD $60.00

| CAN $84

UK &pound 52

Pub Date: 6/20/2023
Forthcoming




ROYAL ACADEMY OF ARTS

ISBN: 9781912520947
USD $30.00

| CAN $42

Pub Date: 3/21/2023
Active | In stock




DELMONICO BOOKS/FINE ARTS MUSEUMS OF SAN FRANCISCO

ISBN: 9781636810966
USD $85.00

| CAN $119

UK &pound 72

Pub Date: 4/25/2023
Active | In stock




HATJE CANTZ

ISBN: 9783775753814
USD $55.00

| CAN $77

Pub Date: 3/28/2023
Active | In stock




MARSILIO ARTE

ISBN: 9791254630860
USD $39.95

| CAN $55.95

UK &pound 33.99

Pub Date: 8/8/2023
Forthcoming




RM/TOLUCA ÉDITIONS/FONDATION A STITCHING

ISBN: 9788419233349
USD $45.00

| CAN $63

Pub Date: 2/28/2023
Active | In stock