BOOK FORMAT
Hardcover, 9 x 12 in. / 104 pgs / 60 color.
PUBLISHING STATUS
Pub Date 10/12/2021
Active
DISTRIBUTION
D.A.P. Exclusive
Catalog: SPRING 2022 p. 39
PRODUCT DETAILS
ISBN 9781732321236 TRADE
List Price: $39.95 CDN $54.95 GBP £31.99
AVAILABILITY
In stock
EXHIBITION SCHEDULE
Los Angeles, CA
USC Pacific Asia Art Museum, 03/23–06/23

University Park, PA
Palmer Museum of Art, Penn State University, 08/28/21–12/12/21

Knoxville, TN
Knoxville Museum of Art, 01/28/22–04/24/22

Huntington, NY
The Heckscher Museum of Art, 06/04/22–09/18/22

Billings, MT
Yellowstone Art Museum, 10/13/22–01/15/23

Pasadena, CA
USC Pacific Asia Art Museum, 03/10/23–06/25/23
THE FALL 2023 ARTBOOK | D.A.P. CATALOG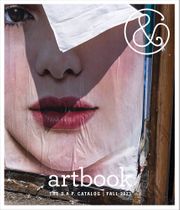 Preview our Fall 2023 catalog, featuring more than 500 new books on art, photography, design, architecture, film, music and visual culture.
&nbsp
&nbsp
Global Asias

Contemporary Asian and Asian American Art from the Collections of Jordan D. Schnitzer and His Family Foundation

Edited by Carolyn Vaughan. Foreword by Erin M. Coe. Text by Chang Tan, Jordan D. Schnitzer.


Fifteen artists draw on an array of motifs and techniques to construct diverse "Asias" in a modern global context

This book examines the subtly subversive characteristics of contemporary Asian and Asian American art. The 15 artists represented here were born in Japan, China, Korea, Vietnam, Argentina or the United States; all are adept at crossing borders both physical and material.

Artists include: Kwang Young Chun, Jacob Hashimoto, Manabu Ikeda, Jun Kaneko, Dinh Q. Lê, Hung Liu, Mariko Mori, Hiroki Morinoue, Takashi Murakami, Roger Shimomura, Do Ho Suh, Akio Takamori, Barbara Takenaga, Rirkrit Tiravanija and Patti Warashina.




Featured image is reproduced from 'Global Asias'.

Free Shipping

UPS GROUND IN THE CONTINENTAL U.S.
FOR CONSUMER ONLINE ORDERS

GUGGENHEIM MUSEUM PUBLICATIONS

ISBN: 9780892075614
USD $65.00

| CAN $94

UK &pound 57

Pub Date: 10/24/2023
Forthcoming




SKIRA

ISBN: 9788857250069
USD $55.00

| CAN $79

Pub Date: 12/26/2023
Forthcoming




SKIRA

ISBN: 9788857249971
USD $45.00

| CAN $65

Pub Date: 12/5/2023
Forthcoming




SILVANA EDITORIALE

ISBN: 9788836653751
USD $40.00

| CAN $58

Pub Date: 11/7/2023
Forthcoming




TURNER

ISBN: 9788418895647
USD $120.00

| CAN $168

Pub Date: 10/31/2023
Forthcoming




THE NATIONAL BONSAI FOUNDATION

ISBN: 9798218020804
USD $50.00

| CAN $70

UK &pound 43

Pub Date: 3/14/2023
Active | In stock




HATJE CANTZ

ISBN: 9783775753500
USD $55.00

| CAN $77

Pub Date: 2/21/2023
Active | In stock




NAI010 PUBLISHERS

ISBN: 9789462087286
USD $50.00

| CAN $70

Pub Date: 2/28/2023
Active | Out of stock




SKIRA

ISBN: 9788857248165
USD $45.00

| CAN $63

Pub Date: 2/21/2023
Active | In stock




MFA PUBLICATIONS, MUSEUM OF FINE ARTS, BOSTON

ISBN: 9780878468904
USD $29.95

| CAN $41.95

UK &pound 25.99

Pub Date: 5/16/2023
Active | In stock




WEISS PUBLICATIONS

ISBN: 9783948318154
USD $75.00

| CAN $104

UK &pound 60

Pub Date: 10/11/2022
Active | In stock




SKIRA

ISBN: 9788857247724
USD $55.00

| CAN $75

Pub Date: 8/30/2022
Active | In stock