BOOK FORMAT
Hardcover, 8.25 x 10.75 in. / 400 pgs / 400 color.
PUBLISHING STATUS
Pub Date 12/7/2021
Active
DISTRIBUTION
D.A.P. Exclusive
Catalog: FALL 2021 p. 5
PRODUCT DETAILS
ISBN 9781636810027 TRADE
List Price: $69.95 CDN $84.95 GBP £51.50
AVAILABILITY
In stock
TERRITORY
WORLD Except Brazil
EXHIBITION SCHEDULE
Houston, TX
The Museum of Fine Arts, Houston, 10/24/21–01/17/22

Washington, DC
National Gallery of Art, Washington, 04/10/22–11/12/22

Los Angeles, CA
Los Angeles County Museum of Art, 12/11/22–09/10/23

Dallas, TX
Dallas Museum of Art, 10/22/23–02/11/24
THE FALL 2023 ARTBOOK | D.A.P. CATALOG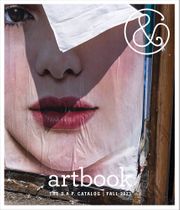 Preview our Fall 2023 catalog, featuring more than 500 new books on art, photography, design, architecture, film, music and visual culture.
&nbsp
&nbsp
Afro-Atlantic Histories

Edited with text by Adriano Pedrosa, Tomás Toledo. Text by Ayrson Heráclito, Deborah Willis, Hélio Menezes, Kanitra Fletcher, Lilia Moritz Schwarcz, Vivian Crockett.


A colossal, panoramic, much-needed appraisal of the visual cultures of Afro-Atlantic territories across six centuries

Named one of the best books of 2021 by Artforum

Afro-Atlantic Histories brings together a selection of more than 400 works and documents by more than 200 artists from the 16th to the 21st centuries that express and analyze the ebbs and flows between Africa, the Americas, the Caribbean and Europe. The book is motivated by the desire and need to draw parallels, frictions and dialogues around the visual cultures of Afro-Atlantic territories—their experiences, creations, worshiping and philosophy. The so-called Black Atlantic, to use the term coined by Paul Gilroy, is geography lacking precise borders, a fluid field where African experiences invade and occupy other nations, territories and cultures.
The plural and polyphonic quality of "histórias" is also of note; unlike the English "histories," the word in Portuguese carries a double meaning that encompasses both fiction and nonfiction, personal, political, economic and cultural, as well as mythological narratives.
The book features more than 400 works from Africa, the Americas and the Caribbean, as well as Europe, from the 16th to the 21st century. These are organized in eight thematic groupings: Maps and Margins; Emancipations; Everyday Lives; Rites and Rhythms; Routes and Trances; Portraits; Afro Atlantic Modernisms; Resistances and Activism.
Artists include: Nina Chanel Abney, Emma Amos, Benny Andrews, Emanoel Araujo, Maria Auxiliadora, Romare Bearden, John Biggers, Paul Cézanne, Victoria Santa Cruz, Beauford Delaney, Aaron Douglas, Melvin Edwards, Ibrahim El-Salahi, Ben Enwonwu, Ellen Gallagher, Theodore Géricault, Barkley Hendricks, William Henry Jones, Loïs Mailou Jones, Titus Kaphar, Wifredo Lam, Norman Lewis, Ibrahim Mahama, Edna Manley, Archibald Motley, Abdias Nascimento, Gilberto de la Nuez, Toyin Ojih Odutola, Dalton Paula, Rosana Paulino, Howardena Pindell, Heitor dos Prazeres, Joshua Reynolds, Faith Ringgold, Gerard Sekoto, Alma Thomas, Hank Willis Thomas, Rubem Valentim, Kara Walker and Lynette Yiadom-Boakye.




Featured image is reproduced from 'Afro-Atlantic Histories'.

PRAISE AND REVIEWS

Daily Art Magazine

Charlotte Stace

If you want to educate yourself on this vast history, spanning centuries and involving millions of people, then this art book is for you

Artforum

Joan Kee

A feast of images and ideas... Afro-Atlantic Histories raises the stakes of so-called global modernism by boldly setting forth the conditions of an art history that is for, rather than against, a global majority—a majority with which existing institutional structures have only just begun to reckon.

Library Journal

Taimur Dar

A broad, long-overdue examination of the visual legacy of the Afro-Atlantic diaspora to accompany a show that's sure to generate high interest.

New Yorker

Julian Lucas

A powerful corrective has arrived in the form of "Afro-Atlantic Histories," a visual survey of the diaspora […] An odyssey that extends from seventeenth-century Kongo to present-day Puerto Rico.

AIGA

Kimberly Varella

The page compositions are dynamic and move the reader through the book in a lively manner—complimented by the wonderfully bold and vibrant color palette.

Free Shipping

UPS GROUND IN THE CONTINENTAL U.S.
FOR CONSUMER ONLINE ORDERS

CORY REYNOLDS | DATE 4/10/2022

"Dark Rupture (James Baldwin" (1941), by American modernist Beauford Delaney, is reproduced from Afro-Atlantic Histories, published to accompany the critically-acclaimed exhibition opening at the National Gallery of Art, Washington, D.C., this week. An absolute must, this monumental, panoramic, 400-page survey spans the sixteenth to the twenty-first centuries. It's also one of the coolest looking books on our list, period, thanks to vivid graphic design by Paula Tinoco at Estúdio Campo, São Paulo, where the originating museum, MASP, is located. One of Artforum's Best Books of 2021, Afro-Atlantic Histories "raises the stakes of so-called global modernism by boldly setting forth the conditions of an art history that is for, rather than against, a global majority," Joan Kee writes, "a majority with which existing institutional structures have only just begun to reckon." continue to blog

WALTHER KöNIG, KöLN

ISBN: 9783753303062
USD $45.00

| CAN $63

Pub Date: 11/7/2023
Forthcoming




CARA

ISBN: 9781954939011
USD $35.00

| CAN $49

UK &pound 30

Pub Date: 11/21/2023
Forthcoming




WALTHER KöNIG, KöLN

ISBN: 9783753302713
USD $39.95

| CAN $55.95

Pub Date: 12/5/2023
Forthcoming




PACE PUBLISHING

ISBN: 9781948701594
USD $40.00

| CAN $56

UK &pound 34

Pub Date: 4/4/2023
Active | In stock




WALTHER KOENIG

ISBN: 9783753300573
USD $75.00

| CAN $103

Pub Date: 2/15/2022
Active | In stock




DELMONICO BOOKS/MUSEU DE ARTE DE SãO PAULO

ISBN: 9781636810027
USD $69.95

| CAN $84.95

UK &pound 51.5

Pub Date: 12/7/2021
Active | In stock




LUCIA|MARQUAND

ISBN: 9781646570232
USD $65.00

| CAN $88

UK &pound 51.5

Pub Date: 11/23/2021
Active | In stock




HATJE CANTZ

ISBN: 9783775747059
USD $46.00

| CAN $63.5

Pub Date: 2/15/2022
Active | In stock




KERBER

ISBN: 9783735606822
USD $69.95

| CAN $97.95

Pub Date: 4/13/2021
Active | In stock




KERBER

ISBN: 9783735606570
USD $50.00

| CAN $70

Pub Date: 8/10/2021
Active | In stock




SILVANA EDITORIALE

ISBN: 9788836642991
USD $25.00

| CAN $35

Pub Date: 3/17/2020
Active | Out of stock




KERBER

ISBN: 9783735606150
USD $40.00

| CAN $55

Pub Date: 10/22/2019
Active | Out of stock