BOOK FORMAT
Hardcover, 8 x 6.5 in. / 176 pgs / 90 color.
PUBLISHING STATUS
Pub Date 6/27/2017
Active
DISTRIBUTION
D.A.P. Exclusive
Catalog: FALL 2017 p. 57
PRODUCT DETAILS
ISBN 9780993191176 TRADE
List Price: $32.50 CDN $42.50
AVAILABILITY
In stock
TERRITORY
NA ONLY
THE FALL 2023 ARTBOOK | D.A.P. CATALOG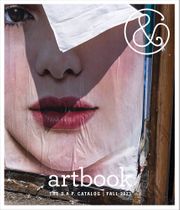 Preview our Fall 2023 catalog, featuring more than 500 new books on art, photography, design, architecture, film, music and visual culture.
What happened to Lenin?

In 1991 there were 5500 of statues of Lenin in the Ukraine, today there are none left on public display.
Color photographs document what remains of these Lenin statues throughout the Ukraine.
Included with the photographs are statements from Ukrainians on how they see their country's past and future.
Works both as HISTORY and also as HUMOR just as Fuel's prior books: SOVIET BUS STOPS and CCCP COOKBOOK did.
Niels Ackermann is a Swedish photographer living in Kiev Ukraine. His photographs have appeared in The New York Times and The Wall Street Journal.
Sebastien Gobert is a French Journalist based in the Ukraine. He is a correspondent for various media including: Liberation, Radio France Internationale. Myroslava Hartmond is Research Associate at the University of Oxford. Damon Murray and Stephen Sorrell are British graphic designers and the publishers of the best-selling Fuel imprint. They have published books on Soviet culture since 2004 with the release of the first Russian Criminal Tattoo Encyclopedia.



&nbsp
&nbsp
Looking for Lenin

Photographs by Niels Ackermann. Edited by Damon Murray, Stephen Sorrell. Text by Sébastien Gobert, Myroslava Hartmond.


The eerie beauty of Ukraine's Lenin statues, toppled in the name of decommunization

In the process of decommunisation, Ukraine has toppled all its Lenin monuments. The authors have hunted down and photographed these banned Soviet statues, revealing their inglorious fate. As Russia celebrates the 100th anniversary of the Bolshevik revolution, Ukraine struggles to achieve complete decommunization. Perhaps the most dramatic demonstration of this process is the phenomenon of Leninopad (Lenin-fall)—the toppling of Lenin statues. In 2015 the Ukrainian parliament passed legislation banning these monuments as symbols of the obsolete Soviet regime. From an original population of 5500 in 1991, today not a single Lenin statue remains standing in Ukraine.

Photographer Niels Ackermann and journalist Sébastien Gobert, both based in Kyiv, have scoured the country in search of the remains of these toppled figures. They found them in the most unlikely of places: Lenin inhabits gardens, scrap yards and store rooms. He has fallen on hard times—cut into pieces; daubed with paint in the colors of the Ukrainian flag; transformed into a Cossack or Darth Vader—but despite these attempts to reduce their status, the statues retain a sinister quality, resisting all efforts to separate them from their history.

These compelling images are combined with witness testimonies to form a unique insight, revealing how Ukrainians perceive their country, and how they are grappling with the legacy of their Soviet past to conceive a new vision of the future.




Featured image is reproduced from 'Looking for Lenin.'

PRAISE AND REVIEWS

Vice

Kim Kelly

Decapitating Lenin statues is the hottest new trend in Ukraine.

Hyperallergic

Claire Voon

a page-turner of a photo book

The New York Times Lens Blog

Jordan G. Teicher

Mr. Gobert and Mr. Ackermann present the Lenin statues as a lens through which to view conflicting Ukrainian visions of the country's past, present and future.

Free Shipping

UPS GROUND IN THE CONTINENTAL U.S.
FOR CONSUMER ONLINE ORDERS

FROM THE BOOK

Excerpt from "Lenin After the Fall" by Myroslava Hartmond

Monuments as propaganda were a
 unifying feature of the public land
scape throughout the fifteen Soviet
 republics and the satellite states.
 Statues, busts, memorial plaques,
 arches, obelisks, cenotaphs, victory
 columns, eternal flames, decorative detailing and mosaics... the collective space was permeated with Communist symbolism and aesthetics. Of these, the serial form of Vladimir Lenin was undoubtedly the most prominent.

Following the break-up of the Soviet Union in December 1990, each newly independent state dealt with this physical legacy differently. Ukraine's Leninfall – the toppling of monuments to the Communist figurehead by activists in the months after the 2013–14 Euromaidan protests in favor of closer European integration and an end to the corrupt pro-Kremlin regime – presents a particularly interesting case. The practice of erecting statues to reinforce subjugation is nothing new, and their toppling is a hallmark of regime overhaul and popular revolution. Yet in the context of the 2014 Ukrainian Revolution of Dignity – which resulted in the ousting of President Victor Yanukovych and the restoration of the constitution – the anachronistic Lenin statues acquired an unexpected political relevance. Leninfall was a wave of symbolic violence that swept across Ukraine. It exposed tensions within an atomized Ukrainian society and demanded a reassessment of the country's politics of memory.

When Ukraine seceded from the Soviet Union in 1991, it contained an abundance of propaganda in monument form. Although the country's Lenin memorials
 differed in size, composition, 
material and quality of craftsmanship, they all served the 
same ideological function.
 With 5500 individual Lenin
 statues – compared to 7000 in Russia, 600 in Belarus, 500 in Kazakhstan and a mere 300 in the entire Trans-Caucasus and Central Asian region – the density of monuments per square kilometer was higher in Ukraine than anywhere else in the former USSR. Sculptures of Bolshevik leaders had begun to disappear from the streets of Ukrainian cities in 1990, before the dissolution of the Soviet Union…

CORY REYNOLDS | DATE 2/24/2022

We are devastated to learn of war in Ukraine, and have suspended a more playful homepage campaign to feature an image from Looking for Lenin, published by our undisputed experts on Soviet weirdness, Fuel Publishing. Featured image is a Lenin statue transformed into Darth Vader by Ukrainian artist Oleksandr Milov. It stands in a factory courtyard outside Odessa. "Lenin? Ah! You, foreigners, you're all the same," a local resident is quoted. "Can't you focus on something really important? Why does this guy fascinate you so much? He symbolizes the repression and martyrdom of millions. No one looks for fallen statues of Hitler in Germany! I'm from Lviv, in the West of Ukraine. Back there, we took down the statues of Lenin a long, long time ago. And everything is going well—people are looking toward the future, not the past. The same will happen here. No one cares about Lenin now, because life is so tough. Don't you want to focus on real issues?" continue to blog

CORY REYNOLDS | DATE 7/5/2017

FUEL PUBLISHING does it again. The latest in the imprint's series of books exposing funky, unexpected areas of Soviet design is Looking for Lenin, a collection of photographs of toppled, warehoused, defaced, decapitated and disfigured Ukrainian Lenin statues, brought down in the name of Leninopad (Lenin-fall) following a 2015 Parliamentary ban on Soviet symbols. "This Lenin head is more than two meters tall and previously stood on the site of the V.I. Lenin Nuclear Power Station (Chernobyl Nuclear Power Plant)," the authors write. "It is now stored in a room used by the facility cleaning staff. Despite the authorities' claims of contamination, no significant levels of radiation were found." continue to blog

HATJE CANTZ

ISBN: 9783775755702
USD $50.00

| CAN $73

Pub Date: 1/9/2024
Forthcoming




REDSTONE PRESS

ISBN: 9781739597627
USD $25.00

| CAN $36

UK &pound 25

Pub Date: 8/8/2023
Active | In stock




WENDY'S SUBWAY/CARPENTER CENTER FOR THE VISUAL ARTS AT HARVARD UNIVERSITY/INSTIT

ISBN: 9798986337524
USD $18.00

| CAN $26

Pub Date: 8/8/2023
Active | In stock




NATIONAL PORTRAIT GALLERY

ISBN: 9781855145771
USD $29.95

| CAN $42.95

Pub Date: 5/23/2023
Active | In stock




VERLAG FüR MODERNE KUNST

ISBN: 9783903439702
USD $14.95

| CAN $19.95

Pub Date: 3/21/2023
Active | In stock




SKIRA

ISBN: 9788857248738
USD $9.00

| CAN $13

Pub Date: 4/25/2023
Active | In stock




REDSTONE PRESS

ISBN: 9781739597603
USD $24.95

| CAN $34.95

Pub Date: 6/13/2023
Active | In stock




FUEL PUBLISHING

ISBN: 9781739887803
USD $55.00

| CAN $77

Pub Date: 5/30/2023
Active | In stock




THE DESIGN MUSEUM

ISBN: 9781872005614
USD $45.00

| CAN $63

Pub Date: 8/23/2022
Active | Out of stock




JBE BOOKS

ISBN: 9782365680615
USD $49.95

| CAN $67.95

Pub Date: 4/12/2022
Active | In stock




REDSTONE PRESS

ISBN: 9780995518193
USD $24.95

| CAN $33.95

Pub Date: 6/7/2022
Active | Out of stock




REDSTONE PRESS

ISBN: 9780995518186
USD $24.95

| CAN $33.95

UK &pound 19.99

Pub Date: 3/15/2022
Active | In stock