BOOK FORMAT
Paperback, 5.5 x 8 in. / 288 pgs.
PUBLISHING STATUS
Pub Date 3/31/2014
Out of stock indefinitely
DISTRIBUTION
D.A.P. Exclusive
Catalog: SPRING 2014 p. 35
PRODUCT DETAILS
ISBN 9780985136482 TRADE
List Price: $20.00 CDN $27.95
AVAILABILITY
Not available
TERRITORY
NA ONLY
THE FALL 2023 ARTBOOK | D.A.P. CATALOG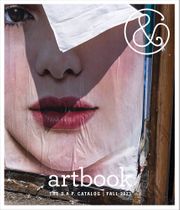 Preview our Fall 2023 catalog, featuring more than 500 new books on art, photography, design, architecture, film, music and visual culture.
&nbsp
&nbsp
Complete Minimal Poems

By Aram Saroyan. Preface by Ron Silliman.


Long cherished in out-of-print editions, anthologies and textbooks, and more recently celebrated on the internet, the groundbreaking Concrete and Minimalist poems of Aram Saroyan (born 1943) are gathered together here in a single, much-needed volume. Working in the 1960s among the so-called Second Generation New York School of poetry and the international Concrete poetry movement, but also informed by Conceptual art, Saroyan brought an intense focus to the sensuality of words--often single words--highlighting their material strangeness. Among the most popular of these poems are the infamous "lighght" (singled out by Senator Jesse Helms, who publicly lambasted the poem when its author received an NEA award), "eyeye," and his four-legged letter "m." "Even a five-word poem has a beginning, middle and end," Saroyan once stated; "A one-word poem doesn't. You can see it all at once. It's instant." Complete Minimal Poems reissues the entirety of Saroyan's rare collections Aram Saroyan, Pages and The Rest for the first time, as well as his well-known "Electric Poems" (originally published in the 1972 All Stars anthology) and the previously unpublished sequence "Short Poems." The first edition of Complete Minimal Poems was published in 2007, receiving praise in The New York Times and winning the 2008 William Carlos Williams Award. This reprint of that edition includes a new preface by Ron Silliman.


Featured poem is reproduced from Complete Minimal Poems.

STATUS: Out of stock indefinitely.

SET MARGINS' PUBLICATIONS

ISBN: 9789083318882
USD $22.00

| CAN $31

Pub Date: 12/5/2023
Forthcoming




KARMA BOOKS, NEW YORK

ISBN: 9781949172973
USD $25.00

| CAN $37

UK &pound 21

Pub Date: 11/28/2023
Forthcoming




SOBERSCOVE PRESS/WINTER EDITIONS

ISBN: 9781940190327
USD $24.00

| CAN $34.5

UK &pound 22

Pub Date: 11/14/2023
Forthcoming




DARK ENTRIES EDITIONS

ISBN: 9798985170412
USD $20.00

| CAN $29

UK &pound 18

Pub Date: 10/3/2023
Active | In stock




DABA

ISBN: 9781734681796
USD $35.00

| CAN $50.5

UK &pound 30

Pub Date: 10/31/2023
Forthcoming




WAKEFIELD PRESS

ISBN: 9781939663863
USD $19.95

| CAN $26.95

UK &pound 16.95

Pub Date: 12/6/2022
Active | In stock




MAMCO GENEVA

ISBN: 9781636810423
USD $29.95

| CAN $39.95

UK &pound 23.99

Pub Date: 5/3/2022
Active | In stock




DABA

ISBN: 9781734681772
USD $20.00

| CAN $27

UK &pound 18

Pub Date: 4/12/2022
Active | In stock




KAYA PRESS

ISBN: 9781885030801
USD $18.95

| CAN $25.95

UK &pound 14.99

Pub Date: 10/25/2022
Active | In stock




WAKEFIELD PRESS

ISBN: 9781939663801
USD $22.95

| CAN $30.95

UK &pound 18.99

Pub Date: 7/26/2022
Active | In stock




AFTER 8 BOOKS

ISBN: 9782492650000
USD $24.95

| CAN $31

Pub Date: 3/22/2022
Active | In stock




KAYA PRESS

ISBN: 9781885030757
USD $18.95

| CAN $25.95

UK &pound 14.99

Pub Date: 11/9/2021
Active | In stock