BOOK FORMAT
DVD (NTSC) with booklet, 5.5 x 7.5 in.
PUBLISHING STATUS
Pub Date 10/1/2008
Active
DISTRIBUTION
D.A.P. Exclusive
Catalog: FALL 2008 p. 95
PRODUCT DETAILS
ISBN 9780979918810 TRADE
List Price: $20.00 CDN $27.95 GBP £17.50
AVAILABILITY
Out of stock
TERRITORY
WORLD
THE FALL 2023 ARTBOOK | D.A.P. CATALOG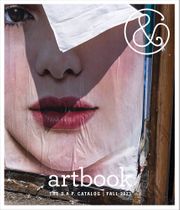 Preview our Fall 2023 catalog, featuring more than 500 new books on art, photography, design, architecture, film, music and visual culture.
&nbsp
&nbsp
J&L Video No. 2

Videos and Vodka: Selections from Video Salon

Edited by Jacob Dyrenforth, Eva Respini.


J&L Video 2: Videos and Vodka is the second in a series of DVDs published by J&L Books featuring short films by artists. This volume is guest edited by curator Eva Respini and artist Jacob Dyrenforth, whose Videos and Vodka salon presented non-traditional screenings in a domestic setting. Stressing the importance of context in the viewing experience, their series aimed to bring together video makers and viewers without the usual meditation of the art market. This two-DVD set features videos by salon artists, including Guy Ben-Ner, Tanyth Berkeley, Duke and Battersby, Christopher Miner, Ohad Meromi, Lisa Oppenheim, John Pilson, Halsey Rodman, Kirsten Stoltmann and Sterling Ruby. An accompanying booklet considers Respini and Dyrenforth's salon within the history of video and within the context of other non-traditional viewing models.


STATUS: Out of stock

Temporarily out of stock pending additional inventory.

OF RELATED INTEREST

J&L BOOKS

ISBN: 9780974690889
USD $15.00

| CAN $21.5

UK &pound 13.5

Pub Date: 10/1/2007
Active | In stock




SPECTOR BOOKS

ISBN: 9783959056441
USD $45.00

| CAN $65

Pub Date: 10/3/2023
Active | In stock




FOUR CORNERS BOOKS

ISBN: 9781909829206
USD $28.00

| CAN $40.5

Pub Date: 7/18/2023
Active | In stock




HATJE CANTZ

ISBN: 9783775753883
USD $50.00

| CAN $72.5

Pub Date: 6/20/2023
Active | Out of stock




DELMONICO BOOKS/MODERN ART MUSEUM OF FORT WORTH

ISBN: 9781636810959
USD $49.95

| CAN $69.95

UK &pound 42.99

Pub Date: 2/21/2023
Active | In stock




DELMONICO BOOKS/LOS ANGELES COUNTY MUSEUM OF ART

ISBN: 9781636810805
USD $75.00

| CAN $105

UK &pound 66

Pub Date: 1/31/2023
Active | In stock




ONOMATOPEE PROJECTS

ISBN: 9789493148864
USD $18.00

| CAN $25

Pub Date: 11/15/2022
Active | In stock




SKIRA

ISBN: 9788857247823
USD $45.00

| CAN $63

Pub Date: 1/9/2024
Forthcoming




HATJE CANTZ

ISBN: 9783775753630
USD $45.00

| CAN $62

Pub Date: 11/29/2022
Active | In stock




HATJE CANTZ

ISBN: 9783775753647
USD $45.00

| CAN $62

Pub Date: 11/29/2022
Active | In stock




PIONEER WORKS PRESS

ISBN: 9781945711169
USD $20.00

| CAN $28

UK &pound 17

Pub Date: 12/13/2022
Active | Out of stock




THE MUSEUM OF MODERN ART, NEW YORK

ISBN: 9781633451414
USD $39.95

| CAN $55.95

Pub Date: 10/4/2022
Active | In stock




INVENTORY PRESS

ISBN: 9781941753514
USD $34.95

| CAN $48.95

UK &pound 24.99

Pub Date: 1/17/2023
Active | In stock