BOOK FORMAT
Hardcover, 8.5 x 10 in. / 128 pgs / 86 color.
PUBLISHING STATUS
Pub Date 2/28/2014
Out of print
DISTRIBUTION
D.A.P. Exclusive
Catalog: SPRING 2014 p. 61
PRODUCT DETAILS
ISBN 9780878468102 TRADE
List Price: $29.95 CDN $39.95 GBP £19.95
AVAILABILITY
Not available
TERRITORY
WORLD
EXHIBITION SCHEDULE
Nashville, TN
Frist Center for the Visual Arts, 01/31/14-05/11/14

Tokyo, Japan
Setagaya Art Museum, 06/28/14-09/15/14

Kyoto, Japan
Kyoto Municipal Museum of Art, 09/30/14-11/30/14

Nagoya, Japan
Boston Museum of Fine Arts, Japan, 01/02/15-05/05/15

San Francisco, CA
Asian Art Museum, 10/30/15-01/24/16

Québec, Canada
Musée National des Beaux-Arts, 06/11/15-09/27/15
THE FALL 2023 ARTBOOK | D.A.P. CATALOG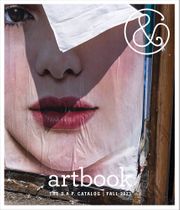 Preview our Fall 2023 catalog, featuring more than 500 new books on art, photography, design, architecture, film, music and visual culture.
&nbsp
&nbsp
Looking East

Western Artists and the Allure of Japan

Text by Helen Burnham, Sarah E. Thompson, Jane E. Braun.


A craze for all things Japanese in the late nineteenth and early twentieth centuries brought a correspondingly radical shift in Western art, dubbed Japonisme. Leading artists, including Vincent van Gogh and Claude Monet, were inspired by Japanese art and culture to create works of singular beauty. This lavishly illustrated publication explores an extraordinary moment of cross-cultural exchange by presenting a selection of major paintings, prints, drawings and decorative arts from the renowned collections of the Museum of Fine Arts, Boston. Masterpieces by European and American artists are shown along with rare objects, paintings and prints from the Museum's Japanese collection, which is one of the finest in the world. Among the Western artists influenced by Japonisme, and included here, are Henry Roderick Newman, Frank Weston Benson, Alfred Stevens, John La Farge, Arthur Wesley Dow, Margaret Jordan Patterson, James McNeill Whistler, Edvard Munch, Henri de Toulouse-Lautrec, Pierre Bonnard, Edouard Vuillard, James Ensor, Paul Gauguin, Edgar Degas, Henri Rivière and Frederick Elkington. Their works are juxtaposed with works by Japanese artists such as Utagawa Hiroshige, Katsushika Hokusai, Okumura Masanobu, Maruyama Okyo, Kubo Shunman, Isoda Koryusai and Kikugawa Eizan, among many others. With its two introductory essays, emphasizing first Western and then Eastern perspectives, and its four thematically organized chapters, Looking East imparts the sense of discovery and excitement that characterized the development of Japonisme in Europe and North America.


"Lotus" (about 1900) by Arthur Wesley Dow is reproduced from Looking East.

CORY REYNOLDS | DATE 2/24/2014

In Looking East: Western Artists and the Allure of Japan, Museum of Fine Arts Boston curator Helen Burnham writes, "Japanese approaches to color, perspective, and light in the depiction of landscapes offered compelling aesthetic possibilities to Westerners already enamored of the country's sensitivity to nature and its ever-changing beauty. Artists and critics remarked that the bright colors of ukiyo-e prints made them feel as though veils had been lifted from their eyes. Unlike European painters, who tended to use shadows to create convincing three-dimensional forms, 'the Japanese did not see nature swathed in mourning…it appeared to them as colored and full of light.' Their vistas, moreover, gave the impression of distance without relying exclusively on perspective, the favored method of Western landscapists. Instead, the Japanese employed contrasts in color, the repetition of forms, and the power of suggestion—'one wave stands for the whole sea'—to animate views of Mount Fuji or important sites in Edo." Utagawa Hiroshige's "Pine of Success and Oumayagashi, Asakusa River" from the series One Hundred Famous Views of Edo, 1856, is reproduced from Looking East . continue to blog

MARSILIO ARTE

ISBN: 9791254631515
USD $39.95

| CAN $56.95

UK &pound 33.99

Pub Date: 1/16/2024
Forthcoming




SKIRA

ISBN: 9788857249254
USD $50.00

| CAN $72.5

Pub Date: 1/9/2024
Forthcoming




FONDAZIONE PRADA

ISBN: 9788887029840
USD $80.00

| CAN $116

Pub Date: 1/9/2024
Forthcoming




MFA PUBLICATIONS, MUSEUM OF FINE ARTS, BOSTON

ISBN: 9780878468911
USD $60.00

| CAN $87

UK &pound 54

Pub Date: 10/10/2023
Active | In stock




MARSILIO ARTE

ISBN: 9791254631225
USD $29.95

| CAN $42.95

UK &pound 26

Pub Date: 1/16/2024
Forthcoming




DELMONICO BOOKS/LOS ANGELES COUNTY MUSEUM OF ART

ISBN: 9781636810881
USD $85.00

| CAN $123

UK &pound 75

Pub Date: 12/12/2023
Active | In stock




SKIRA

ISBN: 9788857248059
USD $35.00

| CAN $49

Pub Date: 4/25/2023
Active | In stock




MARSILIO ARTE

ISBN: 9791254630563
USD $19.95

| CAN $26.95

UK &pound 17.99

Pub Date: 3/14/2023
Active | In stock




MARSILIO ARTE

ISBN: 9791254630587
USD $19.95

| CAN $26.95

UK &pound 17.99

Pub Date: 3/14/2023
Active | In stock




JBE BOOKS

ISBN: 9782365680707
USD $25.00

| CAN $35

Pub Date: 3/14/2023
Active | In stock




KAPH BOOKS

ISBN: 9786148035456
USD $45.00

| CAN $63

Pub Date: 6/13/2023
Active | Out of stock




FONDAZIONE PRADA

ISBN: 9788887029833
USD $90.00

| CAN $126

Pub Date: 1/9/2024
Forthcoming