BOOK FORMAT
Flexi, 9 x 10.5 in. / 216 pgs / illustrated throughout.
PUBLISHING STATUS
Pub Date 1/31/2012
Active
DISTRIBUTION
D.A.P. Exclusive
Catalog: SPRING 2012 p. 15
PRODUCT DETAILS
ISBN 9780870708244 TRADE
List Price: $45.00 CDN $60.00
AVAILABILITY
In stock
TERRITORY
NA ONLY
EXHIBITION SCHEDULE
Brussels, Belgium
WIELS Contemporary Art Centre, 09/10/11-01/08/12

Los Angeles, CA
Hammer Museum, 02/05/12-04/29/12

Columbus, OH
Wexner Center for the Arts, 05/19/12-08/05/12

New York
The Museum of Modern Art, 10/07/12-01/28/13
THE FALL 2023 ARTBOOK | D.A.P. CATALOG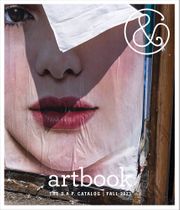 Preview our Fall 2023 catalog, featuring more than 500 new books on art, photography, design, architecture, film, music and visual culture.
&nbsp
&nbsp
Alina Szapocznikow: Sculpture Undone, 1955-1972

Edited by Elena Filipovic, Joanna Mytkowska. Text by Cornelia Butler, Jola Gola, Allegra Pesenti.


A compact but thorough retrospective of the work of Polish sculptor Alina Szapocznikow

A sculptor who began working during the postwar period in a classical figurative style, Alina Szapocznikow radically reconceptualized sculpture as an imprint not only of memory but of her own body. Though her career effectively spanned less than two decades (cut short by the artist's premature death in 1973 at age 47), Szapocznikow left behind a legacy of provocative objects that evoke Surrealism, Nouveau Réalisme and Pop art. Her tinted polyester casts of body parts, often transformed into everyday objects like lamps or ashtrays; her poured polyurethane forms; and her elaborately constructed sculptures, which at times incorporated photographs, clothing or car parts, all remain as wonderfully idiosyncratic and culturally resonant today as when they were first made. Well-known in Poland, where her work has been highly influential since early in her career, Szapocznikow's compelling oeuvre is ripe for art-historical reexamination. Alina Szapocznikow: Sculpture Undone, 1955–1972 offers a comprehensive overview of this important artist's work at a moment when international interest is blossoming. Richly illustrated with over 150 color plates, the catalogue features essays that touch on key aspects of her practice and historical reception, as well as an extensive annotated chronology that provides an in-depth exploration of the intersection of her life and art. Working in one of the most rich and complex periods of the twentieth century, Szapocznikow responded to many of the ideological and artistic developments of her time through artwork that is at once fragmented and transformative, sensual and reflective, playfully realized and politically charged.

Alina Szapocznikow was born in Poland in 1926, and gained critical attention there for her early sculpture of the 1950s. She re-settled permanently in France in 1963, where her continued exploration of new materials such as polyester and polyurethane brought her into dialogue with the contemporary art scene of her time. She continued to push the boundaries of sculptural form and subject matter up until her premature death in 1973.


Featured image, "Ventres – coussins (Belly cushions)" 1968, is reproduced from Alina Szapocznikow: Sculpture Undone, 1955-1972

Free Shipping

UPS GROUND IN THE CONTINENTAL U.S.
FOR CONSUMER ONLINE ORDERS

HAUSER & WIRTH PUBLISHERS

ISBN: 9783906915494
USD $50.00

| CAN $69.95

Pub Date: 2/18/2020
Active | In stock




WALTHER KöNIG, KöLN

ISBN: 9783960984177
USD $45.00

| CAN $60

Pub Date: 11/20/2018
Active | Out of stock




EDITIONS DILECTA

ISBN: 9791090490291
USD $59.95

| CAN $79

Pub Date: 9/30/2013
Active | Out of stock




KERBER

ISBN: 9783866785977
USD $55.00

| CAN $72.5

Pub Date: 8/31/2012
Active | Out of stock




THE MUSEUM OF MODERN ART, NEW YORK

ISBN: 9780870708244
USD $45.00

| CAN $60

Pub Date: 1/31/2012
Active | In stock