BOOK FORMAT
Hardcover, 9.25 x 11.25 in. / 320 pgs / 230 color.
PUBLISHING STATUS
Pub Date 9/30/2014
Out of stock indefinitely
DISTRIBUTION
D.A.P. Exclusive
Catalog: Publisher Backlist
PRODUCT DETAILS
ISBN 9780847844586 TRADE
List Price: $65.00 CDN $87.00
AVAILABILITY
Not available
TERRITORY
NA LA
THE FALL 2023 ARTBOOK | D.A.P. CATALOG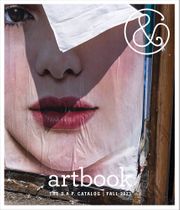 Preview our Fall 2023 catalog, featuring more than 500 new books on art, photography, design, architecture, film, music and visual culture.
&nbsp
&nbsp
The Plains Indians

Artists of Earth and Sky

Edited by Gaylord Torrence.


Accompanying a groundbreaking exhibition, this is the first comprehensive survey of the magnificent artistic traditions of the Plains Indians. The Plains Indians: Artists of Earth and Sky celebrates the extraordinary beauty, power, and spiritual resonance of Plains Indian art throughout time. Richly illustrated, this monumental volume includes a wealth of masterworks from European and North American collections, ranging from a 2,000-year-old Human Effigy stone pipe to a 2011 beaded adaptation of designer shoes. Works of art collected centuries ago by French traders and travelers are presented together with those acquired by Lewis and Clark on their famous expedition of 1804–6, along with objects from the early reservation era and contemporary works based in traditional forms and ideas. The distinct Plains aesthetic—intertwined with the natural world, ephemeral, and materially rich—is revealed through an array of forms and mediums: painting and drawing; sculptural works in stone, wood, antler, and shell; porcupine quill and glass bead embroidery; feather work; painted robes depicting figures and geometric shapes; and richly ornamented clothing and ceremonial objects. Many nations are represented—Osage, Quapaw, Omaha, Crow, Cheyenne, Arapaho, Lakota, Blackfeet, Pawnee, Kiowa, Comanche, Mesquakie, Kansa, and others. With newly researched texts by leading scholars, this important book charts the continuum of centuries of artistic tradition and reflects the significant place that Plains Indian culture holds in European history and in the heritage of North America.




Gaylord Torrence is the Fred and Virginia Merrill Senior Curator of American Indian Art at the Nelson-Atkins Museum of Art, Kansas City, and professor emeritus in fine arts, Drake University, Des Moines.

STATUS: Out of stock indefinitely.

MARSILIO ARTE

ISBN: 9791254631515
USD $39.95

| CAN $56.95

UK &pound 33.99

Pub Date: 10/31/2023
Forthcoming




SKIRA

ISBN: 9788857249254
USD $50.00

| CAN $72.5

Pub Date: 12/5/2023
Forthcoming




FONDAZIONE PRADA

ISBN: 9788887029840
USD $80.00

| CAN $116

Pub Date: 11/7/2023
Forthcoming




MFA PUBLICATIONS, MUSEUM OF FINE ARTS, BOSTON

ISBN: 9780878468911
USD $60.00

| CAN $87

UK &pound 54

Pub Date: 10/10/2023
Active | In stock




MARSILIO ARTE

ISBN: 9791254631225
USD $29.95

| CAN $42.95

UK &pound 26

Pub Date: 1/16/2024
Forthcoming




DELMONICO BOOKS/LOS ANGELES COUNTY MUSEUM OF ART

ISBN: 9781636810881
USD $85.00

| CAN $123

UK &pound 75

Pub Date: 11/28/2023
Forthcoming




SKIRA

ISBN: 9788857248059
USD $35.00

| CAN $49

Pub Date: 4/25/2023
Active | In stock




MARSILIO ARTE

ISBN: 9791254630563
USD $19.95

| CAN $26.95

UK &pound 17.99

Pub Date: 3/14/2023
Active | In stock




MARSILIO ARTE

ISBN: 9791254630587
USD $19.95

| CAN $26.95

UK &pound 17.99

Pub Date: 3/14/2023
Active | In stock




JBE BOOKS

ISBN: 9782365680707
USD $25.00

| CAN $35

Pub Date: 3/14/2023
Active | In stock




KAPH BOOKS

ISBN: 9786148035456
USD $45.00

| CAN $63

Pub Date: 6/13/2023
Active | Out of stock




FONDAZIONE PRADA

ISBN: 9788887029833
USD $90.00

| CAN $126

Pub Date: 11/7/2023
Forthcoming