BOOK FORMAT
Paperback, 9.5 x 11.25 in. / 128 pgs / CD ROM.
PUBLISHING STATUS
Pub Date 5/2/2004
Out of print
DISTRIBUTION
D.A.P. Exclusive
Catalog: SPRING 2004
PRODUCT DETAILS
ISBN 9789056623555 TRADE
List Price: $34.95 CDN $40.00
AVAILABILITY
Not available
TERRITORY
NA LA ME
THE FALL 2023 ARTBOOK | D.A.P. CATALOG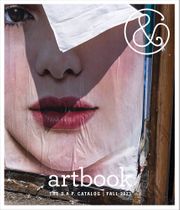 Preview our Fall 2023 catalog, featuring more than 500 new books on art, photography, design, architecture, film, music and visual culture.
&nbsp
&nbsp
Europan 7

Suburban Challenge: Urban Intensity and Housing Diversity

Essays by Olof Koekebakker and Kloos Oosterman.


Europan, the biennial competition for young architects organized by a dozen European countries, reaches its seventh edition with a call for ideas to revitalize suburban life in Europe. With 68 sites across the continent to choose from, the design theme this time round is: Suburban Challenge, Urban Intensity and Housing Diversity. The transformation of post-war growth areas into enduring urban districts with a diversity of housing types and up-to-date amenities is an issue of great relevance in Europe today. The jury will select the winners of Europan 7 in Graz, Austria, and the winning designs will be announced at the end of January 2004. The book, Europan 7: Suburban Challenge: Urban Intensity gives an overview of the prizewinners, exhaustively documenting their design proposals with model photographs, plans, and conceptual sketches. Interviews with the designers shed further light on their projects. The project section of the book also includes an essay on the central theme of urban intensity, an analysis of the entries from an international perspective, and a description of the four Dutch sites: Geuzenveld-Zuid in Amsterdam, Morgenstond Midden in The Hague, O? in Hengelo and Zuidwijk in Rotterdam, each of which is informed by an initial master plan providing for ample space and communal courtyard gardens. Also included is a CD-ROM which features the prizewinning and runner-up design proposals.


SPECTOR BOOKS

ISBN: 9783959056748
USD $35.00

| CAN $50

Pub Date: 3/5/2024
Forthcoming




WALTHER KöNIG, KöLN

ISBN: 9783753303109
USD $55.00

| CAN $79

Pub Date: 10/3/2023
Active | In stock




WALTHER KöNIG, KöLN

ISBN: 9783753302584
USD $55.00

| CAN $79

Pub Date: 10/3/2023
Active | In stock




LA BIENNALE DI VENEZIA/SILVANA EDITORIALE

ISBN: 9788836654512
USD $95.00

| CAN $137

Pub Date: 11/7/2023
Forthcoming




NAI010 PUBLISHERS

ISBN: 9789462087835
USD $40.00

| CAN $58

Pub Date: 12/5/2023
Forthcoming




NAI010 PUBLISHERS

ISBN: 9789462087804
USD $40.00

| CAN $58

Pub Date: 10/3/2023
Active | In stock




NAI010 PUBLISHERS

ISBN: 9789462087705
USD $40.00

| CAN $58

Pub Date: 10/10/2023
Active | In stock




NAI010 PUBLISHERS

ISBN: 9789462087866
USD $60.00

| CAN $87

Pub Date: 10/3/2023
Active | In stock




NAI010 PUBLISHERS

ISBN: 9789462087194
USD $55.00

| CAN $77

Pub Date: 10/10/2023
Active | In stock




BOKFöRLAGET STOLPE

ISBN: 9789189425958
USD $35.00

| CAN $49

Pub Date: 11/7/2023
Forthcoming




MARSILIO ARTE

ISBN: 9791254630778
USD $30.00

| CAN $42

UK &pound 26

Pub Date: 10/3/2023
Active | In stock




LOUISIANA MUSEUM OF MODERN ART

ISBN: 9788793659551
USD $25.00

| CAN $34

UK &pound 22

Pub Date: 3/28/2023
Active | Out of stock